Eugene Tenant Alliance hosts Ward 7 candidates
3 min read
The Eugene Tenant Alliance is sponsoring a town hall featuring potential Ward 7 candidates. The event features special guest Patty Rose, host of the podcast 'Spent the Rent.'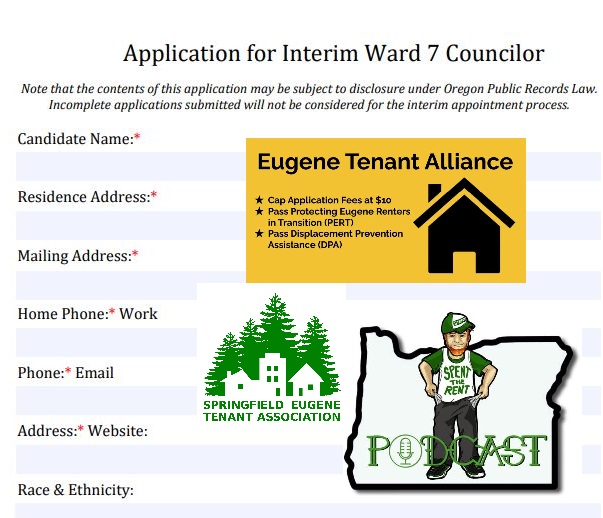 Join the Eugene Tenant Alliance and community partners for a hybrid town-hall style community forum Wednesday, Oct. 12 from 6 p.m. to 8 p.m. at Alluvium, 810 W. 3rd Ave. and online using Zoom.
Candidates to fill the vacant Ward 7 council position will discuss the city's top issues, including housing, homelessness, climate change, and transportation.
Candidates can email eugenetenantalliance@gmail.com for instructions on how to register for the Oct. 12 forum.
Candidates have until Nov. 9 to apply for an interim appointment. Application forms are available on the city website.
Moderators will include River Road renter Mysti Frost, and Whiteaker renters Tara Garkow and Jason Vanderhaar. The forum will also feature special guest Patty Rose, host of the podcast 'Spent the Rent.'
After hearing from the candidates, those attending the forum will be invited to register for the straw poll. Voters within Ward 7 will receive a unique ID code to prevent any one person from submitting multiple votes.
The event is sponsored by Eugene Weekly, Spent the Rent Podcast, Lane Central Labor Chapters, and the Springfield Eugene Tenant Association.
While the Eugene Tenant Alliance forum will focus on housing-related issues, many across the city will be closely following the candidates' views on transportation and civic engagement.
The previous Ward 7 councilor was recalled in a special election Sept. 6 by a vote of 2,399 to 1,529, roughly 60% to 40%. It was roughly the same turnout and margin as the last contested Ward 7 election on May 19, 2020. Claire Syrett received 2,704 votes to defeat Douglas Barr (1,163), Cliff Gray (639), and write-in candidates (55).
The recall—the first of a city councilor in Eugene history—was organized by residents opposed to EmX buses on River Road.
The River Road EmX project would cost over $100 million, reduce the number of vehicle lanes for cars from four to two, remove or significantly impact up to 132 trees, acquire private property for EmX bus stops, and require road reconstruction to support the heavy diesel buses. The Springfield and West Eugene EmX lines have fallen far short of projected ridership, and one consultant said the project would increase greenhouse gas emissions, which contribute to climate change.
The former Ward 7 councilor sued the citizen-activists, asking elections officials to stop distributing and counting ballots, and seeking monetary damages. Another city councilor suggested that the citizens should pay $125,000 fines and go to prison for five years.
In a Sept. 23 hearing, attorneys for the citizens indicated they will seek to dismiss the councilor's lawsuit under Oregon's anti-SLAPP law. SLAPP—Strategic Lawsuit Against Public Participation—refers to lawsuits that are meant to intimidate citizens who speak out on issues of public interest. By forcing citizens to incur large legal costs, SLAPP lawsuits also discourage citizens from participating in self-governance.
On Sept. 27, the former Ward 7 councilor requested that the lawsuit be dismissed. As of Oct. 12, Lane County Circuit Court Case 22CV27863 remains open.
Applications for the interim appointment are being accepted until 5 p.m. on Wednesday, Nov. 9. Applicants must reside in Ward 7, be a legal elector under the laws and constitution of the state and be a resident of the city for one year immediately before being appointed to office.
Interviews with the Eugene City Council will be scheduled in early December. The interim appointment will be made in December 2022 and the person appointed will serve until a successor, duly elected in May of 2023, takes office in July of 2023. The successor, elected in May of 2023, will serve out the remainder of the current Ward 7 councilor's term; the current four-year term runs from January 2021 to January 2025.