Local 5th-grade artists explore the theme: 'Brought to you by electricity'
1 min read
Fifth-grade students brought creativity and enthusiasm to this year's EWEB poster contest and its theme, "Brought to you by electricity."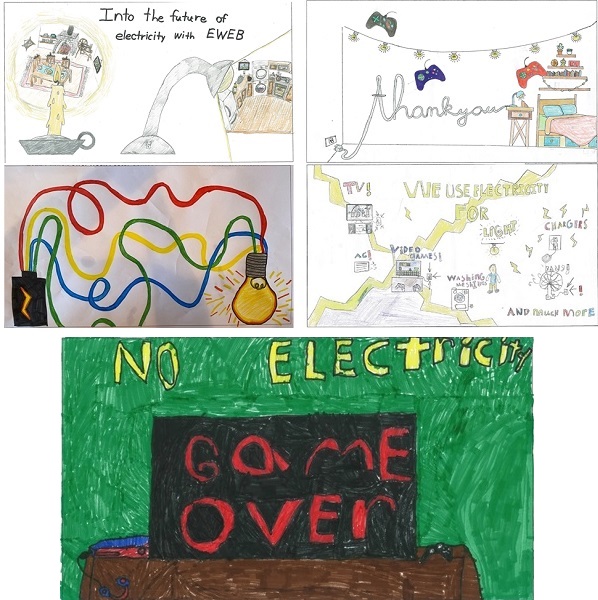 from Eugene Water and Electric Board
EWEB received over 100 entries in its Public Power Week poster contest for fifth-grade students.
Thank you to all the students who participated in the contest! We are very grateful for the creativity and enthusiasm you brought to this year's theme, "Brought to you by electricity."
EWEB employees and our social media followers were invited to vote on their favorites. The top five vote-getters: Aiden Muller, O'Hara Catholic Elementary School; Caroline Callister, Coburg Community Charter School; Emma Mansfield, McCornack Elementary; Bodhi Bayes, Adams Elementary; and Tommy Adams, River Road/ El Camino Del Rio Elementary.
EWEB Commissioner Matt McRae presented Aiden with his first-place award during an all-school assembly Wednesday morning.
The poster contest during Public Power week, Oct. 2-8, celebrates the value of publicly-owned utilities such as EWEB.
EWEB is customer-owned and accountable to the people we serve. Unlike other utilities, your electric and water rates directly fund the energy and water we reliably deliver to you – and never enrich corporate shareholders.