Two more Ward 7 residents apply for vacant council seat
2 min read
Businesswoman Marlene Pearson of EugeneRetailers.com and nonprofit executive Lyndsie Leech of WellMama applied for the vacant Ward 7 city council seat. Five candidates have applied through Oct. 26, according to the city.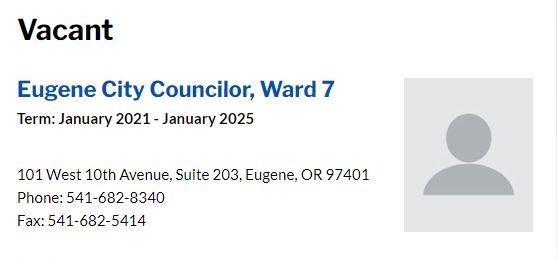 Two more candidates have applied for the vacant Ward 7 seat on the Eugene City Council, according to City Recorder Katie LaSala.
Businesswoman Marlene Pearson of EugeneRetailers.com mailed her application Oct. 21.
Nonprofit Executive Director Lyndsie Leech of WellMama applied Oct. 26.
To date, five candidates have applied to succeed Claire Syrett, who was recalled by Ward 7 voters in an election certified Oct. 3.
Marlene and Lyndsie join three other candidates: Community organizer Daniel Takamori (applied Oct. 9); local business owner Carol Zorn (Oct. 13); and long-time Eugene resident Stephanie Dugger (Oct. 17).
Applications for the interim appointment are being accepted until 5 p.m. on Wednesday, Nov. 9. Application forms are available on the city website and from the city recorder's office, 101 W. 10th Ave., Suite 203.
The official application on the city website poses 23 questions, including:
What are your unique qualifications for representing Ward 7?
What are the three most important issues facing the residents of Ward 7?
What do you see as the most pressing need for the Eugene community and what would be your top priority as a City Councilor?
Applicants must reside in Ward 7, be a legal elector under the laws and constitution of the state, and be a resident of the city for one year immediately before being appointed to office.
Interviews with the Eugene City Council will be scheduled in early December. The interim appointment will be made in December 2022 and the person appointed will serve until a successor, duly elected in May of 2023, takes office in July of 2023. The successor, elected in May of 2023, will serve out the remainder of the current Ward 7 councilor's term; the current four-year term runs from January 2021 to January 2025.
River Road residents are not only without a voice on the city council, but due to a missed deadline, they also have no voice in selecting their next county commissioner.
According to the River Road Community Resource Group newsletter, the county attorney failed to submit paperwork in time for the new commissioner district maps to be used in the 2022 elections.