Join your neighborhood organization – the more the merrier
4 min read
You are invited to join your neighborhood organization. Ela Kubok and Jess Roshak welcome you to volunteer for the board, committees, or specific events.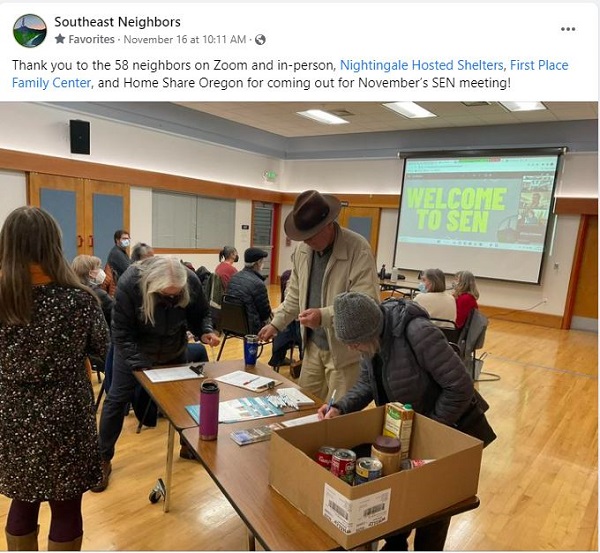 An invitation to join your neighborhood organization.
[00:00:05] Jess Roshak (Southeast Neighbors board member): I'm Jess Roshak. I'm a board member at- large and I just wanted to welcome everybody out to our first back in-person meeting since 2019. So we are Southeast Neighbors, an official neighborhood association of the city of Eugene, sanctioned by the city of Eugene.
[00:00:23] And we are a board of (How many of us? Eight?) nine now. (Yeah.) And the board meets once a month to discuss what's going on in the neighborhood, sets agendas, and we hold quarterly general meetings that everyone's invited to. Everyone's invited to participate, always, because we are only as strong as the people who show up to our board or to general meetings and who participate in our neighborhood.
[00:00:50] And it really is: 'The sky is the limit,' based on how much people power we have. So it's so good to see everybody out tonight.
[00:01:00] Ela Kubok (Southeast Neighbors board member): And welcome. Please come in. So you may be wondering, Why should I be involved? Maybe I want to be involved. What could I do? So you're here joining a meeting. Great. That's one way of being involved.
[00:01:14] You could also connect with one of our board members. You heard we have nine of us. There's a lot of different people you could chat to. Maybe they're turning out to be your neighbor, actually.
[00:01:23] And if you're perfectly wanting to meet and have a coffee or just walk through the neighborhood, talk about some of the things that affect specifically where you live, that's part of why we're on the board. We want to meet folks.
[00:01:36] We also have a lot of active committees, so we have the board and then there are quite a few committees.
[00:01:44] Jess Roshak: So: Ready Southeast, that's the neighborhood emergency preparedness committee—very, very active, in our neighborhood.
[00:01:50] There's the Transportation Committee, activated a few years ago during the LTD route changes.
[00:01:56] And also we have the Sustainability Committee, and that's chaired by (co-chair) Devon Mann. And (co-chair) Dennis (Hebert) is the chair of the Land Use Committee.
[00:02:06] Dennis Hebert (SEN Co-chair): And just to introduce John Ostrom here, he's the Tugman Tuggers guy. If you would like to pull ivy, join us (laughter).
[00:02:17] Jess Roshak: The Tugman Tuggers, and they help take care of the park and do planting and beautification and working with the parks, and are always recruiting volunteers from that.
[00:02:30] We've got the communications committee—helps with the Facebook, the newsletter, the NextDoor stuff, website, Mailchimp, stuff like that.
[00:02:38] And it's always possible for more committees can be formed. Like I said, we're limited by our people power. And so it's important that neighbors who are new or old or maybe want to get involved, maybe undecided, come out and give everybody your ideas and participate because we're just volunteers doing this thing and the more people, the merrier (in my opinion) on committees and people come on and have all sorts of fresh ideas and energy.
[00:03:07] Ela Kubok (SEN Board): We really work on building community with each other. All the committees that are listed center around our neighborhood. We care about where we live. We want to make sure that it's the best neighborhood for us, right? How do we make that happen? So we work through the committees, but also through other means of just connecting with our city councilor and sharing the point of view of the neighborhood.
[00:03:30] There's special projects. Like we had a table from EWEB at our neighborhood picnic. Folks had a lot of questions about the EWEB water project. So we try to just connect the neighborhood with other organizations. We have a few presentations here tonight as well. So it's about building a community and just being together. And like this said, we have a lot of volunteer opportunities, so the more the merrier, and we can talk about how to stay in touch.
[00:03:58] Jess Roshak: Really the way to stay in tune with what we are doing is the Mailchimp digital email newsletter that's once a month.
[00:04:07] That's the most up-to-date stuff that you can get that's happening, as well as the quarterly newsletter that's sent in your mailboxes. If you're like somehow missing it or wondering where it is or how to get one, we would love to know that as well. If you're not on the digital newsletter, it's very simple to sign up. You put your email on there, you can also visit our website. And so checking our website—we try to update that a few times a week with any news items and things like that. And then we have a social media, the social media presence.
[00:04:37] There's two Facebook groups you might want to look into to get connected with your neighbors. There's Southeast Neighbors' official neighborhood page. There's also a Southeast Neighbors group it's called, that's more neighbor-to-neighbor sort of communication—missing cats and things like that. We peruse NextDoor to figure out what the issues are that people are talking about, and communicate—get the word out—for things that way.
[00:05:01] John Q: Those were your Southeast Neighbors at their November meeting. A similar call for volunteers is also going out in other neighborhoods. It's easy to get started, just reach out to your nearby neighbors. The contact is listed on the city's website.