Council to interview 2 more Ward 7 candidates
2 min read
The Eugene City Council announced plans to interview five candidates for Ward 7 interim councilor. The interviews start at 5:30 p.m. Dec. 5.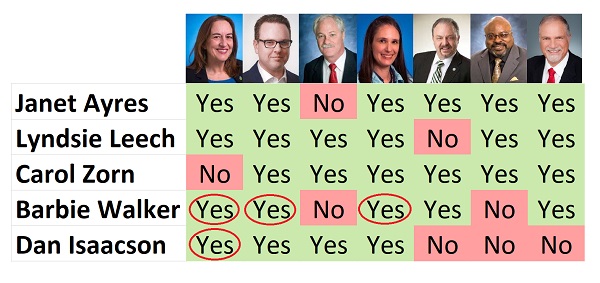 The Eugene City Council added two more applicants Nov. 30 in announcing plans to interview five candidates for Ward 7 interim councilor.
Lyndsie Leech, Carol Zorn, Janet Ayres, Barbie Walker, and Daniel Isaacson will interview for the opportunity to serve as the interim councilor until July 2023.
Applicants were selected for interviews by an open ballot. Council members indicated whether they wished to interview each applicant, and invitations were sent to those receiving four or more votes.
In results dated Nov. 28, six councilors voted to interview Janet Ayers, Lyndsie Leech, and Carol Zorn; no other candidates passed the four-vote threshold.
In results dated Nov. 30, five councilors voted to interview Barbie Walker, and four voted to interview Dan Isaacson.
The changes from Nov. 28 to Nov. 30 reflected Councilor Emily Semple adding her votes for Barbie Walker and Dan Isaacson, and Councilors Matt Keating and Jennifer Yeh adding votes for Barbie Walker.
In the next step towards appointing the interim councilor, the candidate interviews will be broadcast Dec. 5 at 5:30 p.m. Council nomination ballots are due Dec. 8, and the council is scheduled to confirm the appointment Dec. 12. 
Applications are available to view, along with information about next steps, on the City's Mayor and City Council webpage. For more information about the interim appointment process, view City Council's October 5, 2022, Special Meeting and presented materials.
The person appointed will serve until a successor, duly elected in May of 2023, takes office in July of 2023. The successor, elected in May of 2023, will serve out the remainder of the current City Council, Ward 7 term (January 2021 – January 2025).
The Ward 7 position has been empty since early October, when election officials certified the recall of Claire Syrett.