Resolve to check out the CERT program in 2023
7 min read
Aimee Yogi and Andy Davis talk about opportunities to serve your neighbors with the Community Emergency Response Teams.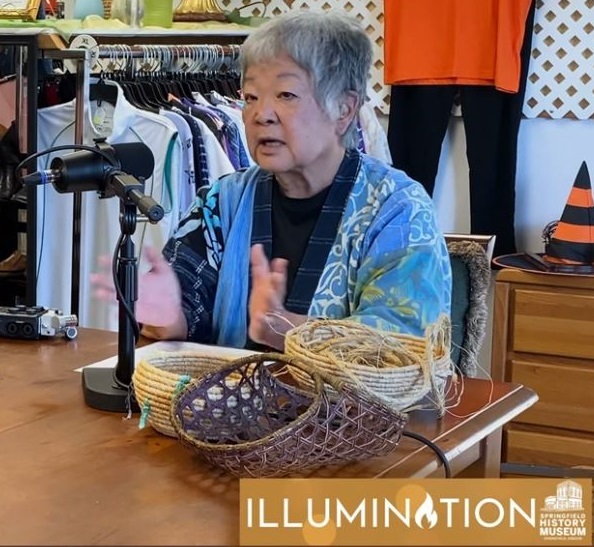 Aimee Yogi and Andy Davis look at the FEMA-sponsored preparedness program, Community Emergency Response Team (CERT). In 2023, they welcome all neighbors who may be hearing about the CERT program for the first time.
[00:00:12] Speaking with Thomas Hiura at the Springfield History Museum:
[00:00:17] Aimee Yogi (Eugene-Springfield CERT): CERT is Community Emergency Response. So it is a citizen corps group of volunteers who are trained in disaster response, and our particular group trains neighborhood groups to take care of their neighborhoods, to do first aid, damage assessment, to train everybody else.
[00:00:42] We have ham radio operators, so we're now on our little handheld walkie-talkies talking to each other and training people to be their leaders, to be able to take information, because frankly, in a mass casualty incident, your first responders are not going to be available. So we need to take care of our neighbors.
[00:01:06] I got into CERT because we are facing disasters. We were getting ready for the big one, every 300 years, the big earthquake. We finally believe the indigenous stories. I mean, before 1986, we thought Oregon was just a blessed landscape. We didn't have tsunamis. We didn't have earthquakes—nothing real big, you know, California had all that stuff.
[00:01:35] And then we began to realize that we have a ghost forest off the coast because the coast, the land subducted, it sank in an earthquake and the water rushed back and came forward as a tsunami. And there are traces of tsunami in the hills, so it was a big one.
[00:01:59] So now we know. We know the scale of the earthquake and what effect it will have here in the valley—probably the bridges across the river, that's the major problem. And I-5, we're so connected by bridges, you know, what's going to happen to all the doctors and nurses who work at River Bend, but live in South Eugene, right? How are they going to get across the river?
[00:02:23] So what they have done is they have Urgent Care clinics in all the neighborhoods, and they are stocked in case of a disaster to take care of their neighborhood. So, in case that happens and they can't get across to River Bend, they have the University District and the Urgent Care centers. They're all stocked.
[00:02:50] In fact, during the pandemic, that was the first thing they did, was they checked each of those urgent care centers to make sure they had enough masks and gowns or gloves, or hand sanitizers.
[00:03:04] And we get in 2020, a pandemic and a wildfire that comes to the border of Springfield. And the pandemic isolated all of us. And so we did a call out for, 'Okay, if you need something, let us know. Somebody who lives by themselves, find out if they need something. If they need to go to the doctor, get groceries, we'll do it. Somebody will run and get it for you.'
[00:03:31] And, of course, for wildfire, Eugene is, and Lane County is, working really rapidly now with defense zones around the houses so in case a fire comes by, it doesn't destroy your property.
[00:03:47] The other thing is, we want our community to be prepared to evacuate safely. We're getting together our evacuation plans of what roads—we don't have a whole lot of roads to get out of here! Or shelter in place—sometimes that's the best thing.
[00:04:04] And also we are out there passing out information to the kids. We were at Jerry's Home Improvement doing Fire Safety Day, passing out comic books to the kids because I want them to know how they can help their family. I want them to know they can do something and they are so happy to see that. You know, read to your sister or brother and say, 'Oh, here's what you need in your new go bag, I'll help you put one together. And here it is, and so let's make plans.' So they're a lot less stressed out.
[00:04:38] And it's a neighbor-to-neighbor effort and we all want to be together in this. So, that's why I do CERT.
[00:04:49] Andy Davis (Eugene-Springfield CERT): We are there to help the cities' first responders in the event that there is a major disaster, whether man-made or natural, to assist in those areas to where that they're going to be so busy, but we can step in and try to help out our neighbors, our neighborhood, our area where we're at, and pass on information that we see to the city emergency operations centers so that they can choose and prioritize where the assistance needs to go first in the cities.
[00:05:21] The Community Emergency Response Team started from L.A. Fire Department and then FEMA grabbed ahold of it and it is one of their programs that they are sponsoring nationwide. They train civilian people that come in to get basic training on how to take care of themselves and their families and neighbors in an event of a natural or a man-made disaster that may come in many different forms.
[00:05:52] But the main thing is teaching preparedness. Those interested in CERT basic training can now get this online self-paced training through the University of Utah, free of charge. They can go through the nine units one at a time, you take a quiz on each of the elements as you go through, and once you complete each unit, you get a certificate. And when you finish all of the units, you get a completion certificate from University of Utah.
[00:06:22] And, then what we do in the Eugene-Springfield CERT program, we do I call it a 'hands-on CERT class,' but the hands-on portion at 2nd and Chambers, the Fire Training Center, we will set the classroom up to where're they're in a team format, where we put six individuals to make up one team. And that team stays together through the whole time period that they're there. And they get some experience on being team leaders, being team reporters, and so forth.
[00:06:55] And we basically go through a skills checklist that we give them. And as a team, they go through this checklist and get 'em checked and signed off, and checked off as being completed as they have demonstrated to the instructor staff and CERT staff their competency on being able to demonstrate and to describe the different areas of the checklist.
And then afterwards there we have a drill scenario on the back lot of the Fire Training Center, where they go as a team through a drill scenario.
[00:07:32] And then we have graduation and hopefully then they will go back to their neighborhoods and plug in and share some of their information with their neighbors or their neighborhood association, and so forth, and try to encourage others to take in the information that they can give. That's the whole goal.
[00:07:50] John Q: Beyond the initial course work, the local CERTs meet once a month.
[00:07:55] Andy Davis: Through the rest of the year, we have what we call 'First Thursdays training.' So on the first Thursdays from 6 (p.m.) to 8 (p.m.) I call it 'follow-on CERT training' or 'reinforcement training for CERTs' in different areas.
[00:08:10] The first specialized teams that came to be was the EWEB emergency well teams, which—CERTs are the staff that will be with those wells when they are activated. So there's some additional training that goes with if you want to be a emergency well team member.
[00:08:28] This year we developed the damage assessment teams and radio team leaders. So we're trying to get those implemented all throughout the city of Eugene. Traffic or crowd management, so we want to give our CERTs the training so that they can be successful in that arena if they are placed there.
[00:08:47] We also have our emergency communication system for the city of Eugene so we have the basic training and working with Family Radio Service radios, FRS radios because that is the type of radio that they will be using.
[00:09:02] But we want our CERTs to work with our neighbors and to develop damage assessment teams right where they live and so that the individual CERT can be the radio team leader for those survey teams.
[00:09:16] So we really want to saturate the cities with these teams so that they can help survey the city and report the damages that they see after any type of incident.
[00:09:27] We need to bring up leadership because that falls in with the ICS (Incident Command) system to where the ICS system has it where the first CERT that's on the scene is actually the team leader. You've got to have the training experience.
[00:09:43] And we need to have other people step up and do the steering committee or the district leads, be an instructor, so that they can, in a time of need, they would have the experience of doing those things and be able to do those with confidence.
[00:09:58] So that's our job. We take it very seriously. We need more volunteers to step in to help. It's a big job. So I guess it's a commitment of your personal time in doing that, but the rewards are great or satisfaction of helping out your community, and also helping out your fellow CERTs to be safe and get the proper training.
[00:10:21] John Q: Aimee Yogi and Andy Davis from the Community Emergency Response Team, where there's a place for you. Check with your neighborhood organization or the Eugene-Springfield CERT website.