Public seeks 'greatest possible protection' for the Willamette Greenway
7 min read
Community residents speak on behalf of the "greatest possible protection" for the Willamette Greenway at the Planning Commission Jan. 10, 2023.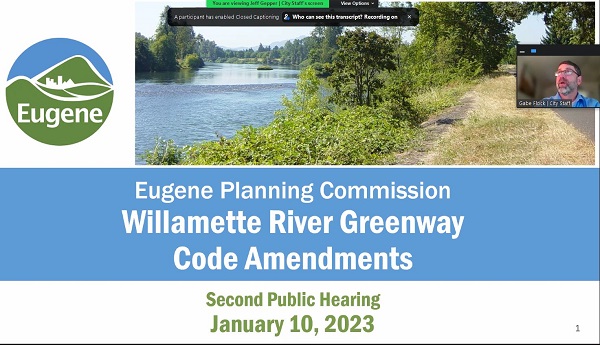 River Road and other city residents try to save the Greenway. From the Jan. 10 Planning Commission, here's the 10-minute summary of public comment:
[00:00:08] Jolene Siemsen: My name is Jolene Siemsen. I'm a River Road resident for approximately 37 years, and I have used the river path almost daily, every year that I've lived here, every day of my life. So I feel like I'm intimately acquainted with the greenway.
[00:00:27] The greenway is a precious resource representing a vital life-giving link in the Willamette Valley ecosystem for birds, salmon, mussels, beaver, and insects, as well as for countless native trees, plants, and shrubs. Large native canopy trees breathe oxygen into our atmosphere and offset the effect of heat islands in our hardscaped world.
[00:00:50] The greenway offers solace to people in our community who are seeking peace, recreation, inspiration, and opportunities for spiritual growth in a natural world, a space outside and away from concrete, auto traffic, noise, pollution, and other assaults to the senses. Despite the obvious need to preserve this precious space for now and for future generations, much time and opportunity has already been lost.
[00:01:17] Now is the time to act boldly to mitigate the damage that could be incurred by further human development.
[00:01:23] I recommend enlarging the 10-foot buffer zone for native plantings to 20 feet. Ten feet is clearly not enough to adequately accommodate and protect healthy native heritage tree growth and canopy development.
[00:01:40] Adopt a set of standards that are clear and objective and discard the so-called discretionary pathway, a pathway that has led previously to egregious development within the greenway, development which is not in alignment with statewide planning goals 5 and 15.
[00:01:57] Assure that public lands and pathways remain in public control. Invest in future purchases of land within the greenway to be preserved for public use, and provide an avenue to further protect land that is held privately and could be subject to future development or redevelopment. And include key points of the draft RRCO (River Road Community Organization) neighborhood plan.
[00:02:23] Jan Spencer: Many of us are here this evening to support the greatest possible protections for the Greenway. For me, the Greenway is my primary location of travel by non-motorized bicycle along the bikeway, in the Greenway. I bought my house 22 years ago in River Road, primarily because of the Greenway.
[00:02:47] I participated in dozens of work parties in the greenway over the years, like river cleanups and Rasor Park, the Filbert Grove, helped building the information kiosk, Heron Slough, Maynard Park, and other locations in the greenway and River Road. I have a formal agreement with the city to help look after the filbert grove in the greenway.
[00:03:13] The city staff who have helped with work parties in the greenway are shining examples of what the city can do to empower people in the community to help look after public properties. A lot of these type of projects, they're enormous community-building opportunities and protecting the greenway will help inspire more people to become actively involved in looking after the greenway.
[00:03:39] Jon Belcher: My name is Jonathan Belcher or Jon Belcher.
[00:03:41] To my knowledge, the Planning Commission is unaware that this code adoption process has been proposed to implement the draft neighborhood plan goals for the Willamette Greenway within our neighborhood association.
[00:03:52] Because of this issue, the River Road executive board has unanimously voted to request the planning commission continue the Jan. 10 hearing on these amendments beyond tonight, or agree that the future hearing will provide adequate opportunity to include those proposals from the neighborhood plan.
[00:04:10] Our experience has been that because of the arbitrary nature of the standards, basically hearings officials allow anything that's requested by developers. And as long as that remains that way, it's going to be a problem.
[00:04:24] If it's unfeasible to revise the discretionary path and provide enforceable criteria to match this clear and objective path, I request that the discretionary path for housing be deleted from the land use code.
[00:04:37] Julie Hulme: My name is Julie Hulme. I've been a resident for the last 39 years, and we own approximately two acres of property here that are fully within the Willamette River Greenway.
[00:04:50] The Willamette River Greenway is the crown jewel of our community, and our guiding principle in developing code should be one of stewardship of this precious resource, honoring the past and the future. The Willamette River Greenway is home to numerous native species, flora, and fauna. It's a lifesaving resource for physical and mental health during the COVID pandemic, and it's a varied resource for recreation and transportation and frankly, a soul-sustaining interface with nature available to all.
[00:05:25] We need to approach preservation of the greenway with a resolve to add more open space via land purchases, developing a system of local conservation easements for private landowners that have land within the greenway, we need to increase the tree canopy to aid in climate mitigation to avoid heat islands created by pavement, and stop adding impervious surfaces which allow for pollutants to enter the river and increase the risk of flood hazards and extreme weather events.
[00:06:00] We need affordable housing and a protected greenway. Creative solutions such as incentivizing accessory dwelling units in the River Road neighborhood. Offer a path to meeting both these goals in our community. My hope is that we can all use our heads and our hearts to protect the Willamette River Greenway as our code that is being developed may well become a template for other communities.
[00:06:27] Sue Schaeffer: I'm Sue Schaeffer. I'm a block from the river, and I think the 100-foot setback is way too little. I look at the Velo Apartments that went in recently. They're very close, I think 100 feet, and they're totally in your face. I think the city might have to accept that there will be fewer units on a parcel in order to give the greenway what it deserves.
[00:06:56] Linda Baker: Our next speaker is Hope.
[00:06:58] Hope: I also am opposed to retaining the discretionary standards. It's too much of a political way for developers to get what they want without considerations for other important issues and things like that. I, also, in reading the proposal, I have found areas that don't appear to be clear and objective. There's language in the ordinance that includes the following phrases: 'substantially alters.' It's not defined. 'Subsidiary structures.' Again, there's not really a definition. 'Goods and services that are directly associated with water- dependent land or waterways use, or public loss of quality.' I personally don't know what that means.
[00:07:49] Linda Baker: Our next speaker will be Savannah.
[00:07:51] Savannah: I am in support of the clear and objective standards and opposed to the subjective. I support the River Road Community Organization's recommendations. And I assume that the standards in preservation of the Greenway also apply to the construction process itself—when a proposed development has been approved and they begin to break ground. I don't know for sure if this is true, but I would like to know if it is, because the construction process can cause and create a great deal of pollution to the waterway itself. And that's a big concern to me because I know development is going to happen. We have such a huge demand on housing in Eugene.
[00:08:37] Phil Farrington: Hi. I'm Phil Farrington. I think the needs are different in different parts of the greenway, in different parts of the community. The one that I've been providing testimony to the planning commission about is the squirrely kind of area that is partly in the greenway, but also bisected from the river by the Union Pacific railroad tracks.
[00:08:58] Establishing more rigid tree protection standards and criteria for removal and mitigation in those areas, I would call it 'gilding the lily.' There's already standards that are in place for development along the water resources area for the mill race. Those are the ones that I think are more ecologically relevant and should be observed and will be with future development. So I just want you to acknowledge the difference in this area from others throughout the community.
[00:09:26] The greenway certainly is the gem of our community, and we want to protect it and preserve it.
[00:09:31] Lyndsie Leech: Hello, I'm Lyndsie Leech. I'm the new interim city counselor for Ward 7. I just wanted to join today to let everyone here know I am listening and as a person who lives within the greenway, I'm very invested in protecting our beautiful riverfront. And I greatly appreciate everyone here who has spoken.
[00:09:51] I really encourage you to come to the additional public forum at the city council later this month. And if you have any questions or want to reach out to me specifically, please do email or give me a phone call.
[00:10:04] John Q: Public comment on the greenway remains open through (5 p.m. Jan. 20). July 12, 2023.
---
(Update June 25, 2023): The city council is expected to vote on the proposed changes on July 12, 2023.