Ready NW hosts preparedness discussion Feb. 7
4 min read
Join neighborhood volunteers online Tuesday, Feb. 7 to discuss emergency preparedness, including an opportunity for youth to apply for FEMA's Youth Preparedness Council.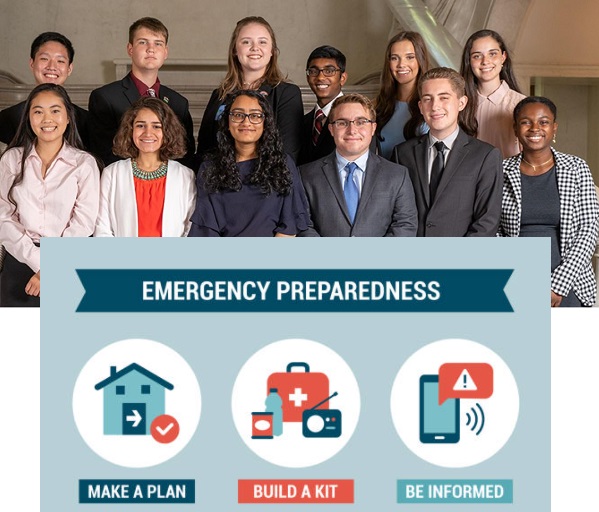 from Ready NW Eugene
Preparing for emergencies and keeping your community safe is not a one-size-fits-all process. Just as neighbors are all unique in their own way, how you organize may be different from someone else, depending on your needs and abilities.
Join volunteers from the Bethel, River Road, and Santa Clara community organizations Tuesday, Feb. 7 at 6:30 p.m. to chat with neighbors who have successfully begun preparing for a variety of scenarios with their own immediate neighbors. We will get a chance to hear what is and isn't working for them and how we can all continue to train and support each other. Bring your ideas and questions!
Join the Zoom meeting with the passcode "prep" and check out these resources to start your own planning:
Neighborhood disaster preparedness
"Disasters are major events which can strike anywhere and at any time. In a disaster, traditional 911 and first responder capabilities such as fire, police, medics, and utility personnel will be overwhelmed and unable to immediately assist individuals.
Preparing your neighborhood is vital. Neighbors will likely be the first ones to offer you assistance. Prepared neighbors are more effective in their response to a disaster and have an increased capacity to be self-sufficient for the first 72 hours after a disaster.
Knowing your neighbors can give you a critical advantage during an emergency."
Neighborhood Watch – Eugene and Lane County
"Neighborhood Watch helps neighbors meet each other and commit to providing a mutual safety net. Some neighbors agree to check on each other if there is reason for concern and create a telephone tree or network, so that members can reach each other quickly. If your neighbor can reach you at home, at work or on vacation out of town, they can better help you protect your property."
We do not promote citizen patrols or the wearing of uniforms. We do promote neighbors being more vigilant and taking responsibility for their surroundings.
"Neighborhood Watch is a non-confrontational, observe and report program. The Lane County Sheriff's Office does not advocate watch members following, approaching, confronting, intervening with, or detaining suspicious persons, or otherwise putting themselves at risk. Community members are asked to report suspicious people and activities to their local law enforcement agency."
"This service allows fire, police, and other emergency response agencies to issue alerts to citizens in the event of severe weather, fire, flooding, hazardous materials, need for immediate evacuation, civil danger, local area emergencies, and missing persons.
SIGN UP today to select the types of alerts and notifications you would like to receive, as well as your preferred method of contact.
In the event of a life threatening emergency, alerts will be delivered to you through priority channels including telephone and/or priority text messages; non-emergency notifications are received through text and email."
Learn the Nine Steps to take immediately following a disaster to protect your own family and home
Identify the skills and/or equipment that each neighbor is willing to contribute to an effective and timely disaster response
Create a map of the neighborhood and exchange contact information
Identify gas meters, propane tanks, other risks or threats
As another community discussed recently, residents are welcome to participate in multiple groups: "Some people may be interested in emergency management [and] disaster preparedness and some might be interested in more in crime prevention and there might be people that are interested in both."
FEMA Youth Preparedness Council
Students in grades 8 through 11 who have a passion for disaster preparedness, helping others, and are involved with their community are encouraged to apply for FEMA's Youth Preparedness Council.
The YPC offers an opportunity for teens to share their ideas and feedback with FEMA, improve their leadership skills, and develop preparedness projects. National YPC members also participate in an annual youth summit in Washington, D.C. with FEMA leaders and preparedness professionals to network and learn more about the field of emergency management. This year's summit will take place in July 2023.
Applicants from Oregon, Alaska, Idaho, and Washington—FEMA Region 10—who are not selected for the National YPC will have their application reviewed for the regional YPC, which is a great opportunity to meet like-minded teens from our area.
FEMA will host webinars for potential applicants Feb. 16 at 11:30 a.m. and Feb. 28 at 5 p.m. The sessions allow potential applicants to learn more about the YPC application process and to ask FEMA staff questions. This application closes March 6, 2023. Apply today!