'Understanding homelessness' panel Feb. 15
2 min read
Kelly McIver, Tracy Joscelyn, and Heather Sielicki will participate in the panel discussion "Understanding Homelessness" at the Southwest Hills general meeting Feb. 15, 6:30 p.m.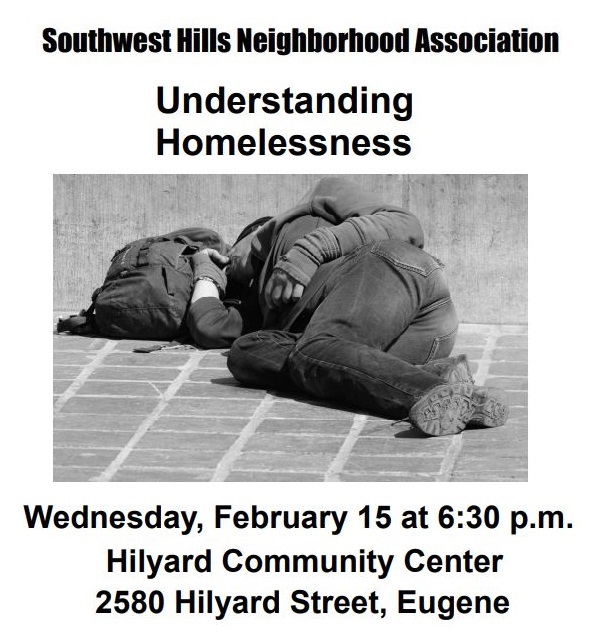 Southwest Hills will sponsor a dialog on homelessness at the Hilyard Community Center Wednesday, Feb. 15 at 6:30 p.m. The panel includes Kelly McIver with the City of Eugene, Tracy Joscelyn of Nightingale Hosted Shelters, and community advocate Heather Sielicki.
[00:00:16] Heather Sielicki: I'm Heather Sielicki.  I was contacted by Chris (Jockheck), who's the chair of the Southwest Hills Neighborhood Association, and he wanted to bring his community together to have some real conversations about homelessness and what some of the obstacles are for the city and how we might be able to put the governor's state of emergency declaration into practice to get more people indoors.
[00:00:45] Kelly McIver, who's the information officer around homelessness, he'll be there. And not everybody knows this yet, but the City of Eugene has moved their homeless services department from the city manager's office to Planning and Development.
[00:01:05] So that'll change the scope, I think, of how we address homelessness in the long term. And Kelly will be a good person to ask about how the City of Eugene might be changing.
[00:01:17] In May, the City of Eugene is going to listen to some information about camping. A House bill passed (the Oregon legislature) a little over a year ago that really makes municipalities try to create reasonable policies and procedures around people who are having to survival-camp.
[00:01:36] And so, that's going to be another big thing coming up and I'm on a work group where we're trying to get some public feedback on, 'Until we do have enough housing, what is the most reasonable thing that we can expect our houseless residents to do?' And, 'What should we be providing with them for them to help them to survive until they can get to that next phase, where sufficient housing is available at all income levels?'
[00:02:02] John Q: The Southwest Hills Neighborhood Association convenes a discussion about homelessness. We may also hear about upcoming changes at the City of Eugene, Wednesday Feb. 15 at 6:30 p.m., Hilyard Community Center, 2850 South Hilyard.