Chronicle named 2022 Business of the Year by Springfield Chamber
3 min read
The Chronicle, which expanded its hyperlocal news coverage during the pandemic, was recognized as the 2022 Springfield Area Chamber of Commerce Business of the Year.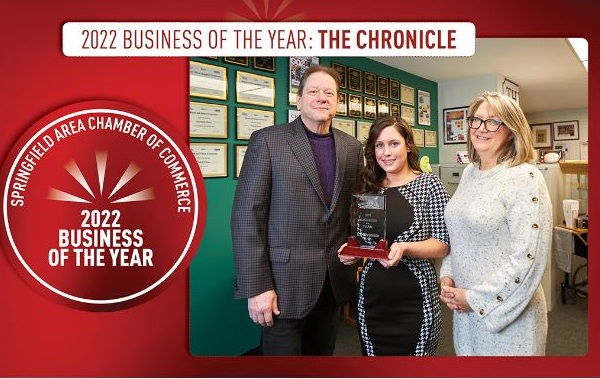 To recognize Springfield's Business of the Year, 2021 recipient Addi Farnsworth.
[00:00:05] Addi Farnsworth (Addi's Diner, 2021 Business of the Year): I'm Addi Farnsworth from Addi's Diner. We were named one of the coolest diners in the United States. It was an honor last year to receive the (2021) 'Business of the Year' award from the Springfield Area Chamber of Commerce.
[00:00:16] The 2022 Business of the Year award winner was chosen based on these criteria: It was a business that had an exceptional year based on expansion, opening, or a turnaround story; this year's award winner has made and continues to make a community-wide impact.
[00:00:36] Read all about it: I'm pleased to announce the Springfield Area Chamber of Commerce 2022 Business of the Year Award goes to: The Chronicle!
[00:00:50] Noel Nash (Chronicle publisher): Oh wow. We are stunned and humbled by this honor. Thank you so much to Springfield Chamber for recognizing the work that we do in the community.
[00:00:59] The Chronicle started in 1909, the same year that Creswell was founded, and so when we purchased the paper in 2019, it was just about to celebrate its 110th anniversary. To be honest, the story of the Chronicle is sort of the vision that I have for what hyperlocal news could be, and in 2020 and 2021, that kind of hyperlocal news was more critical than ever before.
[00:01:24] Certainly, those two years presented real business challenges. Advertising dropped off considerably because there was really nothing to advertise. Our legal notices, which is about 50% of the revenue in our business, dried up. And so almost all of our revenue went away, and yet the need for the information that we were providing was greater than ever.
[00:01:45] And so we very quickly made some hard decisions, and it became very obvious to us that a move to Springfield as our home base was critical to keeping us alive and allowing us then to serve these smaller communities in Creswell, Cottage Grove, and Pleasant Hill.
[00:02:06] You know, as difficult as times were, building those strong relationships with the chambers, for instance, and other local businesses, really sustained us through that period.
[00:02:19] Denise Nash (Chronicle co-owner and COO): You have to earn the trust of your readers and businesses, and I think we've been very resilient and flexible and we've done what we needed to do.
[00:02:30] Noel Nash: And then early 2022, we started to see some bounce back. We hired three reporters to help us better coverage these communities.
[00:02:44] Erin Tierney-Heggenstaller (Chronicle executive editor): Our full-time staff, Larissa Garcia, Ryleigh Norgove, Pierre Weil, kind of are coming in hungry and ready for it. And we also have some really great contributors. We have excellent photographers and videographers.
[00:02:56] I think what makes the Chronicle a viable asset in the community is the fact that we all really believe in what we're doing here. And I think that shows.
[00:03:02] Noel Nash: We've won more than 40 awards in three years through the Oregon Newspaper Publishers Association. These communities could be news deserts if we weren't here.
[00:03:12] Erin Tierney-Heggenstaller: There's incredible people in our communities and we're telling those stories and nobody else is telling them. So that's why we're here.
[00:03:20] Denise Nash: This is a huge leap for us. It really was, and it still is. We are here for that mission and we believe in it.
[00:03:29] Noel Nash: So thanks again to the Springfield Area Chamber of Commerce for this recognition. The Springfield Chamber has been with us since the very beginning in supporting us, and we look forward to years of continued support. In many ways, it's early days for us and we are optimistic about the future.
[00:03:46] John Q: For the Springfield Chamber, Addi Farnsworth recognizes the Chronicle as Business of the Year.
[00:03:51] Addi Farnsworth: During the crux of the pandemic, the owners of our Business of the Year took a calculated risk and opened a satellite office in downtown Springfield. They made this transition at a time when so many businesses, including theirs, were struggling to remain open. They took it upon themselves to invest in and deliver a product the community deserved and greatly needed, and one they knew they could provide.
[00:04:16] In the three short years that followed, they have created jobs, hired local talent, and found a rapidly expanding audience.
[00:04:25] John Q: Subscribe or donate and follow hyperlocal news at Chronicle1909.com.