Recalled city councilor appointed to LTD committee
2 min read
Recalled Eugene City Councilor Claire Syrett was appointed to a renewable two-year term on an LTD committee.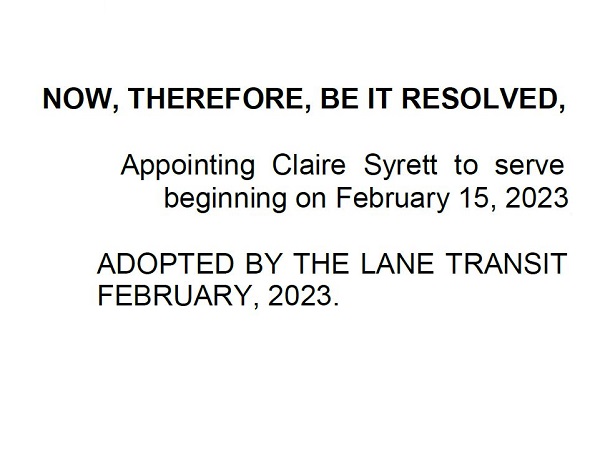 Former Eugene City Councilor Claire Syrett was appointed to the Lane Transit District's Strategic Planning Committee.
The appointment, by LTD CEO Jameson Auten, was approved Feb. 15 by the LTD board of directors. The renewable two-year term runs through Dec. 31, 2024.
In her application for the position, she wrote: "I hope to bring my perspective as an informed member of the community to the work of the committee. This is a perspective developed through my service as an elected official who interacted with many sectors of the community with a stake in our transportation system. This includes bike/ped advocates, transit riders, and people who rely on their cars for transportation.
"A high priority for our community is addressing climate change. I believe that smart planning by our transit district can make a significant contribution to helping us transition from our reliance on fossil fuel vehicles for our primary transportation option. I have a great deal of knowledge and experience in this area, as well as an ability to make connections between different policy areas thus helping to increase the potential benefits of any particular action being considered.
"I served for six years on the Lane Area Commission on Transportation, two years as chair. This commission is advisory to the Oregon Transportation Commission and is staffed by ODOT. I led this commission in the development of a set of strategic priorities while chair. The work of the commission involved prioritizing transportation project funding requests and providing input on projects to ODOT. In addition, I served for ten years as a Eugene City Councilor. I also studied and provided policy direction on transit projects and priorities as a member of the city council."
The Strategic Planning Committee provides independent advice on strategic planning issues related to advancing the goals of the Long-Range Transit Plan, including but not limited to, developing the Frequent Transit Network, making better connections, reducing trip and wait times, bridging the first and last mile, creating safer ways to access service, and optimizing solutions for urban and rural areas.
Claire Syrett was recalled by a margin of roughly 60% to 40% during a special election in September 2022. Recall organizers said they opposed bus rapid transit on River Road.