UO fires student leader during union drive
3 min read
"The University of Oregon is a big and respected institution in our town, but it's not above the law," said the AFL-CIO chapter president.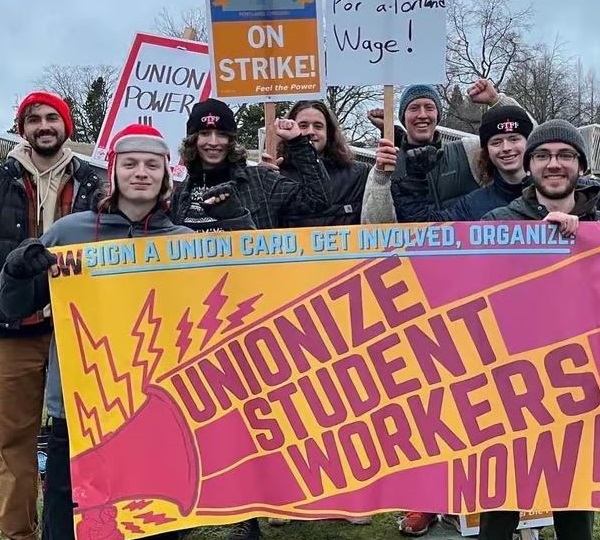 DJ Suss D: On Feb. 17, University of Oregon students gathered in front of Global Scholars Hall where they charged a student was illegally fired for supporting a union organizing effort.
[00:00:12] UO Student Workers is organizing a union for nearly 3,000 undergraduate student workers on campus, including tutors, dining hall, and recreation center workers, teaching and research assistants.
[00:00:28] Under Oregon law, if a majority of the workers sign union cards within six months, university administrators will be required to recognize and enter negotiations with the union, which would be the largest undergraduate student worker union in the country.
[00:00:43] Student workers are now in the peak period of collecting those cards and are facing increasing intimidation tactics from university managers.
[00:00:52] "UO managers have prohibited workers from talking about the union at work or from wearing union pins while at work— both things that are clearly illegal," stated UOSW Member Elizabeth White.
[00:01:05] Last weekend, one of the top union leaders was fired from his dining hall job for violating a rule that has never previously been enforced. His illegal termination came one day after a national story about our union appeared in The Nation magazine featuring this student.
[00:01:21] In response to these acts, the union has filed a complaint with the Oregon Employment Relations Board charging the university violated student workers' rights under state law.
[00:01:31] Students gathered at the Global Scholars Hall to deliver a petition demanding (Will) Garrahan's reinstatement.
[00:01:38] Faculty, graduate students, and local labor leaders voice support for today's protest. "The most fundamental value of any university has to be respect for free speech that includes the right of students to decide about unionization free from retaliation or intimidation," stated professor David Luebke, Vice President for Academic Freedom of the American Association of the University Professors' Oregon Chapter.
[00:02:04] "UO student workers, like all workers everywhere, have the right to form unions without facing threats to their jobs. The University of Oregon is a big and respected institution in our town, but it's not above the law," said Jeff McGillivray, president of the Lane County chapter of the AFL-CIO.
[00:02:21] "Student workers are a valuable part of our campus community. They should be allowed to advocate for themselves as both students and workers. Students deserve to have a free and fair process during their union membership drive," said UO professor Mike Dreiling, former president for United Academics, University of Oregon.
[00:02:39] "Graduate student workers at the U of O have had a union for more than 40 years. You'd think that by now the administration would've stopped trying to intimidate people out of exercising their basic rights to seek better working conditions," explained Emily Beatty, vice president of the Graduate Teaching Fellows Federation.
[00:02:55] "Union means community. So we are currently building a relief fund to support our coworkers who are being fired or having their hours cut in response to their organizing efforts," said Carolyn Roderique, UOSW member, President for Student Leadership Council for Resident Assistants. "Meanwhile, we are here to insist that the UO respect the law and our right to organize."
[00:03:19] This was a press release from UO Student Workers, reported in The Student Insurgent. For KEPW, I'm DJ Suss D.
See also:  NW Labor Press, KBOO, GoFundMe