Lone renter on Eugene council blasts landlords
4 min read
Ward 2 Councilor Matt Keating: "So please, landlords, don't confuse or conflate the issue by continuing to misrepresent yourselves as so-called 'housing providers.' "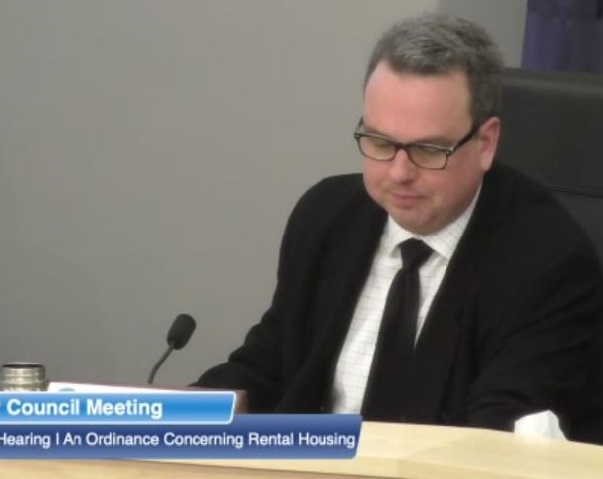 After 96 people signed up for three hours of public testimony on proposed renter protections, three Eugene city councilors thank the speakers, and Councilor Matt Keating accuses landlords of scare tactics.
[00:00:15] Councilor Emily Semple (Ward 1): I want to thank everybody for speaking. An enormous number of people came. You spoke eloquently from the heart and with intelligence. I also want to thank everybody who kind of thank you, emailed us so, so many emails. It's very impressive, and again, both sides are being very articulate. And I'm getting lots of good information from them.
[00:00:41] And a big thank you to the huge number of people who actually wrote me their own emails. I read the copy-paste (emails), but when it's your own words—like they say in school: 'Use your own words'—it makes a difference.
[00:00:54] So, regardless of this subject and the feelings and where we're going to go with it, a big shout-out to everybody who participated both here and on email. Keep it up. Thank you.
[00:01:09] Councilor Jennifer Yeh (Ward 4): I just wanted to thank everyone for coming out tonight. I know it's a long time for us and it's a long time for you to sit and listen to everyone, but everyone was so respectful tonight, which is very much appreciated. I wanted to say I have taken away some really important items from tonight from both folks who came out in support and those who came out in opposition, things that I will need to think about a lot and when we get back to those work sessions..
[00:01:39] So, I want to thank folks for coming out and just being, like Emily said, very articulate about your needs and your concerns. This is very helpful for me tonight, and I know you'll also continue to stay engaged and that is how we will do our best work. So thank you for coming tonight.
[00:01:52] Councilor Randy Groves (Ward 8): I want to thank everybody for being here tonight. I actually heard compelling points on both sides of this issue. I recognize it's an important issue. I recognize it's an emotional issue. My hope is that we're going to take this and the work that's already been done and go back as a council and through hopefully a work session, we'll be able to dig into this a little deeper.
[00:02:13] I think we still have more work to do on this before it's ready to go. I'm just citing my opinion as a single councilor, but I do appreciate everybody who was here, and I recognize how important it is that we have rental units in our community. Not everybody can afford to own a house. Not everybody's at that point in life when they can afford to buy and own a house, but at the same time, they need places to live.
[00:02:39] And so it's important in this symbiotic relationship that we have good relationships as much as we possibly can, and we have places that people can afford to live in, and we have landlords that are able to cover their costs and plus a reasonable profit margin.
[00:02:59] Councilor Matt Keating (Ward 2): I'd just like to make a comment that I've made before, but I hope to articulate it better than I have in the past.
[00:03:06] When I go to the grocery store, I am not going to the 'food providers.' I'm engaging in a financial transaction to feed my family. When I fill up my car, I'm not going to the 'fossil fuel providers.' I'm going to the gas station to get from point A to point B.
[00:03:24] Similarly, as the only current renter on this esteemed council, I am engaged in a contract with a local landlord through a rental agency. I am not, from my point of view, in a contract with a 'housing provider.'
[00:03:41] From my vantage point, housing providers are Homes for Good, Laurel Hill Center, ShelterCare, Catholic Community Services, St. Vincent de Paul, Habitat for Humanity.
[00:03:50] So please, landlords, don't confuse or conflate the issue by continuing to misrepresent yourselves as so-called 'housing providers.' It's as misleading as a full-page ad in the Eugene Weekly that purports that Phase 2 protections will cap rents. It won't. I see it as a disingenuous scare tactic to gin up anti-rental reform testimony, as we heard tonight.
[00:04:21] So, landlords, if you're going to continue to use the industry's mythological moniker 'housing provider,' perhaps tenants should rebrand ourselves as 'retirement providers' or 'mortgage providers' because by and large, that's what we're helping supply.
[00:04:40] That being said, I welcome and thank the wide array of voices who presented compelling and thought-provoking testimony tonight. Thank you to tenant advocates, fellow renters, and the responsible local landlords who shared their thoughts this evening. Thank you.
[00:04:57] John Q: After over three hours of public comment, Councilor Matt Keating appears to dismiss some of the testimony as ginned-up.