UO names distinguished economist as its 19th president
5 min read
"Melissa and I are excited to be Ducks, and we can't wait to join you on campus soon," said John Karl Scholz, named the UO's 19th president. One of their three daughters is a Ph.D. student at the UO.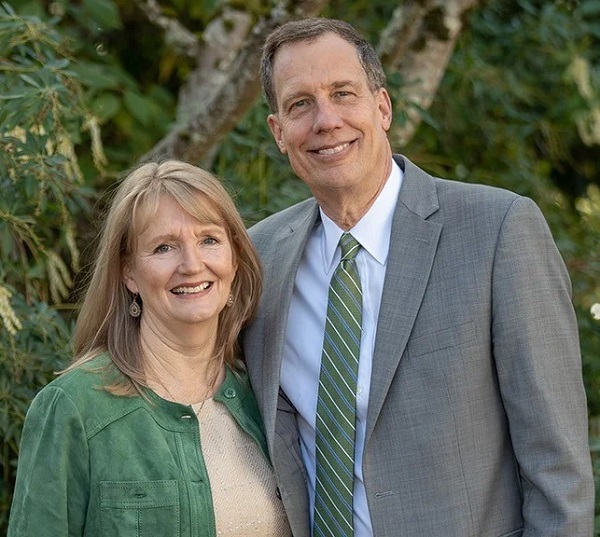 from the University of Oregon
The Board of Trustees of the University of Oregon on March 13 named John Karl Scholz — a distinguished economist, professor, and current provost at University of Wisconsin-Madison — as the university's 19th president. He will begin his appointment on July 1, 2023.
The trustees unanimously selected Scholz following a six-month international search conducted by a 22-member presidential search committee comprised of trustees, students, faculty, staff, and academic and administrative leaders, as well as representatives from higher education and the external community.
"We are thrilled and honored to welcome Karl Scholz to Oregon. He is a visionary leader with deep passion for public higher education." said Ginevra Ralph, UO Board of Trustees Chair. "He is deeply committed to the success of students, to the university's research and liberal arts roots, and its focus on creating societal impact. Incoming President Scholz possesses all the qualities necessary to take the University of Oregon into its next ambitious era."
In addition to being an experienced higher education leader, Scholz is a leading economist, national thought leader and professor whose economics expertise is in household savings, low-wage labor markets, financial barriers to higher education, and bankruptcy laws. He served in two presidential administrations, working in both the U.S. Treasury Department and the Council of Economic Advisors.
"I would like to thank the UO Board of Trustees, the members of the search committee, and everyone in the University of Oregon community for your extraordinarily warm welcome," said Scholz. "Melissa and I are excited to be Ducks, and we can't wait to join you on campus soon."
Scholz will assume leadership of a world-class public research institution with a 146-year history of excellence in academics, discovery, student success, inclusion, and impact. The UO is a Carnegie R1 research university and a member of the Association of American Universities.
The UO's highly regarded faculty excel in the humanities, arts, social sciences, sciences, and the professions, as well as in areas of societal impact, such as the Phil and Penny Knight Campus for Accelerating Scientific Impact and the Ballmer Institute for Children's Behavioral Health in Portland.
The UO's 23,000 undergraduate and graduate students come from every U.S. state and across the globe. As the state of Oregon's flagship public university, the UO is an integral economic driver for Oregon, with an estimated $1.2 billion annual economic impact.
The chair of the presidential search committee, Connie Seeley, who is also a member of the UO Board of Trustees, highlighted that Scholz demonstrates a strong commitment to service in support of the public good.
"I think everyone on the search committee would agree with me when I say Karl Scholz is an inspiring, humble, and approachable leader with an impressive depth of experience. He radiates his joy for working in public higher education and care for serving students," said Seeley. "He personifies the qualities the university community said they most value."
UO Trustee Renée Evans Jackman, the search committee vice-chair, expressed deep appreciation for the search committee members' commitment to the university.
"The search committee members were thoughtful, discerning, and incredibly committed to this process," said Renée Evans Jackman. "They listened intently to the university community. Each committee member brought a unique perspective and important representation to the search, while demonstrating a strong commitment to selecting the next visionary leader of the University of Oregon."
Luda Isakharov, president of the Associated Students of the University of Oregon and a junior triple majoring in political science, global studies, and Russian and Eastern European studies, was one of two students on the search committee.
"His approach to leadership is very student centered, and I can tell he will be a strong advocate for students, their success, and their careers after graduating," said Isakharov. "The emotion and care he has for students is very clear, and I am excited for him to start meeting students across campus."
Scholz has been provost at University of Wisconsin-Madison since August of 2019. He previously served for six years as the dean of the College of Letters & Science. He is also the Nellie June Gray Professor of Economic Policy in the department of economics and served as the director of UW–Madison's Institute for Research on Poverty for four years.
Scholz joined the UW–Madison Economics Department in 1988. From 1990 to 1991 he was a senior staff economist at the Council of Economic Advisors and from 1997 to 1998 he served as deputy assistant secretary for tax analysis at the U.S. Treasury Department.
Among his successes as provost, he helped create the university's Center for Teaching, Learning and Mentoring to enhance instruction. He also helped navigate the complex academic side of the pandemic, focusing on the safety of students, faculty and staff while working toward a return to in-person learning.
As dean, he launched a student success initiative that helps undergraduates identify career opportunities early, gain practical experience and highlight the value of their education. He also implemented changes in the college's budget model to support teaching, learning and research, invested additional resources in student advising, and expanding summer courses and professional master's degrees.
A native of Nebraska, Scholz graduated from Carleton College in Northfield, Minnesota, and earned his doctorate from Stanford University.
Scholz is married to Melissa Scholz, an attorney focused on non-profit law. They have three daughters, one of whom is currently a Ph.D. student at the University of Oregon.
Board of Trustees Chair Ralph thanked Patrick Phillips for his leadership as interim president since August 2022. He served following the departure of former president Michael Schill, who took the president's role at Northwestern University.
"We could not have asked for a better leader to step into this role for the past six months. Patrick has played a central role in the development of the UO over the last decade, especially in fostering a strategic vision of a university fully committed to its public purpose," Ralph said. "We are grateful for his devotion to the University of Oregon."
Phillips will return to the UO faculty and continue to lead his biology lab. The board is expected to name current Senior Vice President and Chief Financial Officer Jamie Moffitt as the interim president until Scholz arrives on July 1.
To learn more about the search process, search committee, and the university and public engagement process, visit the UO Board of Trustees website.