Eugene top 3 funding requests still in play
8 min read
Eugene asks the state to match its $7.5 million investment in unhoused response, while Lane County asks for $7.5 million for a new Emeralds stadium at the fairgrounds.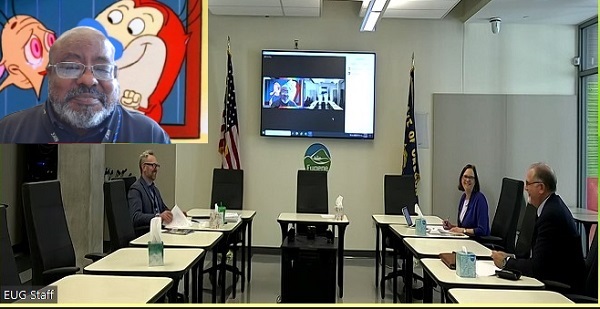 An update on the city's top three funding priorities at the legislature. With status May 3 on homeless response, Clear Lake, and Crow Road, Intergovernmental Relations Manager Ethan Nelson.
[00:00:11] Ethan Nelson: I've been going and asking all of our legislators where our top three are. And while everyone says that our top three have been supported and that the delegation is going to include them in the ask, I have yet to nail down who is carrying each of the three requests.
[00:00:31] My sense is I think that Rep. Julie Fahey, the House majority leader, is carrying the unhoused request; ideally Rep. (Nancy) Nathanson and then (Sen. Floyd) Prozanski.
[00:00:41] Rep. (Paul) Holvey is carrying other priorities and so is Sen. (James) Manning. So while they all support ours, they haven't stepped forward to say this is one of our take-home requests, and so, what I've been told is that, yes, all of the top three take-homes are being covered by our delegation.
[00:00:59] John Q: Gov. Kotek declared a homeless emergency and established MACs—Multi-Agency Coordinating groups—including a MAC for Eugene / Springfield and Lane County.
[00:01:10] Ethan Nelson: We still have out our request that Peter Chavannes and our homeless team, they put in a request to the MAC for $3.4 million and we're waiting to hear how that goes and if they accept it, part of it, all of it. And then what the terms are and then go from there.
[00:01:27] So that is an update on where things are for our unhoused. This afternoon at 5 p.m., Mayor Vinis is giving testimony in the Joint Ways and Means Committee related to the unhoused request and so we've written testimony for her and submitted on into the record the prospectus document.
[00:01:48] John Q: Here is the mayor speaking at Ways and Means May 3.
[00:01:51] Mayor Lucy Vinis: I am Lucy Vinis, mayor of Eugene, here today requesting your support for Eugene's request for $7.5 million in state general funds to match our investments in the unhoused response efforts.
[00:02:05] You are well aware that our state is in the midst of an unhoused crisis. I'm here to stress the impact of that crisis on cities. We are the emergency room and our responses are on the front lines. We desperately need legislative funding to continue our ongoing efforts. While the funding allocated as part of HB 2001 earlier this year is a start, the majority of those funds are not allocated to support existing shelter beds and services.
[00:02:33] John Q: Mayor Vinis was interrupted a few times as the committee worked through technical issues.
[00:02:38] Mayor Lucy Vinis: As I testified to you in 2021, the City of Eugene targeted our investment of ARPA and state funds to focus on our response to the unhoused. Since then, we have added more than 250 shelter spaces and built outreach capacity linked to the continuum of care system…
[00:02:56] Earlier this year, many of my fellow Oregon mayors and I promoted the Oregon Mayors' Association request for statewide funding. We recognize that approach, while critically needed, is not going to get traction this year. The HB2001 funds will support Lane County's effort to create 150 new beds by December this year.
[00:03:16] John Q: But without direct funding to the city, the mayor said, about twice as many would later close down. At the IGR committee May 3:
[00:03:25] Ethan Nelson: We're scheduling meetings with our delegation and also with the budget members, Ways and Means and capital construction, to impress upon them the bipartisan community-wide support for our top three on unhoused, housing development, and economic development…
[00:03:42] I think that we're going to get some portion of the $7.5 million for sure. I don't know what portion of it. I think that we're going to potentially get some portion of the other two asks, and I just don't know what those are.
[00:03:56] Lane County, I know that their top three, we've been asked to submit letters of support and we've been navigating that as they're asking for money for a behavioral health crisis stabilization center, which is a top priority as well for us. They're asking for money for the multi-use—the Ems state center. And they're also asking for money for an integrated material and energy recovery facility out at the Short Mountain landfill.
[00:04:24] John Q: Following Mayor Vinis at the Ways and Means committee May 3:
[00:04:29] Lane County Commissioner Heather Buch: I'm Lane County Commissioner Heather Buch. I'm here to speak on behalf of our request for $7.5 million general fund to continue our work to build a multipurpose stadium at the Lane County fairgrounds site. Lane County owns and operates the Lane Event Center, the formal name for our fairgrounds.
[00:04:47] As with most county fairgrounds, ours is a mix of modern and less-than-modern facilities. Importantly, it's also vital for our community emergency response activities.
[00:04:59] The Eugene Emeralds minor league baseball team approached our board in 2021 as they had identified the fairgrounds as the preferred location for a baseball stadium and sought our interest in entering into a public-private partnership with benefits accruing for both Lane County and the Emeralds.
[00:05:15] I want to emphasize that the Ems play baseball across our state as a visiting team and that other minor league teams visit Eugene as visitors. The economic impact of minor league baseball is not only realized in Eugene and what's good for the Ems is good for Oregon.
[00:05:33] We do not have a complete project at this juncture. Our request for $15 million in assistance from last session was approved with $7.5 (million) in the general fund, and we're here to ask for the second tranche of your previous commitment for the project. We've leveraged that early investment to secure some long-term federal dollars upfront commitment from our team, and our board has secured a 2% increase in our local transient lodging tax and vehicle rental tax to enhance our ability to a long-term bond for the project. Thank you for your consideration. Thank you.
[00:06:09] John Q: At the Intergovernmental Relations Committee May 3:
[00:06:14] Ethan Nelson: Updates on the priority projects: So Clear Lake Road. Councilor Groves is going to give testimony on Friday in the Ways and Means capital construction committee, when they have their public hearing. We've submitted all the materials, everything's moving forward. We garnered, as I said in here, a lot of letters of support from Lane County, Beyond Toxics, Industrial Corridor Community Organization, the Chamber.
[00:06:39] And then for Crow Road for housing from the Chamber, Lane County, Better Housing Together, and the Western Oregon Builders Association.
[00:06:46] John Q: He said some bills that go into Ways and Means don't make it out.
[00:06:51] Ethan Nelson: In Ways and Means, it's basically just going to be, like, they're going to fund it or they're not going to fund it. And so once a bill gets into Ways and Means, it now becomes part of a whole kind of backroom calculus of what gets funded, what gets put into the budget bill, and what doesn't.
[00:07:06] So you do all of this work and then all of a sudden it's like, 'No,' you finally get a no and it's dead. 'All right. Put that one down.'
[00:07:17] John Q: Ethan highlighted several bills for the committee.
[00:07:19] Ethan Nelson: House Bill 2680, related to applicant screening for residential tenants. It's not the one that we had been pushing forward, which would've affirmed the city's local code. But this one amends the requirements for residential landlords and sets an applicant screening charge and then sets in place, like, how you get that money back, how you're reporting on that to the applicants and to the rental agency. So that one's still moving forward.
[00:07:46] House Bill 2984, which allows conversion of a building from a commercial use to housing within urban growth boundary under certain conditions. So it's basically renovating office buildings to become apartments. And in that of note, it would either limit and or prohibit the ability for cities to charge SDCs (system development charges) on these renovations.
[00:08:09] On the early part of this bill, we spent a lot of time trying to figure on out what that would mean for the city of Eugene. And it all depends, it depends on what building you're talking about what existing SDCs and existing uses were already permitted and charged, and then what you're proposing. And so, it could be a net gain, it could be a net loss in regards to the SDC fees the city would bring in, or the charges that the applicant would pay.
[00:08:39] Of note, SDCs are all in a number of categories. So you've got like wastewater, local wastewater, regional wastewater, transportation, parks, and if there's a surplus in one of those areas, you can't apply it across to a deficit in another. It's just has to stay in that category.
[00:08:59] John Q: While CAHOOTS gained national acclaim, and inspired federal funding, CAHOOTS apparently isn't eligible for any of that funding.
[00:09:08] Mayor Lucy Vinis: We remain in this place where there's CAHOOTS, federal CAHOOTS funding that the city can't access directly. We remain in that situation.
[00:09:18] Ethan Nelson: CAHOOTS does not meet the new federal guidelines that (Sen. Ron) Wyden led to get funded from the federal government under CMS (Centers for Medicare and Medicaid Services). Those guidelines are something different than what CAHOOTS provides.
[00:09:33] And so when we show up, we say, 'Hey, we're CAHOOTS.' And they say, 'Yeah, CAHOOTS is great, but it's not mobile crisis response, statutorily defined. Therefore you're not eligible.'
[00:09:44] And so then we say, 'Okay, well, what do we need to become eligible?' Well, CAHOOTS may or may not be willing to make that change.
[00:09:53] And so there's at multiple levels big challenges for us to receive the funding or even be eligible to then request the funding.
[00:10:06] And the money that became available from (Sen. Ron) Wyden in the Medicare system is not direct funding, it's reimbursement, and so we have to then go through the process. And many of clients/community members CAHOOTS serves do not give any information, and therefore if they're not getting that information, then they can't request reimbursement under the OHP.
[00:10:33] So at that level, we said, 'Why are we in this business? Because this is statutorily the county's work. And we're funding it and we can't have access to the federal funds.' I mean, at every meeting with OHA staff, CMS staff, people kind of scratch their head and look askew and say, 'Wait, why are you providing the services that the county is statutorily required to give?' I just work here.
[00:10:59] Councilor Randy Groves: Issues.
[00:11:01] Mayor Lucy Vinis: We just had this conversation.
[00:11:04] John Q: Heading into crunch time at the capital, with Eugene's funding requests being escorted toward the final budget by legislative leaders.