EmX takes another $2.12 million in STIF funds
2 min read
"EmX is core to our service, connecting our community to employment, housing, and services," said LTD Chief Experience Officer Cosette Rees.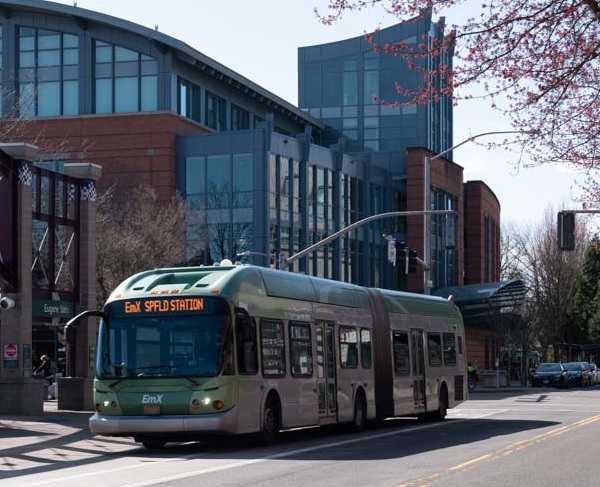 from ODOT and LTD press releases
Lane Transit District received just under $2.6 million in state transportation improvement funding, with about 87% going for new EmX buses.
The three new EmX buses will replace vehicles put into service in 2007 which have surpassed their useful life and are now less reliable and most expensive to maintain.
The $2.12 million to LTD for three new buses represents over 15% of all statewide discretionary awards announced by the Oregon Department of Transportation on May 16.
Proponents tout EmX as an attractive and successful candidate for such funding.
"EmX is core to our service, connecting our community to employment, housing, and services," said Cosette Rees, LTD's chief experience officer and chair of Oregon's Public Transportation Advisory Committee.
Opponents of the bus rapid transit system call EmX "the gift that keeps on giving to the transit industry." Each custom 63-foot bus weighs over 20 tons and requires reinforced roadway. Because the buses cannot be rerouted as needed during emergency evacuations, critics place the diesel EmX among the world's least resilient transportation systems.
LTD also received $60,000 to replace a Rhody Express bus shelter in Florence.
In addition to the two discretionary funding awards, LTD's Diamond Express to Oakridge received $250,000 in a STIF intercity award and $150,000 from a STIF intercommunity award.
Lane Council of Governments received a total of $1.73 million in STIF funding:
Overall, ODOT received 75 applications from transit districts totaling $35.5 million. With recommendations from the Public Transportation Advisory Committee, earlier this month the Oregon Transportation Commission approved $28.5 million to support operations in Oregon's transit districts, including for bus service, maintaining and buying vehicles, building charging stations for battery-electric buses and vehicles, and other infrastructure to support public transit.
According to ODOT, the STIF program was established in Section 122 of House Bill 2017 to provide a dedicated source of funding for improving, maintaining, and expanding public transportation for all users. Every two years, public transportation funding is made available to support access to jobs, improve mobility, relieve congestion, and reduce greenhouse gas emissions in Oregon.