LTD to repaint EmX lane markings
2 min read
The safety project is based on EmX bus incidents between 2017 and 2021.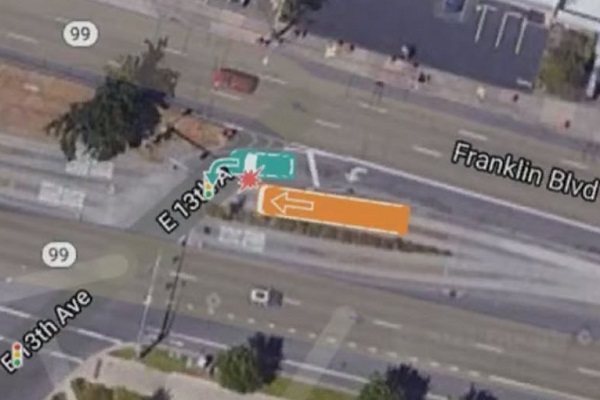 from Pat Walsh, Lane Transit District
LTD encourages private vehicle operators and bicyclists to be especially vigilant the next several weeks as the transit agency improves safety along EmX corridors.
Brown Contracting will start removing and repainting bus-only and turn legends in all EmX lanes beginning in West Eugene on June 5. The work will be done from 8 p.m. until 4 a.m.
Repainting bus lanes and turn legends will improve safety through better recognition of bus-only lanes and recognizable vehicle access to businesses along the corridor.
Brown Contracting will have a vehicle following the work crew to direct buses, personal vehicles, and bicyclists away from the work area into thru lanes and to prevent traffic from driving over the wet paint.
As weather allows, work crews will begin repainting the dashed lines that separate thru lanes from Business Access & Transit (BAT) lanes. When repainting is complete, the dashed section of the BAT lanes will be longer, allowing more time and space to merge into BAT lanes and access businesses.
In addition, work crews will used red paint on selected areas to more clearly show drivers where they can and cannot drive, stop, and turn. Overall, these enhancements to road signage and markings will make driving safer and improve traffic flow.
BAT lanes help buses and other vehicles move more efficiently through traffic and provide better access to businesses. BAT lanes are reserved for buses and turning vehicles only. When driving through BAT lanes, be sure to look both ways, even when entering and exiting one-way streets, and watch for buses.
LTD Project Manager Randi Staudinger explained that EmX crash data helped inform the $2 million safety project.
"Between 2017 and mid-2021, we had 249 incidents along the EmX route," Randi told the board at a special meeting Dec. 14, 2022. "Of these 249 incidents, there was 121 collisions which involved an EmX bus. And then we also had 44 near-miss events, which resulted in hard braking events. So the purpose of this project is to address these safety concerns that are happening out there."
Accidents involving a 63-foot-long, 20-ton-plus EmX bus can be "pretty severe," Randi said. "It's not just a little bump."
Drivers may need to make adjustments during the nighttime work near EmX lines, such as sharing the road with EmX buses accessing alternate stops during service hours.
Watch for upcoming service alerts about alternate stop locations when work crews are painting near EmX platforms. View Service Alerts at LTD.org, on social media, and on your preferred trip planning app.
The project is funded by 5307 (Urbanized Area Formula Grants) and Formula funds, State Lottery Bond funds, as well as a general fund match. Learn more about the project at LTD.org.