Neighbors fill growing resource gaps as city slashes budget
4 min read
In 2022, neighborhood volunteers provided over 28,000 hours of service worth over $850,000.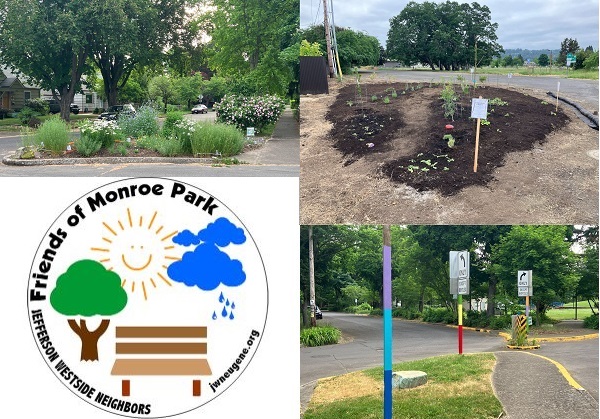 from the Jefferson Westside Neighbors and Southeast Neighbors
Eugene's neighborhood associations were established to help neighbors to improve their neighborhoods. In recent years, this often includes filling service gaps where the city simply no longer has the resources.
Jefferson Westside Neighbors recently recognized three neighborhood do-it-yourself projects where neighbors took matters into their own hands to improve their part of the neighborhood.
All three JWN projects involved improving spaces that fall outside the attention of the city's Public Works or Parks and Open Space departments:
Solidarity Garden: This formally-neglected weedy frontage located on 15th near the Jefferson Park DOLA is being transformed into a "food forest." Fruits and vegetables from the garden will be available for picking and be used to stock the community fridge in the Friendly neighborhood. Herbs will go to supply groups like Black Thistle Street Aid and Herbalists Without Borders, which provide plant-based medicine for those who seek it. Created via cooperation between neighbors and a UO student's master's thesis project, contact EugeneSolidarityGarden@gmail.com and join weekly work parties on Fridays from 5-7 p.m.
Rainbow Street Sign Poles: This ongoing project at Adams and West 10th is a neighbor's passion project to beautify one of many traffic diverters. This project has been previously featured in the Register-Guard.
Broadway and Tyler Street Landscaping: This extensive landscaping effort reclaimed a neglected traffic diverter at West Broadway and Tyler Street. The focus is on native plants. After last season's planting, the area is starting to come into its own.
Southeast Neighbors, while supporting city emergency management in developing wildfire evacuation plans and exercises, discovered a "lost" bridge. The Spring Boulevard bridge over East 30th was transferred from Lane County to the city in 2006 but did not make it onto the city schedules for seismic improvements for 16 years—until volunteers from the neighborhood followed up in 2022.
The neighborhood association is now asking the city about its plans to clear collapsed bridges and other debris from the city's main evacuation routes.
Many neighborhoods have active 'Friends' groups for neighborhood parks, such as Southeast Neighbors' Friends of Tugman Park, also known as "The Tugman Tuggers," and Jefferson Westside's Friends of Monroe Park.
When Jefferson Westside Neighbors hold their annual picnic at Monroe Park on July 11, they will also celebrate a successful JWN campaign to increase access to restrooms that began in 2016. The neighbors first advocated to open the restrooms outside of specific events, then year-round. They next persuaded the city to install temporary weather-proofing. Finally, they convinced the city to dedicate funds for a remodel.
Renovated restrooms, new lighting, new park furniture (coming soon), and hundreds of volunteer hours are all part of efforts by JWN and Friends of Monroe Park to enhance this important public resource. Want to get involved? The final work party of the year will be held at Monroe Park on Saturday, June 24 from 9 a.m. to noon.
Active and engaged neighborhood associations serve vital functions in the community. For a relatively small amount of funding, the community receives an abundance of benefit:
Eugene's neighborhood associations annually return much more of their annual outreach funding back to the community. In 2022, that return on investment was $854,443 with over 28,000 hours spent by neighborhood volunteers.
Neighborhood volunteers organize focused committees to address a variety of important and timely issues: hate and bias, transportation, climate change, disaster preparedness, business outreach, parks, and others.
Across our community, neighborhood associations provide a means to participate in the civic life of Eugene by hosting scores of informational meetings for their neighbors. Elected officials such as city councilors, county commissioners, and state representatives attend neighborhood meetings. Staff of local agencies regularly attend, present information and engage community members in discussions on critical issues to their neighborhood and their community.
Eugene's neighborhood associations work across their boundaries through groups like the Eugene Neighborhood Preparedness Network to develop trainings and disseminate information so groups and individuals can be better prepared to assist neighbors in disasters.
Neighborhood volunteers organize park cleanup events, social events in neighborhood parks and fundraisers for local community organizations. This year, for example, Eugene's neighborhood association-led annual food drive for Food for Lane County yielded almost two tons in donated food. Jefferson Westside Neighbors raised over $7,000 by going strictly "green" (financial donations only; no food drop-off).
Neighborhood associations actively engage renters and homeowners, businesses and nonprofits alike as the mailings go to every address within our boundaries. These are residents and interested groups the city may not easily reach or engage.
Your neighborhood association is ready and willing to work with you on a wide variety of projects and to celebrate your DIY neighborhood projects. Just reach out – contact information for your neighborhood association is provided on the city website.