June 15 ceremony to honor fallen firefighters Austin Smith, Logan Taylor
2 min read
"For our fallen, their last alarm; they have gone home."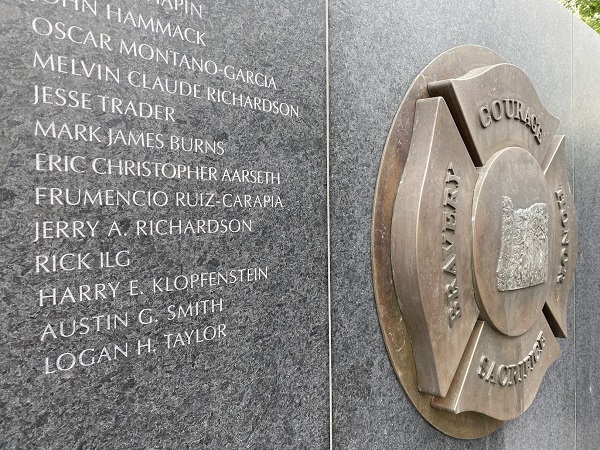 from the Oregon Department of Public Safety Standards and Training
Please join us June 15 to honor two Oregon fire service members who made the ultimate sacrifice: Firefighter Austin G. Smith and Firefighter Logan H. Taylor. The Oregon Fallen Fire Fighters Memorial Ceremony will be held June 15, 1 p.m., at the Department of Public Safety Standards and Training, 4190 Aumsville Hwy SE, Salem.
In preparation for the ceremony, the names of the two fallen firefighters were recently etched into the memorial wall alongside the names of 174 other firefighters who are already honored and remembered on the memorial. Families of the fallen were in attendance at the engraving event alongside members of the Oregon Fire Service Honor Guard, who stood watch as the names were added.
Firefighters Smith and Taylor represent the 175th and 176th line-of-duty deaths approved for the memorial wall.
Austin G. Smith, a volunteer with St. Paul Rural Fire Protection District, was responding to a barn fire on February 3, 2022 when a catastrophic explosion caught him in its blast. After being given immediate first aid at the scene, he was transported to Oregon Health & Science University by Life Flight helicopter and succumbed to his injuries en route. At just 30 years old, Smith was heavily involved in his community as a volunteer firefighter, a sixth generation hop farmer, and a business entrepreneur who was set to open a taphouse and restaurant in St. Paul. Smith is survived by his wife and young daughter.
Logan H. Taylor was a wildland firefighter and owner of Sasquatch Reforestation, an Oregon Department of Forestry-contracted wildland firefighting company. On August 18, 2022, while responding to the Rum Creek Fire in southern Oregon, he was struck by a falling tree. Jackson County Sheriff's Search and Rescue team was deployed, and Taylor was flown to Asante Rogue Regional Medical Center in Medford. Despite lifesaving efforts, Taylor passed away from his injuries. Taylor was just 25 years old and was known as being a humble and caring individual who loved his family and friends and enjoyed bringing people together through food and conversation. Taylor had a passion for the outdoors, becoming the fourth generation of foresters in his family.
The Oregon Fallen Fire Fighters Memorial stands as a daily reminder of the sacrifices made by brave individuals from diverse backgrounds who died in the line of duty, protecting communities and natural resources around our state from as far back as 1881.