Live pro wrestling at Whirled Pies June 17, PK Park June 24
3 min read
Alan Tyson reports that people from all walks of life are saying that POW Pro Wrestling is the most amazing live event they've ever seen.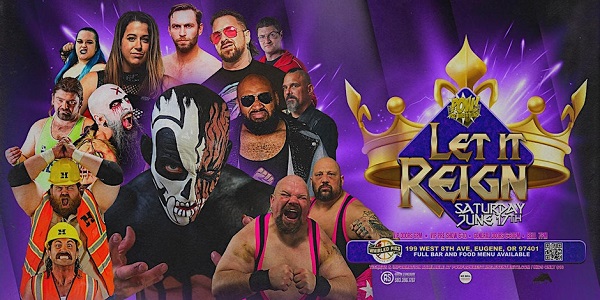 DJ Suss D: Since its inception in 2019, Pride Of Wrestling (POW) has been known as a promotion that combines the old-school wrestling technique with the modern style. Eugene POW offers unique family-friendly entertainment where today you can witness the stars of tomorrow showcase their talent.
[00:00:17] Local reporter Alan Tyson spoke with Mister Oohlala, Bubba Blanchard and Jeremy Blanchard at Blair Alley here in Eugene. Eugene POW has partnered with the Eugene Emeralds.
[00:00:31] Mister Oohlala: This is one of the nice things that they're doing for their great fans, right, is they're providing an opportunity for entertainment after the game, if you will. And so they called us because pro wrestling and baseball, it's like peanut butter and jelly. Everybody likes it.
[00:00:45] DJ Suss D: Their venue has moved from the U of O.
[00:00:48] Mister Oohlala: It's about finding your niche. And when you find a group of people who are like-minded like you, Blair Alley gave us that opportunity. You know, they were the first bar to come to us and say, 'Hey, we want to run a show.' We ran a show for them. It was wildly successful. They were very happy. We were very happy. And then we had this wonderful opportunity to go to Whirled Pie Arenas.
[00:01:06] DJ Suss D: They have a diverse audience.
[00:01:08] Mister Oohlala: That demographic of the female audience that everyone's looking for? Well, they're coming to our shows and they're having a great time and they're coming to 'em for the first time.
[00:01:19] The reactions we're getting as people are leaving the building, like, at the last show I had a group of three young ladies come up to me and they're like, "This was the most amazing thing we've ever been to live. And we would've never come to something like this, but our friend was like, 'Hey dude, we should go check this out 'cause I heard good things.' " They're like, "Oh my gosh, whatever."
[00:01:39] And then boom! They came to it and on their way out they were just like, "You guys, this was just amazing." All walks of life. Everybody is coming out and just having a great time.
[00:01:50] DJ Suss D: The only difference between POW and other types of wrestling is the story.
[00:01:55] Jeremy Blanchard: Maybe they just realized it was a male soap opera.
[00:01:57] Bubba Blanchard: We cannot stand Funny Bone. He's a filthy piece of trash. But we don't argue that Funny Bone's one of the most talented athletes in all of professional wrestling because if he wasn't one of the most talented athletes in all professional wrestling, he wouldn't be in POW Pro Wrestling.
[00:02:13] Because again, it's pro wrestling and we want professional wrestlers and they come in and like Roddy Piper looked at Jeremy and I when we were doing Portland Wrestling Uncut, and he said, 'Let me tell you something: All of those fans are on top of you. You make sure everybody knows that pro wrestling is real.'
[00:02:34] I can't make you believe everything's real. But damn it, I can make everybody knows that Jeremy and Bubba Blanchard are real. And that's why we always get the reaction we get, all over the United States, wherever we've been, everybody gets a reaction from the Blanchards because they know we're real.
[00:02:51] Jeremy Blanchard: You believe it, so they believe it. When you take a back bump, you're landing on wood and that little thin mat.
[00:02:57] DJ Suss D: They have an event here in Eugene on June 17.
[00:03:00] Jeremy Blanchard: Yeah, we have two big shows coming up this month. There's Let It Reign at Whirled Pies on June 17, and then a week later we have Basebrawl at PK Park right after the Ems game. So that's exciting, to be more infused into the local cultural lexicon, for sure.
[00:03:17] DJ Suss D: For more info, go to POWProWrestling.com.