Fundraising auction runs live online June 21-25
1 min read
Bid high and bid often:  When you win, student journalists win too.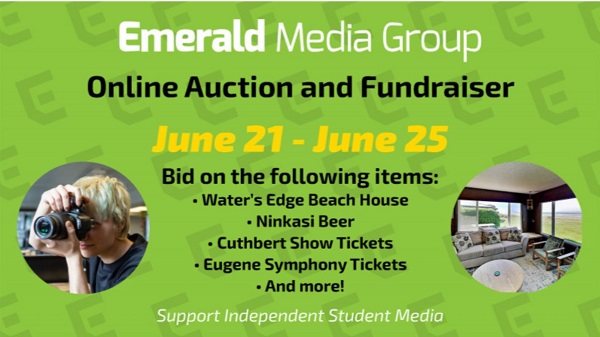 from the Emerald Media Group
Let the bidding begin!  The Emerald 's second annual fundraising auction runs online from 7 a.m. June 21 to June 25 at midnight.
For the second year in a row, you can bid on an Oregon beachfront vacation rental (with a special thank you to alum and donor Don Mack).
Other auction items include concert tickets at Cuthbert Amphitheater; Eugene Symphony tickets; yoga; mini-golf; a children's bike; gift cards to Eugene restaurants and breweries; and The Duck Store.
You can even bid on lunch with Seattle Times Executive Editor Michele Matassa Flores, who will pick up the tab at a Eugene or Seattle restaurant.
Register for the auction at emgonlinefundraiser.afrogs.org.
All auction items were again donated this year. which means 100% of auction proceeds will go directly to support independent student journalism. Fundraising is necessary to sustain independent student media. Your donations support:
Vital public information requests
Travel to cover important events
Invaluable journalism conferences
Necessary digital equipment
Compensation for more student journalists for their exceptional work
Strategic investments in the future of student journalism. 
Help nurture the passion and sustain independent student journalism. Bid high and bid often:  When you win, student journalists win too.