EWEB upgrades underway on Chambers, Hilyard, Agate, Amazon Parkway
4 min read
New transmission and distribution lines will be designed to better withstand major earthquakes.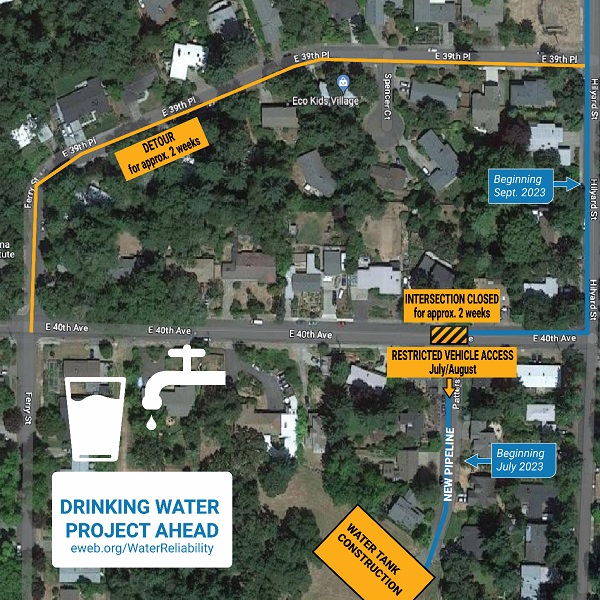 from Aaron Orlowski, Eugene Water & Electric Board
EWEB is launching several construction water pipeline projects to enhance the reliability and earthquake resiliency of drinking water service for Eugene residents.
The pipeline upgrades are part of a multi-year plan to modernize aging infrastructure and build new water facilities designed to withstand a large earthquake or other natural disaster. EWEB has planned much of the work in conjunction with city road work to minimize construction impacts.
"EWEB strives to reduce neighborhood impacts by completing the work as safely and efficiently as possible," said Chris Irvin, the lead engineer on the projects. "But we recognize that construction may also cause short-term traffic disruptions or other inconveniences. Whenever feasible, we will coordinate with neighbors and businesses to reduce the impacts of the project."
Residents living near the projects should expect traffic disruptions as well as construction activity and noise. Details on all the projects can be found on EWEB's website. Here's an overview:
Water pipeline on Patterson, East 40th, and Hilyard
One of the biggest projects will carry water from the new, earthquake-proof water storage tanks on East 40th Street in South Eugene to the rest of EWEB's water system. EWEB is also upgrading nearly one mile of existing drinking water pipe, which will improve reliability and fire protection in the area. Construction is expected to begin in July, with crews starting to prepare for this work in late June.
The transmission main will be made of welded steel, which is the one of the most seismically robust materials available. The smaller water pipes will be constructed out of ductile iron, which is lighter, stronger, and more durable than existing cast iron pipes, and can have a lifespan of over 100 years. EWEB is installing multiple barriers to prevent corrosion on the new pipelines and to ensure a long lifespan.
Chambers Street pipeline
EWEB is upgrading a half-mile stretch of 6-inch cast iron pipe to 8-inch ductile iron pipe. The larger pipe will better meet the needs of the community and enhance resiliency, as ductile iron is lighter, stronger, and more durable than cast iron, and can have a lifespan of over 100 years. Water pipeline work is planned for summer 2023 in coordination with planned City of Eugene road improvements. Pipeline construction work will be performed by the City's contractor simultaneously with road work in order to reduce the duration and impacts to the public.
Agate Street water main replacement and Shasta water tank upgrades
EWEB is upgrading a one-quarter mile stretch of water pipeline on Agate Street approximately from Black Oak Road to Firland Drive. The work is expected to start in June 2023 and is being done in coordination with planned city road improvements.
The new pipeline will replace a critical section of 12-inch cast iron pipeline between two EWEB water storage tanks on North Shasta Loop and Agate Street with a new 12-inch ductile iron water main. Additionally, an existing 6-inch cast iron water main will be replaced and upsized to 8-inch water main to improve system resiliency and improve flows for firefighting services in the area.
Later this summer, EWEB will begin work to replace the two aging storage tanks in the area.
Amazon Parkway main looping
EWEB is looping together two pipelines to improve water quality and increase fire flows in the area. The work is expected to begin in late June or early July and will impact traffic for two to three weeks at the intersection of Amazon Parkway and East 24th Avenue. Work on this project is being done in coordination with planned city road repaving of Amazon Parkway in summer 2023.
The Eugene Water & Electric Board is Oregon's largest customer-owned utility. Founded in 1911, EWEB provides water and electricity to approximately 96,000 customers in the Eugene-Springfield area. EWEB's service area covers 236 square miles with a population of more than 200,000 people, including major institutions such as the University of Oregon.
A five-member elected board of commissioners governs the utility, which does not operate to earn a profit or to serve the investment needs of stockholders. Employing approximately 500 people, EWEB serves the people of Eugene by embodying core values of safety, reliability, affordability, environmental responsibility and community/culture.
EWEB owns four energy generation facilities, including hydroelectric projects on the McKenzie and Clackamas Rivers, and leads watershed protection measures with local landowners and environmental organizations.
With one of the greenest energy supplies in the nation, approximately 90% of EWEB's power comes from carbon-free sources, and EWEB is committed to achieving a 95% carbon-free energy portfolio by 2030.