Moon Mountain Park closed due to wildfire
2 min read
The park is closed until July 28. The cause of the fire is under investigation.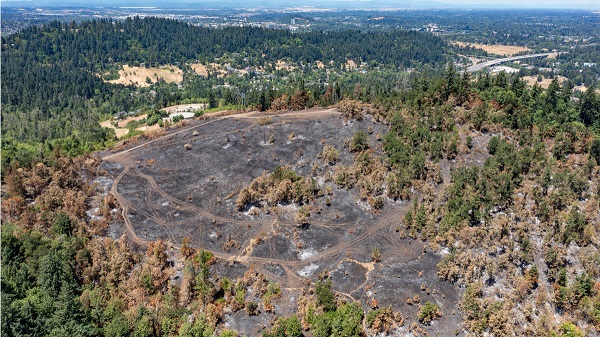 from City of Eugene Parks and Open Space
Following the wildfire at Moon Mountain Park, the park is closed to the public until Friday, July 28.
During the closure, staff will assess the condition of the park trail and assess any hazards on or near the trail.
The fire burned 34.4 acres. The majority of the fire occurred on upland prairie, burning grasses and low vegetation.
More than 15 years of fuels reduction and habitat restoration to Moon Mountain Park reduced the fuel load and provided firefighters better access during this incident.
Even though it was a relatively small fire, the circumstances—windy, hot weather, steep terrain, poison oak and blackberries—made the response no easy task. We are so appreciative of the agencies whose swift work helped extinguish the fire fully in just a few days, protecting the habitat and neighboring properties from serious damage.
Responding agencies included: Eugene Springfield Fire, multiple districts from the Oregon Department of Forestry, Douglas Forest Protective Association, Coos Forest Protective Association, Pleasant Hill Goshen Fire and Rescue, and various other contractors.
Following the temporary closure, park staff will work on a long-term site restoration plan. Those interested in updates on site restoration can sign up for project updates.
The cause of the fire is under investigation.
Parks and Open Space is continuing to offer a short survey. Enter to win Eugene Parks swag. This survey will help us understand your experience and what is important to you. Your responses are completely anonymous.
The survey will only take about seven to 10 minutes. Ask Parks and Open Space to recognize this volunteer time in your favorite Eugene time bank, Lane Services Sharing Network or the Whole Community Time Bank.