Overwhelmed staff closes renter hotline; rent strikers allege retaliatory evictions ahead
4 min read
Rent strikers allege that R&R Properties sent letters to Almaden Street tenants threatening eviction proceedings "if they did not remove the protesters from the collective driveway."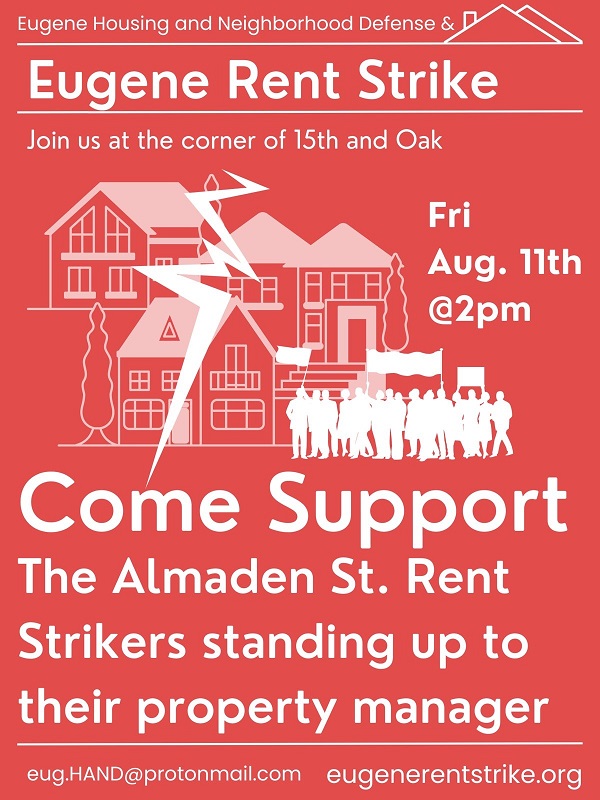 from Springfield Eugene Tenant Association, Eugene Housing and Neighborhood Defense, and staff reports
With Eugene experiencing a surge in renter evictions, a local nonprofit announced that its renter hotline would temporarily close as of Aug. 8, as one previously-evicted Eugene tenant launched an organized rent strike.
The Springfield Eugene Tenant Association said it hopes to restore full service to its renter hotline as quickly as possible.
Callers on Aug. 8 to the renter hotline, 541-972-3715, hear a recorded message that states, "We are not able to respond back to any calls at this time."
"Due to a large influx of calls and our hotline being understaffed, we have made the difficult decision to temporarily close our hotline," SETA Executive Director Tim Morris said in a media release.
"This is not a decision we make lightly or without serious consideration," he said. But the hotline has been "very understaffed for a little over a month," and the temporary closure will allow current personnel to catch up "to the huge amount of calls we have received recently."
"It is clear to us that attempting to operate our hotline as if we were at full capacity has been harmful to the health and well-being of our staff, which we take very seriously," Tim said.
SETA directed clients with questions about renter rights or renter assistance to its online resource guides and to the White Bird Little Help Book. Renters currently being evicted or seeking renter assistance are directed to call 211.
Because the hotline has paused operation, SETA may not be able to provide complete eviction data for August. The importance of that data was highlighted during the July 24 Eugene City Council meeting.
Eugene City Councilor Mike Clark, a mortgage specialist in the local housing market, predicted that evictions would spike during the 30 days after passage of a renter protection package, right up until it becomes law.
He said he has been discussing the options facing property owners and investors with his clients and colleagues. To pencil out the new renter relocation assistance, he said, many landlords plan to evict their current tenants. This would give them the option to choose tenants under the new rules, convert the property to a short-term rental, or sell the property.
Councilor Clark also suggested that because SETA had advocated for the renter protection measures, the nonprofit should not also be providing the data used to evaluate those measures.
In response to Councilor Clark, Tim Morris replied by email: "SETA resolved, on average, 170 cases per month with tenants in the Lane County area. Our data is published by our hotline team that, by requirement, does not engage in advocacy on SETA's behalf.
"Furthermore, we report our data on what renters are facing every day to the whole of the State of Oregon, including the City of Eugene. Eugene's own staff has reported that one-third of renters living in our city are severely rent-burdened and the vacancy rate is so low that it is a direct and expedient cause of our homelessness crisis.
"From our perspective, only one person here is acting partisan to paint a narrative that is not a part of Eugene's stark reality. We continue to be a part of the solution to homelessness prevention and are committed to working with our partners across the state to keep tenants safe, stable, and housed."
The city contracted with SETA to operate the hotline and provide regular reports. With the hotline closed for now, it was not clear how city staff would obtain data about local tenant issues. Eviction data will be needed as part of a "qualitative and quantitative analysis of impacts to renters, landlords and the rental housing market."
One of the many recent evictions launched a Eugene rent strike. Supporters organizing on behalf of Candice King and family plan to rally at 2 p.m. this Friday, Aug. 11, near the offices of the local family-owned property management company, R&R Properties.
The rent strikers demonstrated inside the office of R&R Properties last Friday, Aug. 4, "to bring awareness to their aggressive harassment campaign of their own tenants in the wake of the Candice King family rent strike and eviction."
The protesters allege that R&R Properties sent letters to their paying tenants threatening to start eviction proceedings Aug. 1 "if they did not remove the protesters from the collective driveway."
Eugene Rent Strike alleges that tenants were warned they will be violating the guest policy of their leases if protesters are on the property.
After receiving the letters, one house of tenants chose to leave, and another chose to stay and fight, "but both houses experienced chaos and fear at the hands of R&R Properties," the rent strikers said.
An unnamed tenant is quoted: "We were dragged into this just because we live in the same space, not because we actually violated our lease or did anything wrong. R&R is willing to makes us homeless to try and make this problem go away, but we refuse to let them bully us out of our community."
Candice King, whose eviction launched the local rent strike, repeated her offer to purchase the homes from the owner.
"We have a vision for these homes," she said, "that they are owned by the people who live in them, and held in a community land trust that will care for the structures and the people in them for many decades to come. We will pursue this vision relentlessly. This is what our neighborhood needs and what everyone wants."
The rent strikers and property managers have been asked to provide a copy of the letter, for sharing in the searchable online archive of local government documents.