Sen. Wyden, Rep. Hoyle, Commissioner Buch share briefing on local wildfires
9 min read
We are following up after asking Sen. Wyden this question: After seeing the devastation on Maui, should Oregon cities be required to conduct mass evacuation drills?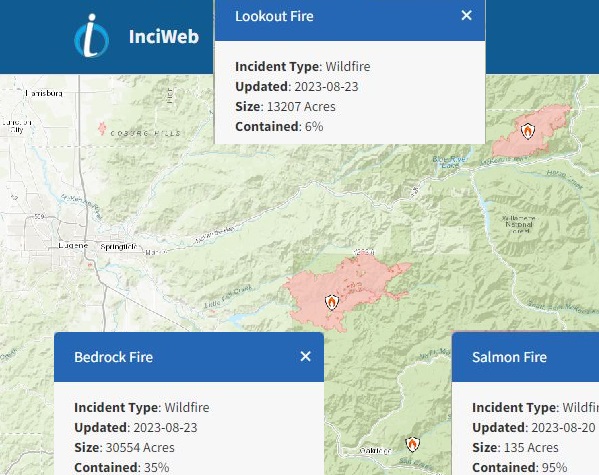 After a briefing on the wildfires burning east of the city, reporters met Aug. 21 with Sen. Ron Wyden, Rep. Val Hoyle, and Lane County Commissioner Heather Buch.
Commissioner Heather Buch (Lane County): Our community in Lane County all over, but especially in East Lane, are really fire-fatigued. It has been really hard to take those calls each day and get those emails from those that have been around in each of the fires the last four years that we've had. They're devastating.
[00:00:34] People go down to some of our spots that we have available for cooling centers or evacuation centers, and some people are just sitting down there, shaking. It is really, really hard for people to go through this again, and it's really, although I love these people, really hard to see them every single year in our community.
[00:00:58] I took some time off and was in Hawaii during the Maui fires. Although I wasn't in Maui, it was all over the news. And it took me back to everything that occurred in the Holiday Farm Fire. And I know the residents also were thinking that when they heard the news.
[00:01:23] And when I look at our teams that we have here working in Lane County, I have every confidence that we have the best of the best working on our current fires each and every year. I wouldn't want it any other way. The coordination is substantial. And when I come in, I have a chance to brief new teams that come in every two weeks. I think about them. I think about their families. I think about their kids. They are all sacrificing for the folks in Lane County. And I really appreciate every moment that they're here.
[00:02:10] Thank a firefighter and thank a first responder.
[00:02:13] Reporter: This area, McKenzie River Corridor, a lot of Oregon, depends on tourism and recreation dollars and so I think there could be a statement shared perhaps on how the growing wildfires, the expansion of the seasons, the intensity of the fires may be affecting the economic outlook for Oregon as well, is that correct?
[00:02:31] Commissioner Heather Buch (Lane County): It absolutely impacts our economic viability upriver. They do depend on tourism. And when we have to close large areas of recreation, this closes some tourism opportunities for them. And there are employees that live up there. We want them to stay up there. We want the McKenzie to grow and rebuild and recover.
[00:02:55] And we need that economic vitality in order to do that. So we are working together as a team to make sure that when we do closures of any kind that we're looking at the least impactful way to do so.
[00:03:12] Rep. Val Hoyle: We just received a briefing on a number of the fires in the Willamette (National) Forest. And like many people that live here, my husband and I, we have our to-go bag packed. And yes, after the Holiday Farm Fire, everybody has a bit of PTSD. But the one thing I can say, and we've heard this, and I've said it before, on the ground, from the people on the ground to professional structural firefighters in the urban areas, to the federal and state, everyone is working together in a way that no one has seen before:
[00:03:46] Addressing fires earlier that are in the wildland urban interface to make sure that people are staying safe and we keep small fires small, and then also recognizing that fires don't stop at a state line, at a county line, at a city line.
[00:04:03] And these fires are not like the fires that we've experienced before. We are in unprecedented drought. And as was mentioned in our briefing, there are floods in eastern Oregon and western Oregon's on fire. So we are going to continue to see extreme weather because of climate change and we have to address that differently.
[00:04:24] What I will say is we're only halfway through our fire season. And again, it's incredibly, incredibly dry for a lot of us. Our wells have run dry and we know that means that it's going to be harder to fight fires.
[00:04:36] But what people need to do is recognize that before they go anywhere: Check ODOT Trip Check or the federal Inciweb site. We have it on my congressional website. You can go there and find resources. Stay away from areas where there's a fire. Know that everything, everything, there is a Level Five fire danger and people need to understand that it is our responsibility to make sure that we don't add to an already existing problem.
[00:05:09] So what I will say is when we get back to (Washington) D.C., I have been thrilled to be able to work with Sen. Wyden and this is our number one priority to make sure that there is, there aren't bureaucratic obstacles preventing these good men and women from doing the job they need to do and saving our forests and saving our homes and saving our wildlife and saving lives.
[00:05:31] We want to make sure that firefighters get paid what they deserve for really, really difficult work. And we want to make sure that we can spend even more money upfront preventing these fires in the first place, making sure we have resources early. Instead of just writing a giant blank check afterwards because that doesn't make sense.
[00:05:55] I just know that I am very, very thrilled to have Sen. Wyden as a partner and absolutely thrilled with the people that are actually doing the work. So remember, you too can prevent forest fires. So got to do that
[00:06:10] Sen. Ron Wyden: When I was here in June, Congresswoman (Hoyle) and I were here together, we were told that even with the significant rains, the fire risk was high. Unfortunately, all of these good people, professionals in the field, years of training, were once again right. And so here we are. With a month at least to go, we got Lookout, Bedrock, Salmon, Wiley (Creek). Firefighters putting in long hours and protecting a lot of what is really sacred to people: their homes, their businesses, their recreation areas, and for me I've been struck by the Lookout Fire in particular seems to be scaring me.
[00:07:06] Residences, because it just kind of brings back, you know, the memories about the landscapes being scarred from the Holiday Farm Fire three years ago. These folks are doing an incredible job. The congresswoman and I, with the support of Commissioner Buch, I think we put them in charge of the whole federal government, because they are really doing good work.
[00:07:34] And, you know, the fact is, it is urgent work. The smoke is so thick, you can taste it. And we've got families nervously watching the fires with their go bags packed up to evacuate at a moment's notice. So what they're doing is urgent. And I've got to tell you… Without giving a long political speech, the climate calamity, and there's no other way to describe it, is clearly driving home the powerful realities of what we're seeing and the fact that scientists who aren't into politics keep saying this is going to continue.
[00:08:22] So I'll close by telling you there are going to be a few kind of key priorities that the congresswoman and I are going to fight for when we get back. The first thing we're going to push is for the firefighter pay to be increased. You've heard us talk about it as a temporary bump. Let me add to that today.
[00:08:42] I've seen this summer how urgent it is to make these firefighters professional available year-round. It can't just be for a few months in the hot weather season, and that means it's going to cost something, but I'll tell you, we can't afford not to do it. We can't afford not to do it.
[00:09:08] Second, we're going to continue to put the priorities on the prevention side of the ledger. We're now spending the more than $4.5 billion that comes from my law, written with Sen. Mike Crapo, Republican of Idaho, that freed up $4.5 billion because the government wasn't wasting money in terms of fight and fire. And that money is being used now for thinning and all the things that are preventive.
[00:09:41] And third, in the package that the Congresswoman and I present, We are going to have significant flexibility so that all these good people when they're in the middle of a fire risk, a fire emergency, they don't face any bureaucratic red tape getting the relatively inexpensive supplies they need to put the fires out. And this is something that I think I'll be able to get passed in the United States Senate.
[00:10:15] And finally, this week, we've learned a lot about technology. Some of you may have seen what has been going on up in Eugene at the University (of Oregon). And you've heard me say that these aren't your grandfather's fires. They're bigger and hotter. Now, finally, we're using technologies that aren't from your grandfather's day. And we're going to continue to invest in that.
[00:10:41] Reporter: Yeah, I just had a quick question. So the congresswoman just spoke a little bit about like that threat of climate change and the fires kind of seeming more real when it actually came to Washington. How much of a factor did that play into kind of getting support for like resources to fight the fires?
[00:10:58] Sen. Ron Wyden: It was hugely important. And you know, the fact is the Congress is finally coming around to how serious the climate threat is. I'm the author of the biggest investment in fighting climate change in American history. This is the package of clean energy tax credits that started out, and I came in with a prediction of about $370 billion.
[00:11:29] And now economic experts are saying because people understand how serious the climate crisis is, we're probably going to generate double that in terms of investments in solar and wind and geothermal and hydro, which is very important to us. So, you know, the fact is the rest of the country is catching on to what we have been dealing with this for years now.
[00:12:00] And, you know, I continue, you know, to believe that the urgency here is embodied with this kind of wake-up call. Look at the fact that in Montana, these young people won a lawsuit where a court really said, 'You've got reason to be frightened.' We've got the same effort underway here in Oregon with young people speaking out.
[00:12:27] So this is not something that people regard any longer as just some kind of academic kind of thing. You heard it in Heather's voice. I mean, she lives there. Val lives there. I'm in Southeast Portland. I see it in Southeast Portland from the heat domes when there are communities that are suffering from problems relating to climate.
[00:12:52] So I just want to say thank you for all the incredible work that these officials are doing. This has been an urgent response. It continues. We got a lot of summer left. They aren't going to be able to let up for a moment into September and October and possibly beyond. So that's what we're going to be up to. And we'll be back here as often as it takes to stand up for the good work that these professionals are doing. They're doing the hard work.
[00:13:26] John Q: Local officials get an update on fires burning outside the city. We are following up with Sen. Wyden's staff. We asked: After seeing the devastation on Maui, should Oregon cities be required to conduct mass evacuation drills?
[00:13:40] Find the latest fire information on social media. Search for Ready Eugene and the Eugene Neighborhoods' Preparedness Network. Or connect with your local neighborhood organization.