Commissioner Trieger shares news, concerns about PeaceHealth leaving University District
5 min read
"After careful consideration and an ongoing ethical discernment, PeaceHealth has decided to close the hospital at University District."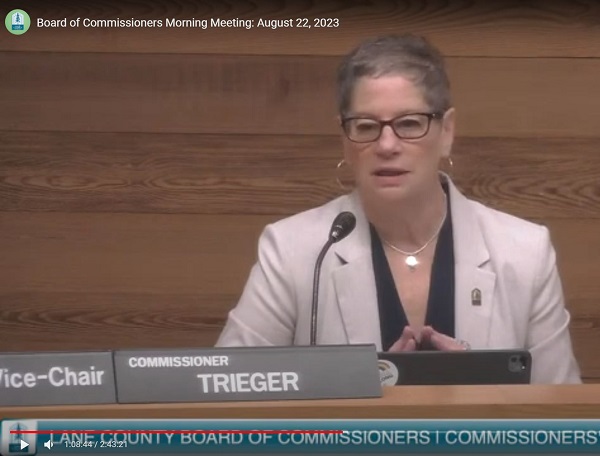 The Lane County Commission hears that PeaceHealth is leaving the University District. On Aug. 22:
Lane County Commissioner Laurie Trieger: I have a statement I want to make on a topic that did not come up in public comment because it is not fully public knowledge yet, but will be later today. But it came to my attention in advance of a public release that PeaceHealth is intending to close the services provided at the University District location, including the emergency room and some other medical services.
[00:00:28] And as I learn more, I may be seeking support from my colleagues to weigh in on this, as it is a matter of great concern, particularly for us in our role as the local public health authority. The closure will have far-reaching negative impacts. It will result in increased transit time for emergency response vehicles, addressing trauma that happened here in Eugene.
[00:00:49] It will similarly impact our neighbors and constituents who are self-transporting. Imagine a parent with an injured or scared child who's had a bad fall, resulting in a broken bone or requiring stitches; one who's ingested something poisonous; or is struggling with an asthma attack where every minute counts.
[00:01:06] We've all seen what traffic can look like getting over the river at certain times of day. It will mean the loss of easily accessible care and services for students in the university area where thousands of young people, most without cars, now live just a few short blocks from an ER and they'll be many miles away from help in an emergency.
[00:01:25] Consider the impact on our unhoused neighbors. Those who experience a crisis here in our downtown, for instance, will be taken all the way out to Riverbend and then discharged from care six miles or more away from where they were first picked up.
[00:01:40] This will also mean potentially the closure of the Acute Care for the Elderly (or ACE) unit, where I had a family member spend her final days. The ACE unit provides highly specialized, uniquely tailored palliative care for elders in our community.
[00:01:54] We will lose the three rooms in what's called the secured area as part of the emergency department at University District. These are dedicated, specially-equipped spaces for people in crisis and expressing suicidal ideation, where they can be safely held and treated.
[00:02:09] The secured area is often full, meaning mental health patients are then in unsecured emergency department rooms. It is not clear yet if Sacred Heart will expand the number of such rooms at Riverbend.
[00:02:21] Finally, in addition to the impacts on health care delivery, this closure will mean the loss of hundreds of local jobs, many of them unionized, providing good wages and benefits.
[00:02:33] These jobs include nurses, technicians, maintenance and janitorial professionals, food service and laundry workers, administrative positions, and more. It is alarming to think that the third-largest city in this state will have no emergency room. This closure will decrease access and degrade health care in our community, and we should all be very concerned.
[00:02:54] John Q: Lane County Commissioner Laurie Trieger shares the news Aug. 22: PeaceHealth plans to leave the University District.
---
PeaceHealth plans to move inpatient rehabilitation, emergency and medical services to its RiverBend campus in Springfield
from Sherri Buri McDonald, PeaceHealth
PeaceHealth announced on Aug. 22 "the beginning of what will be a comprehensive process" to close its University District hospital in Eugene.
Upon receiving regulatory approval, the health system plans to transition inpatient rehabilitation, emergency department, and related medical services to PeaceHealth Sacred Heart Medical Center at RiverBend, located about six miles away in Springfield.
Ambulatory services, including PeaceHealth Medical Group clinics and home and community services, will remain open and ready to serve the needs of the community in Eugene.
PeaceHealth intends to continue providing behavioral health services at University District until there is a sustainable alternative in the community.
"After careful consideration and an ongoing ethical discernment, PeaceHealth has decided to close the hospital at University District," said Alicia Beymer, chief administrative officer PeaceHealth Sacred Heart Medical Center, University District. "As the needs of the Lane County community evolve, PeaceHealth services and sites of care also need to evolve to ensure compassionate, high-quality care now and in the future. We believe consolidating some services at RiverBend will provide an enhanced care experience."
Since opening in 2008, the RiverBend hospital has increased capacity and access, and the community's reliance on University District has diminished, with patient volume declining to the point where the University District facility consistently generates losses averaging $2 million per month. University District now sees an average of just 95 patient visits daily, with an average of only 15.5 patients per month admitted as inpatients and only 7.5 patients per month admitted for observation.
Only about two-thirds of patients present for routine medical care. The other one-third seek behavioral health services that would be better served by a crisis stabilization center planned for Lane County.
"We are committed to serving the people of Lane County and plan to increase our care and services over the coming years," added Beymer. "By discontinuing services at University District, which have unsustainable negative operating margins, we can more effectively invest our resources to better meet the Lane County community's current and emerging needs and ensure patients have access to the right care, in the right setting, at the right time."
PeaceHealth outlined the next steps in what will be a comprehensive process involving the state and other community partners. The plan, which requires regulatory approval, focuses on the three core healthcare services currently provided at University District:
Emergency Department – PeaceHealth intends to phase out Emergency Department services on the University District campus in November. The goal is to consolidate limited Emergency Department resources at RiverBend, which has available capacity and can accommodate additional emergency and in-patient volume. PeaceHealth also plans investments to expand patient access, including additional secure spaces for patients experiencing behavioral and mental health challenges.
Inpatient Rehabilitation – PeaceHealth intends to temporarily relocate the 27-bed inpatient rehabilitation unit at University District to RiverBend in early 2024. Relocation will allow the service to remain available in the community through 2026, when PeaceHealth and LifePoint Health plan to jointly open a separate state-of-the-art 50-bed inpatient rehabilitation facility on the RiverBend campus. The new 67,000-square-foot hospital will double capacity and feature a 12-bed traumatic brain injury unit — a first for the area.
Inpatient Behavioral Health – PeaceHealth intends to continue serving patients at the current behavioral health location at University District until there is a sustainable alternative in the community. This unit provides inpatient services for 1,100 vulnerable, often complex patients per year.
PeaceHealth is collaborating with community partners on alternative care models and works with outpatient behavioral health entities in Lane County and beyond that provide wraparound services.
PeaceHealth said it is committed to retaining its valued caregivers as it evolves its care services in Lane County, finding equivalent positions within PeaceHealth's Oregon network, including integrating qualified and interested University District caregivers into open positions at the RiverBend campus and other PeaceHealth locations.
PeaceHealth remains committed to Lane County both now and in the long-term. We plan to continue investing in new and expanded services at our RiverBend location, which was built to serve the entire region, in addition to our hospitals in Cottage Grove and Florence and numerous clinics.