OCT explores 'What The Constitution Means To Me' through Oct. 1
4 min read
The play, set in American League halls and featuring events in Eugene and the Pacific Northwest, includes a performance Sept. 15, the 91st anniversary of the founding---in Portland---of the Sons of the American Legion.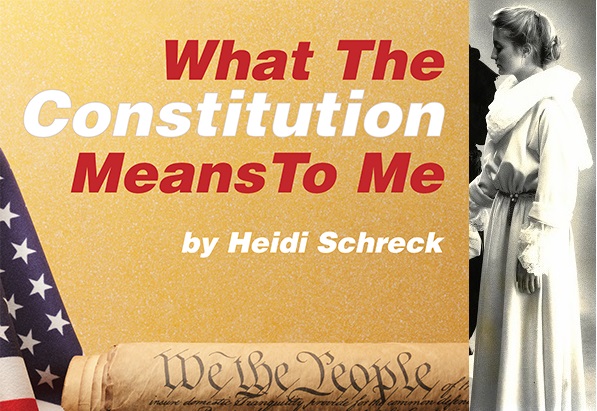 A play by UO graduate Heidi Schreck comes to town, just in time for Constitution Day.
Craig Willis (Oregon Contemporary Theater, Producing Artistic Director): Heidi actually went to school at the University of Oregon in the early '90s. We were both there. I was a graduate student at the time, so I've known her for 30 plus years now. And she actually performed in a couple of early productions for Lord Leebrick Theatre, which was the original name of Oregon Contemporary Theatre.
[00:00:33] And she was in productions of both "Measure for Measure" and "The Winter's Tale" back in, like, 1993 and '94, I believe.
[00:00:43] I didn't become familiar with her real interest in writing until we both moved to Seattle (separately) in the '90s after we finished school at the U of O, and she was doing a lot of work In the Seattle area with a variety of fringe theater companies, and especially one company that was founded mostly by U of O alum called Printer's Devil Theater.
[00:01:08] And she wrote a solo piece about her experiences living in Russia and that was called "Backwards into China."
[00:01:19] "What The Constitution Means To Me" is really reflecting back on her experiences. Heidi was the offspring of two high school teachers. Her mother was a high school debate coach and theater teacher (not surprising). And her father, I believe, was a history teacher. And somewhere along the line, I think it was her mother got her involved with these American Legion scholarship contest for high school students and she ended up traveling around the country participating in these contests, where these high school debate students were asked to debate each other on topics revolving around the Constitution.
[00:01:59] John Q: Heidi had an archrival: Becky Lee Dobbins—
[00:02:02] Craig Willis: —from Lawrence, Kansas, who always spoke on "The Constitution as a Patchwork Quilt." Yes. Heidi's exploration of the Constitution was: "The Constitution As a Crucible."
[00:02:17] And Heidi was very good at it and earned enough money doing this to actually pay for four years of college, as she says, at a state school, and it was 30 years ago, but still, it's a remarkable achievement.
[00:02:31] And she kind of looks back at that to think about, well, why was she so fascinated by the Constitution? And I think she starts becoming more critical of the Constitution both positively and negatively, the things that it has done to protect us, and maybe where it falls short, and particularly where it falls short for women, particularly women of color and indigenous people in general and, you know, And how it maybe compares to other constitutions around the world, and if we were to try and rewrite it, how we might make it better.
[00:03:09] So, we've just finished two nights of previews and then we have 10 performances. It'll start on Sept. 15 and run through Oct. 1. So it's Thursday, Friday, Saturday, every weekend and then at 7:30 p.m. on each of those nights and then we have a Sunday matinee both on Sunday, Sept. 24 and Sunday, Oct. 1 and those are at 2 p.m.
[00:03:33] One of the characters is an actual local high school student. In our production, it is Noah Oristano, who is just starting their junior year at Churchill High School, and Noah comes out to debate Inga Wilson (who is the actress who plays Heidi, earlier in the play). At this point in the play, she's just playing herself. But Noah and Inga have a debate on whether we should abolish or uphold the U. S. Constitution and that changes night to night, and they also have a brief conversation in which they ask each other personal questions that can be submitted by the audience.
[00:04:14] So the play takes place, of course, at American Legion halls and I just learned today that Sept. 15 is the 91st anniversary of the founding of the Sons of the American Legion. It's this organization that was founded in Portland, Oregon, and it is essentially affiliated with the American Legion and only, the eligibility to join, it doesn't require you to have served any time in the military, as long as you are the son or grandson of someone who has served time in the United States military.
[00:04:48] People might be surprised that the Pacific Northwest in general, and Eugene specifically, play critical roles in the formative years for Heidi. And so they show up in the play. There are a couple of events that happened here in Eugene. And so it definitely has a hometown feel to it.
[00:05:12] John Q: Craig Willis talks about Heidi Schreck's hometown play, "What the Constitution Means To Me," now playing through Oct. 1. For tickets, call (541) 465-1506.