OEM director: 'The value of the plan isn't the plan, it's getting to the plan'
8 min read
OEM Director Erin McMahon and Deputy Director Patence Winningham ask how they can best support local governments and nonprofits during recovery operations.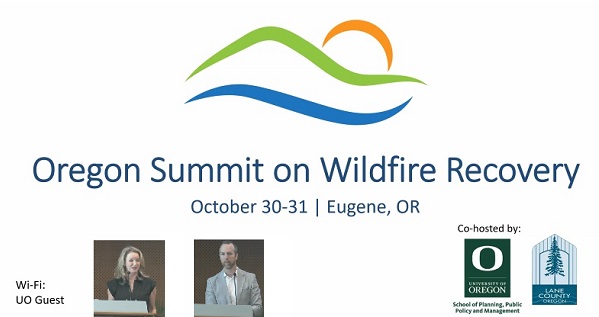 Lane County and the University of Oregon hosted a wildfire recovery summit this week. The new director of Oregon's Department of Emergency Management helped kick off the summit Monday morning.
Steve Mokrohisky (Lane County): Well, you know, when I had the opportunity to meet Director (Erin) McMahon this morning, I had a little bit of a chip on my shoulder, not because she's a state agency director, of course, but because she hired our outstanding emergency manager from Lane County. So I thought I'm really going to give it to her today, you know. Patence, will you just raise your hand, so folks, Patence Winningham, who's now the deputy director (applause).
[00:00:35] Boy, no one likes it when talent gets taken from them. But when Patence said that she had this opportunity to go serve at the state, I felt like our loss in Lane County was going to be to the benefit of the state and this community of folks.
[00:00:51] And so I appreciate, Director McMahon, your eye for talent and also appreciate the fact that you're looking to local government to help support that work. What is oftentimes our frustration at the local level—cities and counties—with state agencies is when the legislature or state agency makes a decision that impacts us without talking to us, right? And so here today, you've hired someone that comes from a local government that has that eye and that ear.
[00:01:20] And when I heard that the director and the deputy director were going to be here today and tomorrow I was really impressed. We have a state agency director that's been on the job for less than two months in a new department and is going to spend two days with local government to understand the challenges and issues that we face, and your commitment to engage with local government to understand the challenges that we face and how you can be a partner with us. So, really just appreciate that and how about another round of applause, please? (Applause)
[00:01:53] Erin McMahon (Oregon Department of Emergency Management): Thank you. Thank you, everyone. And thanks for inviting me to be here. It's really exciting for the opportunity to come out here and meet with this team.
[00:02:03] A little bit about me: I retired from the military in January of 2023, where I served for the last 25 years, the last few years with the National Guard Bureau. And as a lawyer for the National Guard Bureau, the deputy general counsel, I directly advised Gen. Dan Hokanson, who was at one time the TAG (The Adjutant General) in the state of Oregon for the Oregon National Guard, and is now the chief of the National Guard Bureau.
[00:02:32] And I can tell you: Context is everything. When you think about 2020, it was a hell of a year, right? And I know at the national level, we were reeling from a number of issues: from the pandemic to the (George Floyd) marching, to the preparations for what was going to surely be a chaotic election, and then the fires.
[00:02:58] And I can tell you that Gen. Hokanson, coming from Oregon with family in Talent, was very focused on what was going on here, which meant that I was very focused on what was going on here.
[00:03:10] Fortunately / unfortunately, we had had a lot of experience with Cal Fire and all the challenges that they had had, and it allowed us to really think through at the national level: What sort of federal resources we could bring to bear? How could we be looking at this problem differently? And it allowed us to kind of spotlight and focus on how we could apply those resources when the fires broke out in Oregon.
[00:03:41] We did get the attention of FEMA pretty early on to get those disaster declarations going. You know, having worked in natural disasters and working with FEMA, as I had done for a number of years, I have seen this be a very slow process, and I will give credit to our Region 10 of really trying to lean forward.
[00:04:01] From my perspective up at the national level, this was a huge move, and I think that it played out in how fast they were able to get some of these resources down to the state.
[00:04:14] And I'll tell you, you may not appreciate, but that 100% coverage from FEMA for some of those instances is huge. I can tell you at the national level, it was very rare to get 100%. So that's some great negotiating and advocation that was being done at the state level, because it is very unusual. I know it doesn't feel like a lot, but it is a big deal.
[00:04:39] You already know this, right: FEMA funding isn't comprehensive. There's just still so many people, even after this disaster, who believe that the federal government should be doing more, FEMA should be providing more money. But they don't realize that FEMA caps out, and it caps out pretty low. Even a full total disaster is just over $60,000 (right?) in assistance. It's remarkable, so we need to make sure that we're doing more to educate our communities about that.
[00:05:11] …Obviously the wildfires, as I said, were massive and sweeping and the scale of it was something that we had never seen. It's very striking, the magnitude of people that were involved, which is why you can see the need to initiate that emergency operations center at a very early stage.
[00:05:33] We initiated the state Recovery Action Plan, but what we learned pretty early on was that the plan was no good, right? In the military, we have this saying that 'No plan survives first contact.' You know, we had a plan that was for all intents and purposes built by a very talented group of contract workforce, that wasn't really informed by the professionals that were serving in the community.
[00:06:00] And you know, planning is a tricky thing. It's easy to sort of send that out. But I will tell you that: The value of a plan is not the plan. It's the getting to the plan, right? And it's the thinking through the plan. And it's working with the partners to get you there. And we learned that kind of in a big way early on, that we were going to have to make some changes and some adjustments.
[00:06:26] All the SRFs (State Recovery Functions) were activated. There was great support from our nonprofits and our other agencies that gave assistance.
[00:06:34] The plan itself was modified using this Integrated Strategic Recovery Plan, which one of the big issues that we found was that we just weren't really communicating and there was overlapping of services and it created a very disjointed approach, which is why they kind of revised it in motion. You know, that whole phrase of 'building the plane while it's flying.' That's what they were doing. So as we at the state level are working to revise and adjust some of these plans, it would be helpful as partners to think through that with you.
[00:07:13] There was, after this disaster, some legislative effort to help improve and get more money out there. And all of you have alluded to the ability to provide more funding at the state level that doesn't rely on that federal support, and I know that that's something that's being reviewed.
[00:07:34] Survivors need wraparound services. You've all communicated that. The individual assistance, we talked about the case managers and providing that capability at the community level, how important those long term recovery groups are. Again, it goes to that issue of: What does recovery look like? What is disaster? What is a home? You know, all of these terms are very important.
[00:07:58] In our section, the focus on mitigation is huge. We didn't really have a separate section for it. We had a couple people that were doing it. But now we've expanded that section. We've actually expanded a lot of our individual sections to better improve the capability.
[00:08:15] And then (last note there), the training: Making sure that we're all communicating, training, and applying. You know, once you build a plan, the next thing you've got to do is break it, so that you can figure out where those gaps are, so that you can do better on the future.
[00:08:30] Right now we're looking at trying to set up our emergency operations center that we have at the state. We got a building that we're kind of re-imagining it, bringing new capability into it. And I hope that if you're up in Salem, sometime starting in December, I think it's going to be open that you come out there and you come take a look at it. You'll have a seat at the table. We have a lot of tables. We got a lot of seats. And we're hoping to improve that coordination and communication.
[00:08:57] But the first thing we're going to do when we open that is: We're going to break it. Because we want to see if it can do the things that we need it to do to enable us to be responsive.
[00:09:07] John Q: She said her department will focus on improving the state's data management systems.
[00:09:13] Erin McMahon: Boy, one of the biggest challenges I've already had—and by the way, I started on Sept. 6—and I always felt like the Department of Defense was using, like, the oldest systems known to man, right? And then I joined the Department of Emergency Management at the state (laughter).
[00:09:31] Our challenges with data management make us not very helpful to you. It's one of my top priorities, is to help fix that. Just hearing from the speakers in this room, I know that you have the data that we need and the reason why it's important for us to have the data is because we can translate that into action that can come down to the state level. So, we need to improve our ability to receive your information so that we can best support you. It's inexcusable that we don't have a system that allows us to do that. And we're going to work on that.
[00:10:03] And so, I'm very excited about the opportunity to continue to support bringing my federal background and my experience building teams and reorganization into this community.
[00:10:17] I really wanted to come down here and be in here in person to hear from you what we can do at the state level differently. I want to hear from you what we can do to best support you. What are the tools that you need—now that you've had this experience—to help you be better, to help us best support you?
[00:10:41] That's why I'm here, and I'm going to be here for the next two days. I'm here with my deputy, Patence, who many of you know. She's the rock star I keep in my back pocket, who obviously lived through all this. But we're here for the next two days to just meet you.
[00:10:56] Because every conversation I have is a new piece of information that I can apply and I can pull out when I'm in a meeting that might make a difference, whether that's with funding or legislation or programs.
[00:11:10] So Patence and I are here to get your individual lessons and your takeaways. So I would hope that you could spend some time with us and let us know what more we could be doing differently to best support you. Thank you. (Applause)