Help give 50 bikes to kids for the holidays
2 min read
On Giving Tuesday this year, consider donating a bike or volunteering to help Shift Community Cycles distribute 50 bikes to kids before the holidays.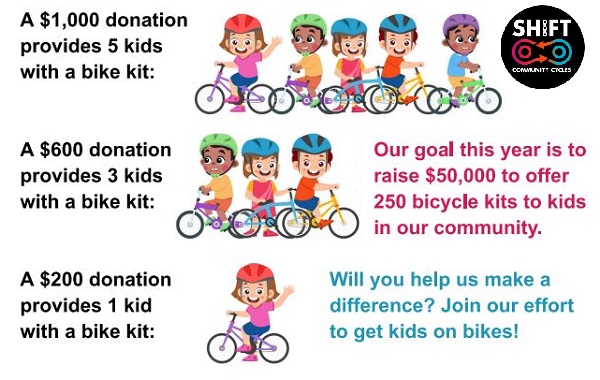 by Erin Carol Moberg, Shift Community Cycles
Shift Community Cycles is seeking bikes and volunteers to support our goal of distributing 50 bikes to kids before the holidays.
Shift is a Lane County nonprofit organization that operates a local community bike shop dedicated to removing barriers and empowering more individuals and communities to join the world of bicycling.
With our dedicated board, volunteers, and community partners, we offer free community bike stands, mobile repair pop-ups, repair education workshops and social events, all focused on bicycle access and education for the most underserved communities.
"I've volunteered at Shift since the beginning, even before our move to our current shop location," shares avid cyclist and volunteer Gary Rayor. "I volunteer because it fills a huge need in the community for transportation access, especially in underserved communities. It's a really cool way to offer my time and skills to bike advocacy!"
We are seeking donations of youth bicycles in workable or repairable condition. With the support of our network of partners, Shift will refurbish and distribute donated bicycles to kids in need during the holiday season.
Drop off youth bike donations until Nov. 28 during opening hours at the following bike shops: Klink Cycles, Bicycle Way of Life (both locations), Arriving by Bike, Hutch's, Len's Bikes, and Shift Community Cycles.
We are also seeking new volunteers to support our nonprofit programs, bike repairs, and other projects at the shop. Bike mechanic experience is welcomed but not required.
Please also join us (and invite others) for two upcoming events to celebrate and support our Shift Kids program and our holiday Bike/Volunteer Drive:
Giving Tuesday, Nov. 28, 11 a.m. to 6 p.m. Cider and cookie potluck
Volunteer Holiday Work Party, Friday, Dec. 1, 6 p.m. Holiday snacks provided.
For more information about bike donation sites, addresses, or to become a volunteer, please contact the shop, call the shop at (541) 728-2453, or email erin@shiftcc.org.