Sandra Bishop: Rather than clearcut, EWEB can protect habitat
2 min read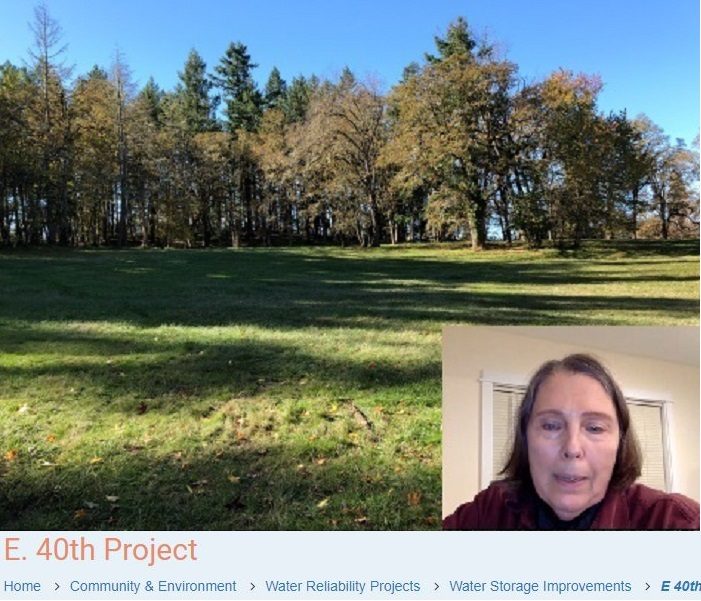 "These trees are older than Eugene."
Sandra Bishop alerted her Southeast Neighbors to EWEB's planned clearcut of a South Eugene hilltop during the November general meeting.
"The EWEB is planning to unnecessarily clearcut a large portion of the 10-12 acres of public land on the hill south of 40th and Hilyard," Sandra said. "This is to make way for a water storage tank. There's absolutely no argument about the need for a water tank. It's just the issue is placement on this site."
Sandra said EWEB plans to place two water tanks on the site in the next 10 years. The first will be built immediately and will be completed by 2023.
"So what we're asking is that they look more carefully at the site and they do not clearcut twice the acreage that they need to site one tank. We're asking that they consider building the first tank in the saddle of the hill. And if you've walked up here and you know this site, it's a large area of mature fir and pine habitat on the edge of a meadow, bordering on a meadow. So we're asking that they place the first tank—the one they're building immediately—in the middle of the site rather than cutting all of the heart out of this mature habitat."
Sandra said the EWEB board delegated its decision-making to others. She wants neighbors to tell the board about the potential environmental impact.
"This is not a simple little landscaping problem and that's how it's being portrayed on EWEB's site. They're saying it's a vacant site. It's a major habitat site, so please talk to the EWEB board," she said. "At this point, they have delegated all their responsibilities for decision-making about these tanks to staff and engineers. We want the EWEB commissioners to answer to what they are doing with this site. We need the water tanks built, no question. But the first tank doesn't need to devastate the habitat."
You can contact your EWEB board member and learn about their upcoming December 1 board meeting at https://eweb.org.