Eugene starts homeless sweep during freezing weather, pandemic surge
2 min read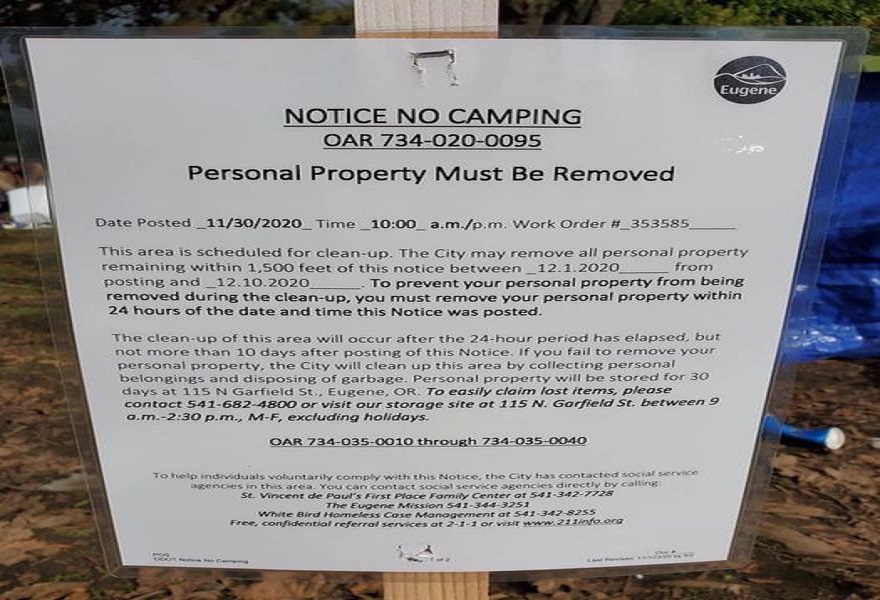 Approximately 100 houseless individuals are being evicted by the City of Eugene this week as temperatures dip below freezing and COVID-19 infections and deaths spike to record numbers.
"Displacing people at a time when unsheltered people have few safe alternatives to living outside is cruel and inhumane," Eugene Human Rights Commissioner Heather Sielicki tells us. "We are all endangered when people are persecuted for having no place to go."
The City of Eugene placed "No Camping" notices in houseless camps that total 81 tents on Monday. According to a highly ranked officer, the Eugene Police Department and Parks and Open Space will arrive Wednesday to make sure the space is vacated. Any remaining possessions will be stored for 30 days in a police facility.
Advocates for health and social equity shared public health concerns about the decision. "Moving people in freezing temperatures during a pandemic is in contradiction to CDC guidelines and recent court cases," Mediator Jennifer Frenzer-Knowlton, JD told us.
The CDC recommends that communities allow people living unsheltered or in encampments to remain when individual housing options are not available. Clearing encampments can cause people to disperse throughout the community and break connections with service providers. This increases the potential for infectious disease spread.
The camps are on land owned by the Oregon Department of Transportation. Due to the pandemic, ODT refused to move camps unless they presented a significant health or safety risk. After the property came under City of Eugene control this week, the 24-hour notice was posted.
Mutual aid and grassroots advocacy workers were on site helping people to move or pack up for much of the day Tuesday but many remained, unsure of next steps with limited resources. The warming center has 350 fewer beds available than it did at this time last year.
Overnight low temperatures are predicted to drop below freezing Wednesday, Thursday, and Friday, according to the National Weather Service.