City vows to improve after December homeless camp evictions
6 min read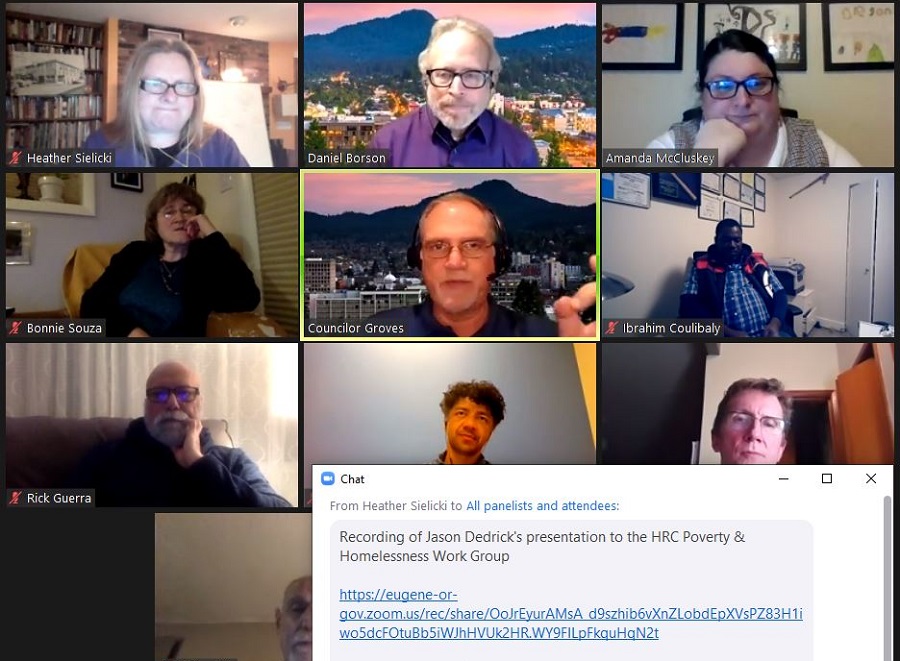 At its January meeting, the Human Rights Commission heard great news from Heather Sielicki of the Homelessness and Poverty Work Group.
"We had our meeting last week and had an excellent presentation from Jason Dedrick at the City of Eugene, who provided information on some of the changes to policies and procedures around illegal camping on public land," she said.
The changes represent a hard-fought victory for local advocates, who demanded better coordination among City departments after an eviction in early December, 2020. The city forced relocation of a camp of over 100 human beings during a surge in the pandemic just as overnight temperatures dropped below freezing.
Jason Dedrick: "Probably I'll speak on behalf of all of you as an advocate community, as well as on behalf of staff, that we were all probably pretty displeased with what happened coming out of the camp that was at First and Jefferson on the ODOT property there. I don't think anyone was happy with the way that went down or the way that was communicated. So—I'm not going to go into all the details unless you have questions later on. But that was a catalyst for change for us to say we can do better than what we're doing."
Jason explained that the City receives hundreds — some months, thousands — of calls about something related to homelessness. These calls come from the whole community to separate city departments, including Public Works, Parks and Open Space, Police, the City Manager's Office, and Parking.
"Our structure as an organization, as I talk through, we've got homelessness where we're touching the issue in multiple parts of our organization and we're not talking well to each other. I'll just be fully up front about that. Our organization is not set up that well when we're dealing with that kind of complexity.
"We have sort of four areas where camping may occur within the city. One is on our right-of-ways…We've got camping occurring in parks, camping occurring on private property, and vehicle camping. And all four of those different ways in which unhoused folks might be out there seeking shelter are dealt with by a different part of our organization. And it has come to a head that we are not doing a very good job of the left hand talking to the right hand or all those hands talking to each other. And that became clear around First and Jefferson.
"So that was a catalyst for change, and we are currently launching an effort to rectify the way in which we address the camps that are out there. Again, want to say that our existing goal is still sheltering in place, giving everyone all the supports they need to shelter in place to the maximum extent possible per CHC and OHA guidelines.
"One other thing I'll say is that Eugene Police Department is no longer involved with staffing calls for service related to unhoused individuals. There are two exceptions to that. One is when they are responding to private property because that is trespass, that is within their purview to deal with that. The other instance is if there's illegal or illicit behavior associated with one of our camps, and that is reported. As makes sense, that is when our police department engages. Otherwise, they are no longer responding to calls for service related to camping in almost all cases.
"So we're doing everything to try to keep those camps in place and part of that is being very clear, much more clear in the last month or so, on what the conditions are that are necessary for someone who is sheltering in one of those places to be able to remain in place."
Following these HRC meetings, Brian Richardson of the Public Works Department provided a press release on Saturday, January 23. It offered complete details about the City's new policy on urban camping during the pandemic. Jason Dedrick said the new policy is just one part of an all-City effort to improve.
"We launched an organizational-wide effort to respond to, deal with, to address how we're responding to camping, both the complaints that are coming in and how we can help folks achieve stability that are out there that are unhoused in our public spaces. So that effort was launched on [December] 19th. It will conclude at the end of this month. It's sort of an 'all hands on deck' opportunity for the staff to look, soup to nuts, top to bottom, at everything that we do around camping within the city, and say, How can we be better? What do we need to change to be better? And what resources do we need potentially from City Council in our FY22 budget, to be better.
"So we have four teams that are working comprised of staff from around the organization. One is a Reporting Team that's dealing with how complaints are received, how they are tracked, how they are addressed. And we've got complaints that come in from people who call 911, people who call Parking, people who call Public Works, people who call Parks, so lots of ways complaints come in. We are working to address that through the reporting team by creating an internal dashboard where all staff will see all complaints that have come in. And then putting a proposal together with funding attached to turn that into an external dashboard so everyone in the community can see the calls for service that we're receiving, and how how we are addressing those calls for service. So that's our reporting team.
"We've got an Operations Team that is working on all of the operational parts of how we're responding to either camps that are out there or the impacts of camps. So that's everything from the criteria and the protocol for how camps can stay in place to how we [post a] notice, when we notice, how we communicate that notice and how outreach is rolled in. So everything operationally how we're dealing with what we're seeing or complaints we're getting.
"We also have an Outreach Team that is working to fold outreach efforts, either the city's outreach or community outreach from other providers, into that operational process. So those two teams are working closely together.
"And finally we have a Communications Team working on how we communicate all of our efforts to the community, what the protocol will be, how we'll communicate, who we'll communicate with, externally as well as internally. We've had some issues inside our organization where not all staff know how policies are changing, how protocols are changing—we need to do a better job communicating internally and we also need to do a better job communicating externally."
Jason said in the past, the City "shoehorned" homelessness services into the City Manager's Office. He said the City is now looking at organizational structures that might work better with Lane County and its social services teams.
"I've been working on homelessness probably for about five years in one way, shape, or form and this is the most that's ever been going on," Jason said. "Yes, it's overdue. Yes, we're a little late to the game here. But looking at it at at this moment in this time, we're being very sort of transparent and vulnerable about the ways in which we have not done everything we probably could have in the best way possible, and we're trying to pivot now to be more in that stance."
Workgroup chair Heather Sielicki thanked Jason. "Thank you, I appreciate this presentation and your willingness to admit there's still a lot of work to be done," she said.