Neighborhoods ask LTD for better collaboration on micromobility
3 min read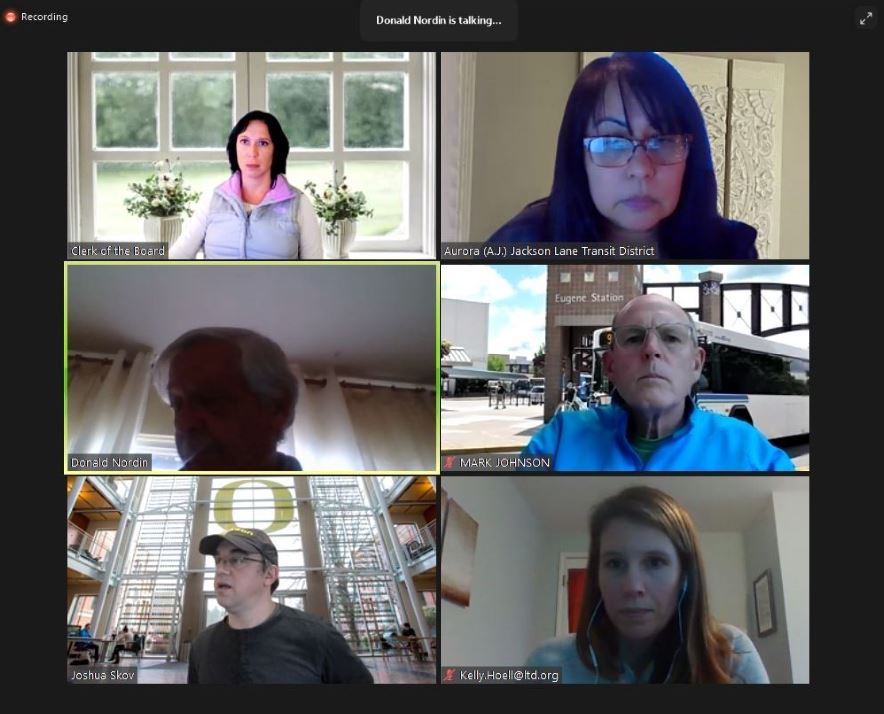 Dec. 20, 2020
Citizens trying to save neighborhood bus service attended two LTD meetings this past week, as key planning discussions moved from the Strategic Planning Committee and the regular board to the ad hoc Sustainability Committee.
Southeast Neighbors Jess Roshak and Linda Duggan, now in their second year trying to preserve Routes 28, 24, and 73, asked LTD to collaborate with the public.
"I would love to hear what you guys are talking about with micromobility," Jess said. "And if the brainstorming has started I would really think that this is a wonderful opportunity for LTD and the City and whoever else is going to be involved in the conversation to really collaborate at these ground levels with the community—talking about opportunity costs and what can be done and weighing and pitting opportunities against each other to see what the community would value. I think that this should be a two-way with people who are already riding the system, and neighborhoods."
Jess has been organizing neighbors since October 2019, when LTD shocked South Eugene with its Transit Tomorrow plan. The plan would eliminate all fixed bus travel south of 43rd. She asked LTD to collaborate with the neighborhoods.
"There's nobody there who knows how people are needing to get around within neighborhoods, which is what micromobility would ostensibly be," Jess said. "And our neighbors have wonderful ideas as to things that can done in very cost-effective ways and I would just encourage—you know, I would have loved to hear your conversation and then had comments and questions about it, because, just being an outsider here coming in the middle of, maybe, a conversation that has already been started, it's hard to know what direction and what point you're at. But I would really hope that LTD opens up to truly engage in a conversation with the public rather than a top-down approach this time."
Long-time activist Linda Duggan has spent the last year asking for help from her LTD board representative, Don Nordin. Don champions micromobility as a replacement for fixed bus routes.
"My name is Linda Duggan and I would second everything that Jess said, but in addition, as I don't know much about what your committee's parameters are, I would just encourage you not only to have community input, but personally, I think micromobility is more of a City issue rather than LTD, and I would like to voice my opinion that I would like to see micromobility used as an addition" and NOT as a replacement for the 52 bus stops that LTD wants to close in Southeast Eugene, Linda said.
LTD data showed those stops serving about 800 people each day. Though e-bikes and e-scooters might work for younger residents, elders still need a bus, she said.
"I was an avid bike rider, still do walking, but I'm 70 now and so I'm limited with arthritis in terms of riding on electric scooters, et cetera," Linda said. "But I know there's plenty of community interested in that. I would just like to see it as an additional option instead of a substitution for our LTD buses."
Removal of the bus stops would force people into cars, and increase greenhouse gas emissions. In a neighborhood survey, half said they would switch from the bus to a car. And, as Marjie James wrote, "Once in one's car, why not go all the way to [the] destination?"
Marjie was one of 41 neighborhood residents who wrote to LTD board members Don Nordin and Josh Skov in October 2019. Over a year later, those 41 people are still waiting for LTD to acknowledge their ideas and contributions.