Love is a Choice
2 min read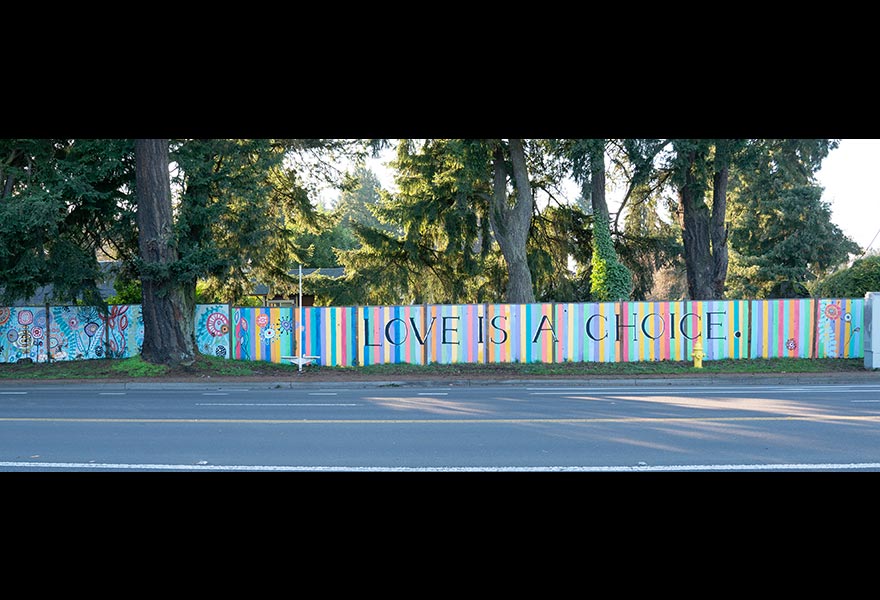 River Road neighborhood is the River and Garden District. The iconic fence at the corner of River Road and Park Avenue with the slogan "Love is a Choice" is a well-loved landmark. The fence has been vandalized once again. Nearby neighbors publicized the political graffiti on the fence over Facebook. Community members came together to clean off the defacement and touch up the paint, an arduous task.
Coming together to clean is an example of an attitude of choosing to love the neighborhood. Whether tending your garden or clearing litter on the river together, neighbors are nurturing community, growing bonds with one another, and a loving attitude makes the work easier to do. Cultivating that attitude of love for the neighborhood is a good basis for relating with one another and with our environment.
Awareness of the neighborhood is a learning process. Being aware of what makes a livable community is a first step. Important features are needed, like safe streets, healthy trees, natural drainage of storm-water, plus nearby services and businesses to provide for our daily needs. Good relationships with one another and feeling safe are important—especially for children walking to school, for the elderly and people with impairments, and for the unhoused and people who feel marginalized.
Eugene's Office of Human Rights and Neighborhood Involvement (HRNI) is very helpful in addressing hate crimes and discrimination complaints. They support victims of hate and bias activity, help educate the community to prevent hate and bias crimes, and more. The Eugene Police Department works with HRNI and keeps track of hate and bias criminal activity. This police link contains basic information on report requests and a link to start filing a report. http://ceapps.eugene-or.gov/epdcoplogic/
As always, if it is an emergency, dial 911 on your phone. If there is no imminent danger, call the non-emergency number: 541-682-5111.
As neighbors, we watch out for one another as our way of choosing to love our neighborhood. Alert someone when something needs to be fixed. We can work together to build a neighborhood that is safe and that we are proud to live in.
---
Carleen Reilly has lived in the River Road neighborhood for over 40 years. She served on the RRCO board of directors from 2007-2013, and has been involved over the years with the Joint Strategy Team (JuST), the Santa Clara-River Road Outreach and Learning project (SCRROL), and the Santa Clara-River Road Implementation Planning Team (SCRRIPT)
She publishes a weekly e-newsletter called "River Road Community Resource Group Newsletter" that focuses on land use, transportation, parks and open spaces, economic development, and Community interests as they are related to neighborhood planning activities in conjunction with the Santa Clara neighborhood. If you would like to subscribe you can contact Carleen at: carleenr [at] gmail [dot] com.