Citizens recall 3 killed by EPD, ask funding for homeless and social services
13 min read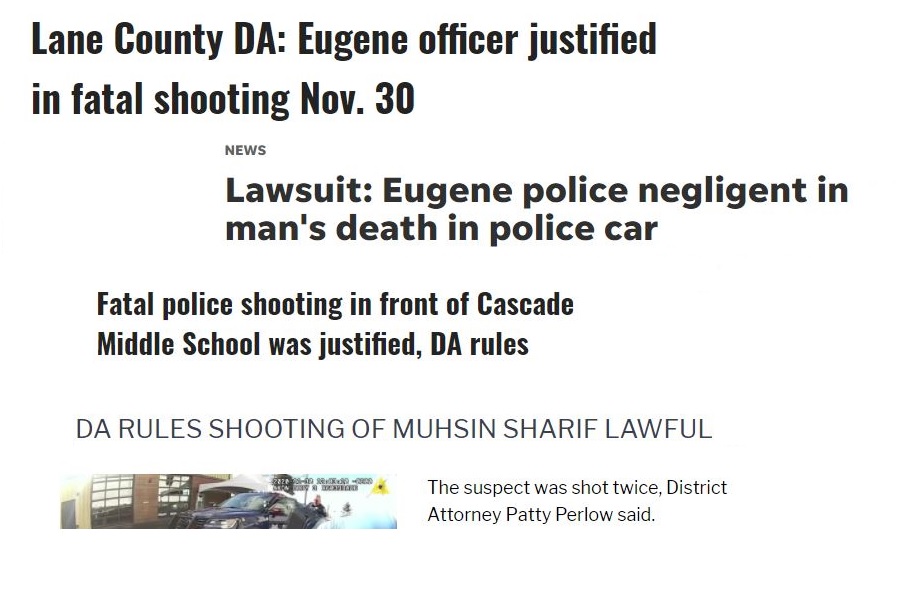 Eugene citizens suggested that payroll tax revenue should go to homelessness and social services, such as CAHOOTS, instead of going to the Eugene Police Department. Zondie Zinke spoke March 24 at the first listening session.
Zondie Zinke: We know that the police is rooted in slave patrol history… What is now called the criminal justice system is a criminal punishment system, and that goes for Community Court too.
You talk about building trust and yet look at the process we've had. We have been over and over and over again, and Dr. Gary Manross, he said to Council, 'One thing you can't do, this is so unprecedented, you can't not take it to the voters.' Well, you know what. Taxpayers paid for that advice, and they overrode that. So you can hear my anger. You can hear my skepticism. Defund the police.
There were two homicides in 2019 and police killed three people: Charlie Landeros, Michael Amador Sanchez, and Eliborio Rodrigues, all people of color. EPD killed three people of color in 2019, that is 150%, the number of homicides that they didn't prevent. And they shot eight times at Mohsin Sharif, which means it's a miracle that he's not dead and you know what? It was initially a response to an alleged domestic violence call. They leave the alleged victim there and she is no safer while they chase Moshin Sharif around town and apparently go roaring up where unhoused people are camped and they have to run out of the way to avoid the police cars.
So the point being, Eugene, first of all, we should not have a wait list at domestic violence shelter at WomenSpace. And there should be robust intimate relationship services, violence services, right? That is safety. That is prevention, not shooting eight times to kill someone's father, right? And yet that's what EPD does. And they stand by it. And then we have our dumb DA standing by it. So I think that Eugene needs to do a comprehensive look at what real safety means, not this call gap bullshit. Thank you. Excuse my language.
Gracie Schatz: My name's Gracie Schatz. I live in ward seven and this summer I started a petition to defund the police department and allocate 20% of their budget to CAHOOTS. Over 15,000 people signed to that petition. So I would like to speak on behalf of those and saying that our police department does not need any more money and they do not protect everyone in our community. They do not make everyone in our community feel safe. In fact, they have murdered people in our community, including Eliborio Rodrigues Jr.
So I believe that tax money that we did not vote on in the first place should be used for prevention and homeless services. The police chief himself, Chief Skinner, presented this to the council, that they don't want to be dealing with the homeless population in this town. And I believe that they shouldn't. I think that we should have another call line and not just 911 but another number that we can call as civilians to request help from a non-police entity, whether that be CAHOOTS or this other like quick action, small vehicle response team
I think we need to have the ability to call for help that we feel safe calling and that prevention and homeless services should be prioritized. We have as a community, been crying out to please defund our police department and please invest in our actual safety and community safety and prevention.
And one of my friends when we were talking to Claire Syrett this summer said, "When the sink is broken, when the faucet's broken, do you grab a wrench or a mop?" And the police are the mops and it doesn't matter how many mops you have. The sink is going to keep leaking. We need to invest in prevention and preventative care and upstream solutions, creating job programs or a resource center for the homeless people to start working and earning money, building more shelters and huts and like Community Village.
As the council has not responded to these outcries with action and have continued to provide ad hoc committees and opportunities like this, they feel piecemeal when the message is so clear, the work that needs to be done, that the community is screaming for, is for less money to go to our police.
We need to start incentivizing de-escalation. It's really hard when police officers make so much more money than people at CAHOOTS. Why would a police officer ever want to leave their job? There such a discrepancy in pay. So we're basically paying someone so much more to carry an assault rifle around and it isn't because there's necessarily more risks than somebody in CAHOOTS going to address mental health crisis. I think we need to even out the pay scale and make it very attractive for even police officers to leave their jobs as police and join in with an organization that doesn't hurt people, that isn't rooted in systemic racism.
Matthew Yook: Hi, my name is Matthew Yook, a resident of ward four, and I feel concerned, the fact has been mentioned, that this payroll tax was passed through a city council resolution to try to get 65% of whatever it was to go to a criminal justice system that has not been serving justice. What it criminalizes is something I've really hoped would come to light.
And so getting a breakdown of, like, what exactly were those calls? How many of them were there and how else could they have been addressed? Because we're looking at truly embracing a holistic model of community safety, a new model, and then looking at that specifically and getting the numbers, I think would be something I would very much appreciate.
Getting more statistics about what calls came in and if you could, like you put something like that on the website, right? Some of the more detailed information, I'd like to get some harder and firmer numbers, especially as we move into more community engagement sessions, especially if we look at the new revenue numbers coming in . And definitely if it is just to like trespass and like criminalizing homelessness, as we all feel it is, as we all understand it is most of the complaints coming in, getting those statistics will be a great thing.
Getting another service besides 911 to respond to stuff that's a non-crisis emergency, I think is a great step .
Nikolaj Byrdman: Hi, my name is Nikolaj Byrdman and I would like to speak on everything I have observed throughout the protests throughout the past year. I think the police is severely overfunded and when they are given more funds than they actually need, they will be using unnecessary force on citizens that they are supposed to protect.
I've just seen some awful things. The news just came out about the Thurston protests and the police being quoted as just saying some really awful things about, and racially motivated comments about, the protestors for Black Lives Matter. They've been working against the people and I don't think that's what the Eugene community needs right now, not just for BIPOC, but for the entire community. And that includes homeless people that, that desperately needs the services to be connected, to services that they need, housing, food just all of those things. And it's absurd that we have such a huge budget and we are putting it all into the police force when we have so many other community needs that could really actually build the community that we need, instead of using the police as a Band-aid and in fact, making the situation worse.
Max Rink: My name's Max. I am a homeowner in ward Three. I'll start out by saying, to answer that question of all these different categories of allocation, I want to strongly support that the 80% currently earmarked for policing, incarceration, and enforcement, that needs to be redirected to prevention and homeless services. There is nothing that a police officer or a judge or a prison warden could do to help people who have either been homeless or at risk of homelessness. What they need is housing. They need housing and they need social services desperately.
The previous speakers have alluded to the three BIPOC people who were killed by EPD in the last couple of years and police killing and brutality is a reality in our community and giving the police more money will not solve that. Policing and prisons are not going to be a solution to homelessness. They're not gonna be a solution to the hate crimes. And they're not going to be solutions to violence. I agree with everyone else who has spoken up for reallocating that money to housing and social services.
John Q. Murray: Judith noted that many other public services are asked to absorb funding cuts.
Judith: It seems like that's the feeling across the board is there's just too much funding for police department at this point with not enough results, we know that it's not helping combat one of the biggest issues that we have, which is homelessness. At this point, we have funded Eugene PD over and over it, and we don't see any improvement in this. So it's just, we cannot continue down that path when we know that it does not work.
We don't bat an eye year after year. We say, 'Hey, let's cut funding to education. Let's cut funding here because we need to,' and no one feels like that's radical, to defund the schools or defund other programs that are vital to us. But when it comes to defunding the police, it becomes such a radical thing to say and people get so defensive for it. But if we're willing to do that so easily for our children and for the programs that we need, then surely we can take an honest look at our Eugene Police Department budget, see what has actually been accomplished, and recognize that those funds could be used somewhere else. And in a better way, we, at this point, we need something to change.
This is just, this, our town is not doing well. We're not well. I haven't spoke to anyone that lives in this town that feels good about it, that feels happy with the way that we're going, that feels safe. Please consider putting less towards the police department and more towards the programs like CAHOOTS, like the homelessness issues that we are facing everyday. I think that's what's going to help our town.
John Q. Murray: Marty Wilder spoke on behalf of CAHOOTS and recommended coordinating broader resources from across the community.
Marty Wilder: Everything I'm hearing seems to be overwhelming opinion among the community members here, that we don't need to add more funding to EPD. I'd like to speak directly to funding for CAHOOTS. They're meeting some of the goals that you've posted here in terms of reducing response times and the minutes that it takes and the number of responses that police can do because we need to be sending less of those calls to the police. We need to send more of them to CAHOOTS and organizations like, CAHOOTS and we haven't been funding it enough. They only have two vans out at a time. If we could double that capacity and have four vans out, if we could pay them more livable wages and give them benefits then we could be addressing all of this directly. So I think that we should continue to pay them through EPD and use CSI funds to really increase the capacity of CAHOOTS to meet these goals that you're trying to set set here.
There's been this idea that's come up about the city funding and staffing a dispatch call center that organizations within the city could plug into. So if you are an organization that provides job training services to Spanish speaking people, for example, and somebody hooks in on that crisis line and is struggling, and you have people that are available 24-7 from your organization, they could plug in there. We could get the kind of community to community networking that we need, that the smaller organizations don't have the overhead to cover right now. The other thing that this could do is that people who call for CAHOOTS, wouldn't have to fear getting the police instead of CAHOOTS.
And then if it really is a situation that you need the police, they could call the police as a second responder so that service could still be available.
But we've seen that CAHOOTS has only had to do that less than 2% of the time with all the calls that they've handled so far, but they would be far more knowledgeable about when something might actually need a police response. So I would seriously urge the city to consider that possibly something that could be funded by the CSI to put together that kind of a service, it would address these goals.
John Q. Murray: Pamela Krause and Eli made their recommendations.
Pamela Krause: Our community here is very traumatized. Some of us are only traumatized seeing most vulnerable people run over and traumatized. Everybody here is traumatized. I have been trying to approach this with different ways in the community for quite some time. I would like to see how a large investment of funds to trauma care services for everybody in the community who would wish to use it.
Eli: In Eugene, the top public calls to police were criminal trespass and illegal camping, both types of calls related to people who are unhoused, trying to find a place to sleep or survive. People are calling to complain because they're uncomfortable. There's a difference between safety and comfort. Privileged folks in society have been conditioned to experience discomfort as lack of safety in the body, but it is not. We need to learn. We need to lean into discomfort and differ and learn to differentiate between discomfort and actual lack of safety.
Seeing someone who is unhoused talking to themselves in public or using drugs in public might make you uncomfortable. Police violence and murder is actual violence and true lack of safety. Racism as a system trains white people to suddenly perceive more threat in their body when seeing or interacting with BIPOC.
Discomfort of housed white people is misperceived as a threat and the city of Eugene's current approach of criminalizing homelessness and relying on multiple departments of city staff to harass, police, surveil, misinform, intimidate, vanish from parks and forcefully evict our houseless neighbors in violent, unjust, expensive, counterproductive ways that create insurmountable, full physical and mental barriers that prevent people from getting off the streets, makes no sense.
And it actually decreases community safety for both housed and unhoused neighbors. With the largest per capita homeless population in the nation, the mayor talks about intending to address the gaps in our community safety system. Housing is by far the greatest unmet need in our community related to community safety.
I would ask that all of the CSI funds currently designated for policing and courts be reallocated to immediately identify and establish locations on city property where unhoused residents can safely and legally reside in their vehicles and tents during the pandemic and beyond, and be designated for congregate, non-congregate and alternative shelters and for transitional housing and for permanent housing that is affordable.
John Q. Murray: Xia suggested addressing racial trauma within the BIPOC community.
Xia Wang: Hi. I talked to the city council meeting in the past about how the racial hate crime happens in Eugene and how this the racial trauma has been caused to the BIPOC community. For the BIPOC community, we need the resource to have the healing services, for example, the social services, what do we have support for people to heal from this racial pressure and trauma, and also as for EPD, what they are doing is, they harass our homeless community and also our BIPOC community, harass the people, for example, gave them tickets instead of, really look into what their needs.
Kam: Hello. My name is Kam. I just wanted to echo what everybody has been saying, and the community does not want to see any of this money go to any more police, the police department, judicial system, criminal justice system. The amount of money that is going to the EPD, I feel like they're already have enough money. And there's many places that this money can go. We all know that it can go to social services for our homeless or schools, but I want to touch on something else.
We know what happened last year. We know that there was wildfire fires and they will come again. We are going to have fire next year and we are not going to have any way to put people or anything to keep them safe. There will be homeless people who need smoke centers and shelter.
Why are we not paying for housing? It's much cheaper than paying for a police. We're going to have homeless next year. We do not need people with guns showing up to help people who don't have a place to live. That doesn't make people safe. We do not need more police on the streets, putting their guns on their hip while passing people of color. This is not making people safe. We do not need strangers with guns—because none of them live here— strangers with guns coming onto our streets and claim they're here to keep the peace. That doesn't sound right to me.
What we need is more community engagement to build the society that we want. Imagine that you see a strange person on the street. Instead of being afraid, terrified to call the police, you have the power and the initiative within you to go up to him and point him to the local social services that do their job correctly; that are funded properly; that can put this person in a home. That is safety in the community, where we can watch ourselves in our streets point people where they need to go, where they can get the help they need. So for me, I just want to see that money be given to our firefighters, more homeless efforts, and not to the police or the judicial system in any type of way.
John Q. Murray: The second public comment session will be held Tuesday, March 30, from 6p.m. to 8 p.m.
CORRECTION (March 31): Attribute Dr. Gary Manross of the Strategy Research Institute with the quote, "…you can't not take it to the voters."