A Welcoming Attitude
3 min read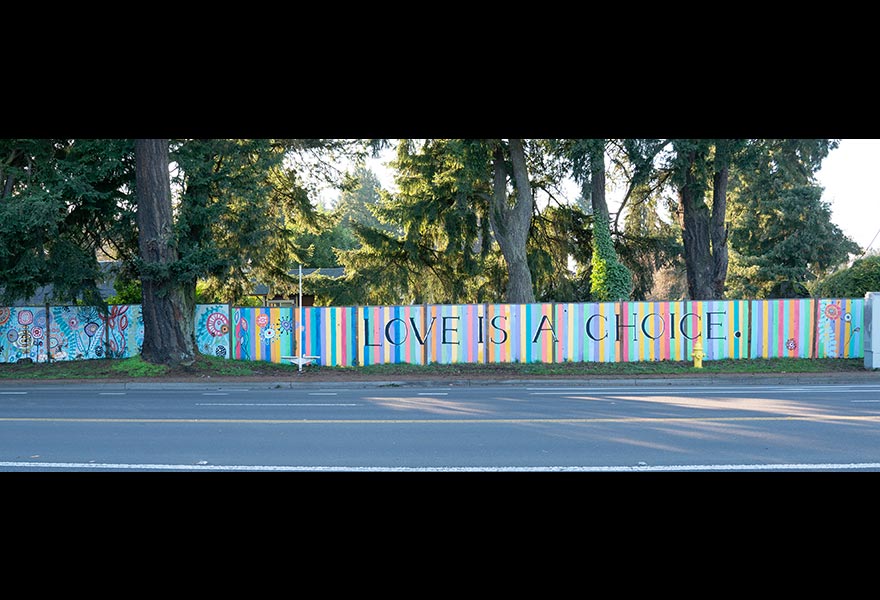 The River Road neighborhood lawn signs say, "Building Community Together." Living in a neighborhood that chooses to focus on building community feels good. 'Community' opens the possibility of accomplishing tasks large and small to make the whole neighborhood shine with pride. Our 'River and Garden District' offers many chances to work together, clearing invasive species along the river, planning for a neighborhood to serve future needs, or working to protect good air quality and clean water.
One problem that looms large in our neighborhood and across the broad metro area is how to meet the needs of a growing population of unsheltered people. The River Road neighborhood likes to think of ourselves as a welcoming community, but voices on social media tell us that we should be fearful of new people arriving in our neighborhood, whether they are moving into an apartment complex or seeking the simple shelter of a Conestoga hut.
How do we choose a welcoming attitude towards new people? For one thing, we must learn to set our fears aside and see the gifts new people bring with them. New neighbors often have enthusiasm for community projects. Current neighbors who have been in the trenches for a long time are tired. This injection of new energy often pushes a project over the goal line. New neighbors bring skills and knowledge that revitalize our energy stores and offer new ideas to improve our vision.
Iris Place, a new affordable housing project, will open this year on River Road, just north of our DariMart. We can choose to welcome our new neighbors or hold them at arms length. It is exciting to have this well-planned project underway. We are delighted to know that our new neighbors will be well cared for. Educational and social services will provide support as they raise children and learn to live in community.
Our neighbors put a great deal of thought into requesting energy efficiency, plenty of landscaping, and adjustment of building placement to minimize impacts on surrounding neighbors. This is a joint effort between the neighborhood, the City of Eugene, and St. Vincent de Paul. SVdP has a team of River Road neighbors who are kept up to date on the construction project and advise the construction team about neighbors' desires and concerns. This team communicates with the River Road Community Organization about the status of the project.
Iris Place will have a community room open to the broader neighborhood and will provide a place for us to get acquainted with one another. We can start thinking, right now, about how we can integrate with one another. A few ideas come to mind.
Working together on tasks and holding socials are good for learning about one another. The Willamette River may be common ground that allows us to learn together: Walking tours along the river to observe wildlife, learning which paths access the river from River Road, locating public parks, and planning for clean up parties.
Another neighborhood held a welcoming celebration for residents and staff at a new affordable housing project. The project itself has pathways from one side of the neighborhood to a park on the other side. Regular social events, like ice cream socials, game nights, singalongs, and educational activities can knit a community together. Current affairs discussion groups, book clubs, children's craft groups, sewing and quilting circles, fix-it cafes, and helping-hand events allow us to get acquainted in non-threatening situations. This brings to mind a childhood song: "The more we get together, the happier we'll be.' Building friendships rather than nursing separations will make everyone happier.
Let's all choose a welcoming attitude and build a sense of community with one another. And once we are beyond the pandemic, we can live out our dreams together.
---
Carleen Reilly has lived in the River Road neighborhood for over 40 years. She served on the RRCO board of directors from 2007-2013, and has been involved over the years with the Joint Strategy Team (JuST), the Santa Clara-River Road Outreach and Learning project (SCRROL), and the Santa Clara-River Road Implementation Planning Team (SCRRIPT)
She publishes a weekly e-newsletter called "River Road Community Resource Group Newsletter" that focuses on land use, transportation, parks and open spaces, economic development, and Community interests as they are related to neighborhood planning activities in conjunction with the Santa Clara neighborhood. If you would like to subscribe you can contact Carleen at: carleenr [at] gmail [dot] com.