Alan Zelenka: We've dismantled the mental health system in the United States
4 min read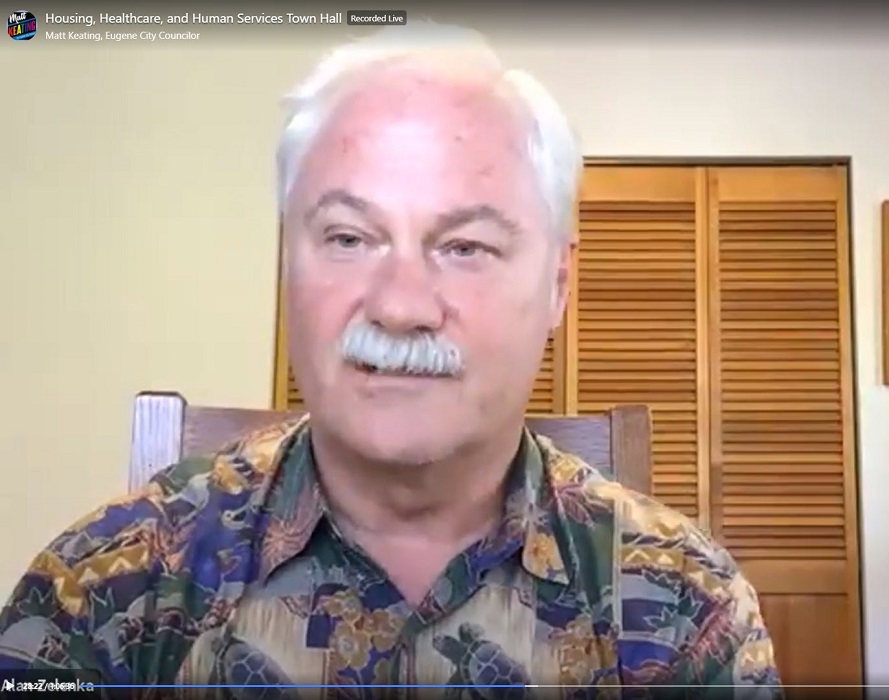 A city/county Town Hall on June 3 addressed homelessness, health, and human services. City Councilor Alan Zelenka.
City Councilor Alan Zelenka: [00:00:08] Homelessness, to me, isn't actually a problem. The homelessness is the symptom or the results. And the problem is, is that we have almost no mental health system in the United States and in Oregon. We've dismantled it and never rebuilt it. In Oregon, we're 50th out of 50 states in substance abuse and addiction services.
Presenter: [00:00:32] For more on mental health in our community: Dan Isaacson.
Dan Isaacson: [00:00:36] My name is Dan Issacson and I wear a number of different hats. I serve as one of your Eugene planning commissioners, I serve as your vice chair here in house district 13. I'm the co-chair of the suicide prevention coalition in Lane County and the president of the National Alliance on Mental Illness, NAMI.
And I'm here to talk to you tonight a little bit about mental illness in our community. I came to the issue by tragedy. My closest friend of over 25 years committed suicide by cop in 2017, feet away from my house. His death sparked both a healthy and an incredibly unhealthy path that has allowed me to understand this issue and the more global issues surrounding mental health in a way I never imagined.
The word crisis is a word that is overused as it is misapplied, but in the case of mental health funding here in Oregon, and by extension in Lane County, no other word correctly captures the severity of the issue we are all facing, or outlines the stakes for so many at risk within our community.
Oregon ranks, not near the bottom, we are the bottom in mental health care funding. Couple that with the fourth highest homelessness rate, the 17th highest rate of adults in poor health, the 16th highest rate of excessive drinking, and we begin to get an idea for how one impacts the other.
The effects of the growing mental health crisis here in Lane County has spawned a new status quo that has pushed the responsibilities to those who are frankly, unqualified, and service agencies, to the breaking point. You would be very hard pressed to meet somebody who has not been impacted directly by the ripple effects of the crisis in our community.
Lane County has no inpatient drug addiction center, no suicide prevention hotline or counseling. We have one of the lowest ratios of social service workers to our population, in the nation. One of the highest rates of child abuse. And the two state psychiatric hospitals, in Salem and Junction City, have a combined 650 beds for our state population of over 4 million in a county where between 2004 and 2006, 11% of the population 18 and over identified with a serious mental illness. That's 27,000 people, half the capacity of Autzen stadium, in need of serious continual mental health care and observation.
Presenter [00:02:48] Dan said the suicide rate, here in Lane County, is much higher than the national average. This year, Lane will pass Multnomah County in the total number of suicides.
Dan Isaacson: [00:03:00] Suicide right now, ranks as the 10th leading cause of death nationally, an increase of 33% between 1999 and 2017, the highest since World War II. Youth suicide between the ages of 10 and 24 has increased 56% in a decade to become the second leading cause of their death. Oregon's suicide rate is 40% higher than the national average.
In Lane County the numbers are much more sobering. Our suicide rate is four times greater than 84% of the counties in the country. I will say that again: Our suicide rate here in Lane County is four times greater than 84% of the counties in the country. In 2019, our raw number, just the number of people who have committed suicide, came within striking distance of Multnomah County. And in 2021, we will pass it. Multnomah County is twice our size.
None of the discussions we need to take place are easy. And in fact, it's partly because they're difficult, the problem only grows. A quarter of the suicides in Lane County are veterans. One in three struggles with a substance abuse problem. Half use a firearm. The overwhelming majority are middle-aged men. For those living in Junction City, Florence or Cottage Grove, the risk is even higher.
Presenter: [00:04:14] Dan said without mental health programs, we are also seeing increased substance abuse, and homelessness.
Dan Isaacson: [00:04:22] Lane County spent $15.8 million in 2018 to care for, aid, and assist defendants, those in mental health crisis as a result of moving them through the criminal justice system. Many of those defendants are homeless, charged with misdemeanors like trespassing or disorderly conduct, but for lack of funds, are rarely ever given access to treatment that could reduce or eliminate recidivism. About one in three of the estimated 2100 unhoused folks here in the County reported suffering from a mental illness in 2019. That ratio has more than tripled in the past six years. Since 2015, the rate of unhoused people reporting a substance abuse has more than doubled.
We have become untethered from a key part of our collective health care. Our mental health is just as critical as the other aspects of medicine and requires the same maintenance, preventative care, and attention. After decades of neglect, we have the opportunity to reverse course and to make a positive difference in the lives of our entire community, through a targeted ballot initiative, slated for 2022.