Matt Keating: Nightingale Hosted Shelters has a great model
4 min read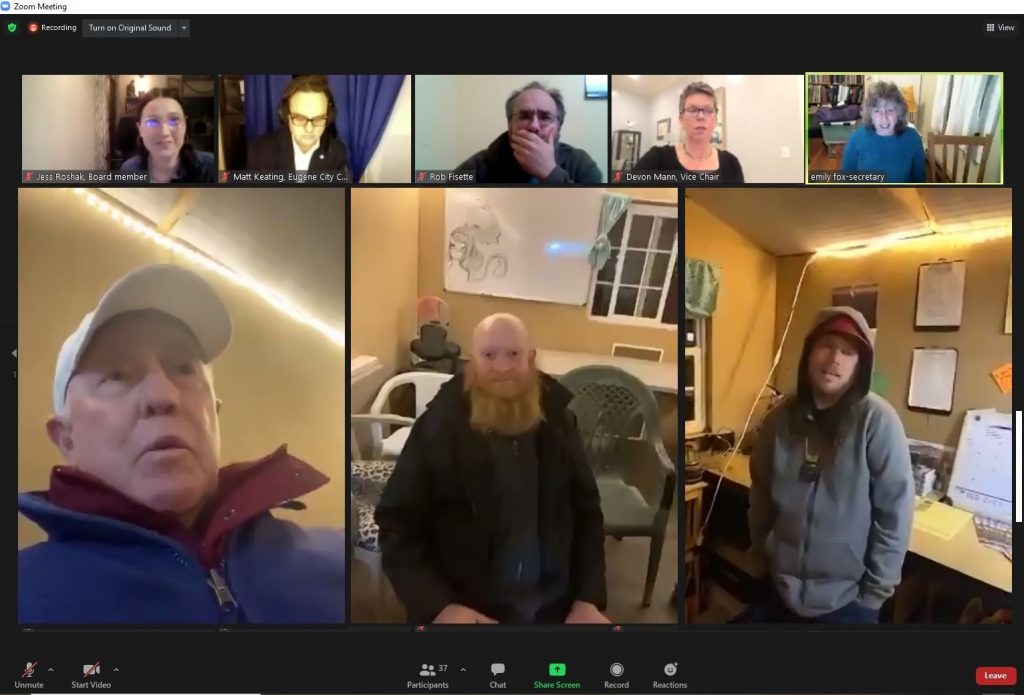 A city-county Town Hall on June 3 addressed homelessness, health, and human services. City Councilor Matt Keating.
City Councilor Matt Keating: [00:00:08] How can we help get folks off the streets? How can we look and replicate the success of a Nightingale right here on 34th and Hilyard that has a 70% success rate getting folks transitioned from emergency Conestoga housing to more supportive, secure, and safe housing? You have to be working or looking for work to live there, and you have to be clean and sober. It's a great model. And it was established to be a temporary solution, this temporary housing model, and it's turned out to be really something that we can champion here in Eugene.
Presenter: [00:00:38] Speaking at a neighborhood meeting this spring, Nightingale board member Sandy Cutler.
Sandy Cutler: [00:00:44] It's an amazingly successful success story. And the reason it's a success story is because there are three things that make this camp a success. Number one, there are rules to get in and rules to stay in. Important: Rules to get in, rules to stay in. Number two, we have onsite managers, Nathan and Andy, both live here in the camp. And the third thing is, that there's a support system within the camp. The residents here take care of each other. They look out for each other. They work on work parties together. They serve on gate duty. They're supporting each other. They're being good community members and they're learning skills that are going to help them move along to the next step.
Our board has decided that the first thing that we have to do in this camp and what our goal is, is shelter, which means safety and security, having sanitary facilities, which means for us, it's port-a-potties, having access to food, which is an outdoor kitchen with a barbecue and a propane and a propane stove. And also recently, access to wi-fi. Why access to wi-fi? It's so important these days. If you want to get a job, if you want to do medical things, if you want to make appointments, how do you do that unless you have access to wi-fi. So we recently added a wi-fi hotspot and have that available to our residents.
And the next thing we're working on, which is an important thing, is: Where do people shower? I want to work with the City Council to make sure that we get access to showers at Amazon Pools, because they're open these folks need a place to get a shower. It's really important for us to do that.
And any questions, you have to ask Nathan, also known as "Big Red" or "Red," Nathan Showers is the resident who's been here since the start of this camp. It's his vision, his mission, he's the guru of how to run a rest stop. Nathan, how about the electricity? I mean, we've talked about that for a long time.
Nathan Showers: [00:02:55] Electricity, we've talked about it with the city and just, it's so expensive to put it in. So I think the last time we talked, it was going to be like $15,000. So we don't have close to that or anything to put power in, but right now we've run off generators and run our refrigerator, our microwave, or our stove.
Sandy Cutler: [00:03:15] But also mention that we have no running water. Tell them where we get the water from.
Nathan Showers: [00:03:19] We get it from a faucet over at Good Samaritans. They're very nice about giving us water. We get it there daily for our hand-washing station. We own our own hand-washing station and then we have a big 55 gallon barrel that's on wheels that we'll wheel over there to wash dishes and do stuff like that.
Sandy Cutler: [00:03:36] So NightingaleHostedShelters.org. You can learn way more about what's going on. The other comment I would make is that this rest stop is very unique. It's not for all of the homeless people in Eugene. But this camp is very unique. We have rules to get in, rules to stay in, on-site management, and there's truly a sense of community. Over the last four to five years, five years, last five years—
Nathan Showers: [00:04:09] Actually 172 people moved into housing. So yeah, we do have a turnover rate. It's pretty awesome.
Sandy Cutler: [00:04:17] We are a community within a community here. It's in the South Eugene neighborhood. Thank you all for what you've done to support us.