Ride the bus free to cooling stations
2 min read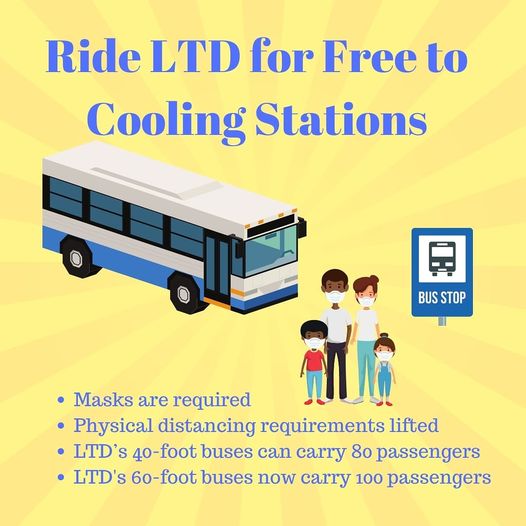 Governor Lifts Social Distancing on Buses
EUGENE, Ore. —(June 25, 2021)— Today, Governor Kate Brown lifted physical distancing requirements for buses, paving the way for Lane Transit District's EmX and fixed route buses to immediately begin carrying passengers at full capacity.
Passengers are still required to wear masks on the bus and on LTD property (bus stations), as is required by federal order for all mass transit agencies.
"Congratulations to Oregonians for bringing the state's vaccination rate close to 70%," said Aurora Jackson, LTD's General Manager. "A health-first approach to fighting the pandemic allows us to welcome aboard passengers here to the Olympic Trails, swimming pools, shopping, parks, workplaces, and other activities that make Lane County a great place to live or visit."
LTD's 40-foot buses can carry 80 passengers, compared to 20 passengers during the pandemic's capacity restrictions. The District's 60-foot buses now carry 100 passengers, as opposed to 30 passengers during the COVID-19 capacity restrictions.
Due to an anticipated increase in ridership during the track and field events, all passengers are still encouraged to plan their trips in advance to ensure they arrive at their final destinations in a timely manner.
LTD also encourages all to be "weather-aware" this weekend. Temperatures are expected to reach 100 degrees or more and an Excessive Heat Warning is in effect from 10 a.m. Saturday to 11 p.m. Monday. Passengers are encouraged to dress appropriately, carry a water bottle, and consider preventative measures for sun exposure, such as using sun block.
In addition, similar to its service to the warming centers in winter, LTD will provide free bus service during the weekend for people traveling to and from a designated cooling center. Passengers will need to inform the bus operator they are going to a cooling center so they are not charged a fare. All other passengers will need to pay fares to travel to and from their desired destinations.
For more information about how to stay cool and about local cooling centers go to: https://lanecounty.org/cms/One.aspx?portalId=3585881&pageId=3720173
LTD bus schedules are available here: https://www.ltd.org/maps-stations-routing/.
###
About Lane Transit District (LTD)
LTD provides more than 10 million boardings per year on its buses and EmX Bus Rapid Transit line in Lane County, Oregon. Encompassing the Eugene-Springfield metro area, LTD is a special district of the State of Oregon and led by a seven-member board of directors appointed by Oregon's governor. LTD also operates RideSource, a paratransit service for people with disabilities, and numerous transportation options programs to promote sustainable travel county wide.