Thomas Price honored for his service to McKenzie recovery
2 min read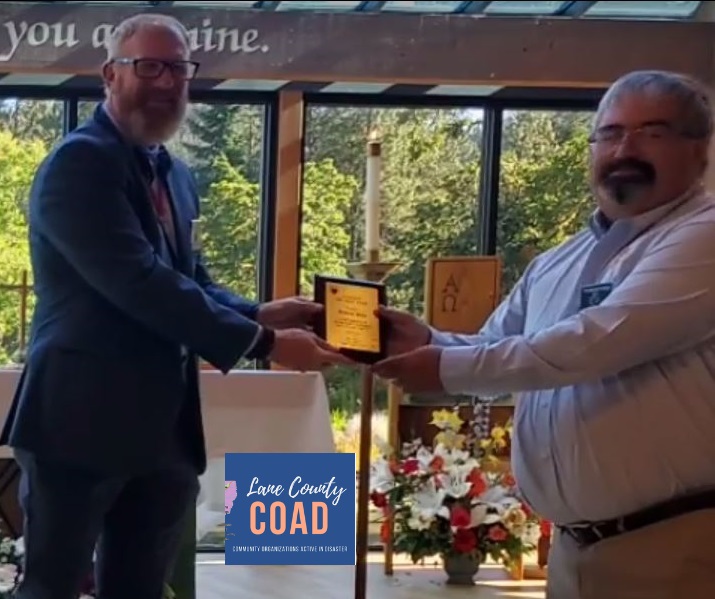 Thomas Price was honored for tireless work during the weeks and months after the Holiday Farm Fire. He coordinated recovery efforts. Ron Boyce, from the State of Oregon, presented the award.
Ron Boyce: [00:00:13] Back on September 7th, close to Labor Day, we had some very, very bad wildfires that raged up and down the Willamette Valley as far south as Medford, all the way up.  We had three gentlemen who were front and center during those fires who were helping the community.  One of them was Joe Shepherd from Medford, the other one Ed Diehl from Sublimity, and of course, Thomas Price from St. Jude in Eugene. These men took the bull by the horns in action to help their community, uh, help organize, informed me what was going on and the need for the community— what was needed, which enabled me to be able to get supplies and  money to the community to help out.
So these three gentlemen were awarded Knight of the Year. Every year at the state convention we give a Knight of the Year award and it's presented at the state convention, I'm very happy to present it here amongst you so he can appear and so that you can see the award that he deserves, I mean, what he did was a remarkable job and the community is very lucky to have him, as am I.
So I'd like to ask Thomas to come up here. And on behalf of the state of Oregon, the Oregon Knight of the Year.
John Q: [00:01:58] The award ceremony was held at Saint Jude's, with its amazing views from the pews gazing at Spencer Butte.