Aurora Jackson announces resignation, praises LTD staff
3 min read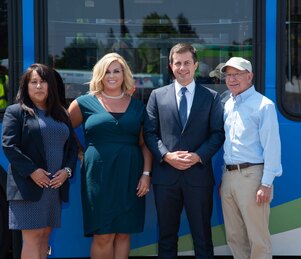 Aurora Jackson announced that she would resign as general manager of the Lane Transit District.
Aurora Jackson: [00:00:06] I do want to make an announcement, to you President (Caitlin) Vargas, to the board, to our audience listening in, and to our community: Today I would like to publicly announce my resignation as LTD General Manager.
It's been a privilege and an honor to have worked with LTD's dedicated transit professionals, our passengers, our business community, and the Board of Directors to find new and innovative ways to make public transit available to all. I want to take this opportunity to thank all of my LTD colleagues, our community members, for the last five years.
If the board would allow me to continue and state a few more words so that I make sure that I recognize the hard work that's been done in the last five and a half years. I'd like to say that I leave LTD stronger and better financially, strategically and politically. With a team of professionals we've led transformational projects, securing millions in state and federal funding, notably: the West Eugene EMX construction; the historic statewide transportation bill; the electronic fare system; two mobility on demand pilots; our students and low income pass that has been mirrored by many agencies after; and we have supported this community through a pandemic and earning the Springfield Chamber of the Pillar of the Community award.
We most recently purchased 30 electric buses with the last awarded just a few months ago. And today I'd like to announce publicly that we received the federal transit tri -annual review that evaluates LTD in 21 regulatory areas, and it is an honor of a career to have zero deficiencies. That means we came out with a perfect audit, and this is an accomplishment that most professionals will not see. And I hope this is a milestone for LTD, but it is not the last one as I feel this agency really has produced in a stellar way. And tonight you will get the strategic business plan and a financial status of where the District is, and you will see that the agency headed in a new and bright with a new and bright future.
As you look forward, you will have many new projects, a new version of the comprehensive operational analysis, a mobility management strategy. You will be challenged with decisions about Moving Ahead and Main Street. In the upcoming year, I want to encourage the board of directors to support the LTD team by staying strategically focused at a high level on customer satisfaction, employee engagement, community value, financial health, and environmental sustainability. And most of you would recognize that's our new strategic plan that's in draft form that will be presented. I ask that you embrace the values that have been developed by the employees and incorporated into our business plan. And I assure you, this will enable the LTD Board of Directors and employees to serve the community for the next 50 years. I want to thank you for all of that and for allowing me to say those comments.
So thank you.
John Q: [00:03:42] Mark Johnson will likely serve as interim GM during the transition.