Coquille Tribe partners with state on salmon rescue
4 min read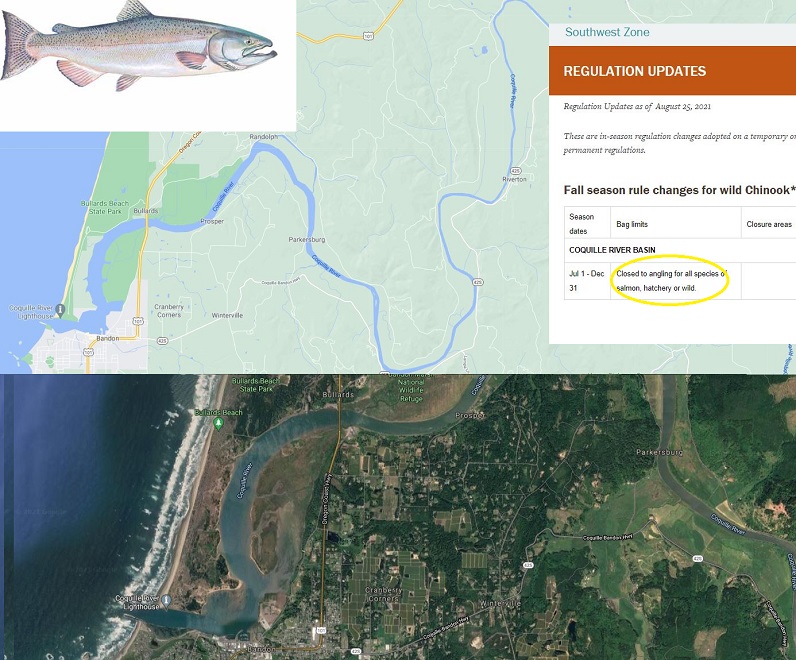 (Aug. 25, 2019) — State and tribal officials will collaborate on emergency action to rescue Coquille River fall Chinook salmon, the Coquille Indian Tribe announced today.
"We're looking at a brief window of time and a tiny breeding stock returning to the river," said tribal Chairman Brenda Meade. "We need to act now and give these fish a future."
Meade reported successful discussions between the tribe and Curt Melcher, director of the Oregon Department of Fish and Wildlife, on immediate steps to maximize this fall's salmon breeding cycle.
"Director Melcher has agreed with me that we must ensure a successful brood stock collection this year," Meade said. "The last few years, ODFW has released less than half of the juvenile Chinook salmon from the hatchery that their plan requires. The reason is that with so few adults returning over the last several years, it has been difficult to gather enough adults to secure the eggs needed to meet the hatchery plan objectives. We have agreed to meet and develop specific plans to collect the eggs needed to meet our goals."
The number of adult fall Chinook returning to the river each year has collapsed in the past decade – falling from more than 30,000 in 2010 to just a few hundred by 2019. Those returning fish provide the brood stock to begin a new life cycle of juvenile salmon – fish that will mature at sea before coming home to spawn.
In conversations over the past few weeks, the tribe urged ODFW to prioritize two key goals: First, ensure that enough returning adult chinook salmon are collected as brood stock this fall to ensure a full hatchery fish release next year. And second, reduce the Coquille River's infestation of smallmouth bass, an invasive species that devours young salmon before they can reach the ocean.
The tribe approached ODFW Director Melcher and Gov. Kate Brown and her staff in recent weeks, offering to partner with the state on those immediate goals as well as other Coquille River salmon and watershed problems. The initial reactions have been promising.
"Director Melcher and his staff have made the equipment needed to continue bass removals available to us and we are working together in an intensive removal effort over the next several weeks. We are collaborating on actions to secure the full brood stock needed this year and communicating on a daily basis. If these small steps indicate a willingness by the state to work together with the Coquille Tribe as a partner, and with urgency, the salmon in the Coquille River just might have a chance."
A particular concern is Ferry Creek, a Coquille River tributary where ODFW collects returning adult salmon for its hatchery program.
"We need to protect adult salmon from sea lions and ensure that the existing brood stock trap works effectively," Meade said. "We are pressing for a plan to collect brood stock in other areas of the basin if the Ferry Creek trap doesn't collect all the adults needed this year so we can have a full hatchery release. We are urging ODFW to advance actions that help the salmon that it has been considering for a while, and also to work with us creatively, applying good science, and not letting aging management plans or the status quo hamstring our joint efforts to get more of our salmon coming home now. And the Coquille Tribe is going to be there as a partner to help."
A plan released by ODFW in May calls for installation of a sea lion excluder at Ferry Creek. The excluder is basically a steel fence that blocks the predatory mammals from pursuing the salmon upstream. The tribe has been assured that the device is nearly ready to be deployed, but speed is crucial. "That fence needs to be in place now," Meade said.
State and tribal staff members also plan to meet in the next few days to discuss maximizing the Ferry Creek fish trap's performance.
Along with improved hatchery production, the tribe asked the state to step up electrofishing activities to reduce bass numbers. Electrofishing uses a special boat to stun fish and collect them in dip nets. The state deployed its boat recently for a bass population study, but the tribe asked the state to do more, and it has.
"We agreed that we are going to transition from gathering data about the bass, which we agree are a big problem, to actually removing as many of them as we can right now, with Coquille Tribal staff or joint ODFW/Coquille Tribe crews," Meade said.
Though these initial steps are small, Meade said the tribe is pleased to have made progress toward cooperative management of the resource. Meade called on sportsmen and the area's tourism industry to contact Gov. Kate Brown to express support for saving the river's fall Chinook run.