City moves to public hearing for 'Willamette Connection'
7 min read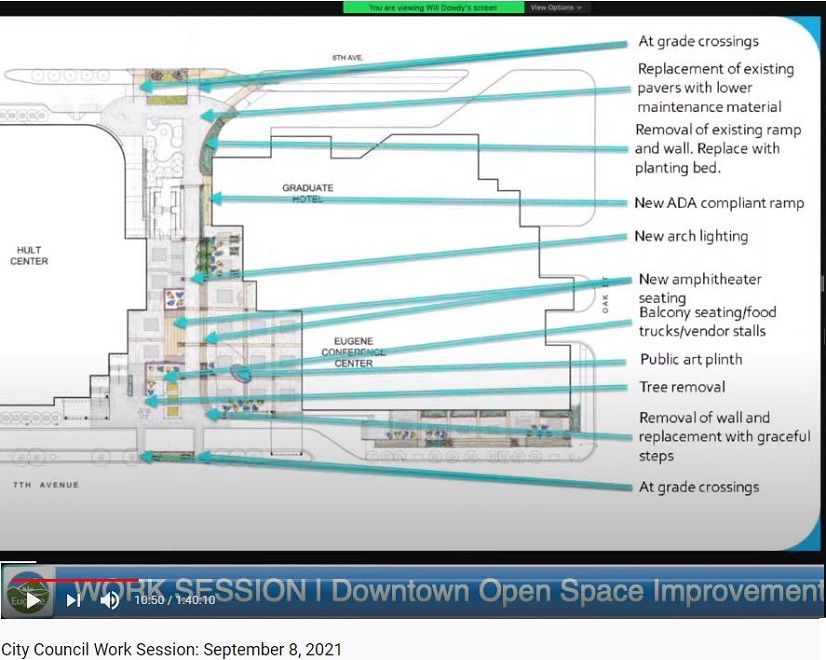 The Eugene City Council met this month in its role as the urban renewal board.
[00:00:05] Will Dowdy: I'm Will Dowdy from Community Development and I'd like to thank you for this opportunity to share another project with you.
In 2016, a nonprofit organization called Project for Public Spaces studied and gathered public feedback about the section of Willamette Street between the Hult Center and the Graduate Hotel that we've begun calling the Willamette Connection.
One part walking and biking corridor, one part plaza for the Hult Center. one part Memorial Garden, people are not drawn to walk through it as much as we would like. And those who are, are not drawn to linger.
We realized how much more important this connection can be given the amount of public and private investments that has gone into the Fifth Street Market expansion, the University's 510 Oak building, and of course the Downtown Riverfront Project.
While the full cost of this work is beyond the funds currently available in the district—it would be about two and a half million dollars—the team has identified areas of highest priorities that could be improved with funds available.
The first phase of work would focus on accessibility, welcoming, and safety at the northern and southern gateways. People walking through the space tend to give the ivy a bit of a wide berth. And when it isn't green, the concrete is less inviting. The south gateway has its own ivy walls and an unusual double crosswalk with a driveway that makes the walking experience a bit disconcerting.
The proposed first phase of work emphasizes clarity for people walking and on bikes as they enter the corridor from the north and south. It replaces the ivy wall on the north with lower plantings and creates a new accessible ramp that's contiguous with the main path of travel, rather than being in a separate location. And it begins to open up sight lines throughout the space to give all the users of this space, greater confidence in their safety.
And I'm very happy this year that a representative of the Eugene Japanese-American Memorial Committee has written a letter of support for this project.
[00:01:49] Councilor Mike Clark: Will, nice work, good plans. Um, two and a half million dollars seems like an awful lot of money, though, to make a block look more inviting. The purpose of tax increment financing as used in urban renewal is to increase the private property values of the surrounding properties, making it easier to repay the debt from the increase in property value. That's the point of tax increment…? Fine. As this is immediately adjacent to the Hult Center, I see that and would concede that this may enhance the property value of The Graduate, but are you suggesting that this enhances the value of other surrounding properties? And if so, which ones and how much?
[00:02:30] Will Dowdy: In terms of property values, I don't think this has an immediate nexus with any one particular property, but one of the things that we we have been focusing on is that there are parts of downtown that present real barriers to people as they think about connections through the city, and as they actually try to navigate between places. And what we often find is that people's perception of distance is very different than what the actual distance is, based on a number of very small, kind of subconscious barriers. And I point to the work that's done in retail design, when you're in a high-end store or a national chain, they spend a huge amount of time fine-tuning each aspect of the design to either encourage people to go one way or to make different decisions to come into the store and not.
So in the same way, we have these small barriers that prevent people from moving from one part of downtown into the other. And so if we can better connect the blocks south of 7th Avenue with the new investment that Obie Companies is putting in, to get those properties that much closer to the new Riverfront Park, that provides a real amenity that becomes the kind of thing that you can talk about: this new apartment, this new store, this new office is close to a beautiful riverfront park, and we're trying to create those connections. And that I think really does make property more valuable and more desirable.
[00:03:50] Councilor Mike Clark: I appreciate that. That's a good answer. My only other question would be if we were to think of what most people in Eugene would consider, and I'm going to use this phrase in quotations, "the problems with our downtown," what percentage of the problem would you say is lack of connectivity?
[00:04:07] Will Dowdy: I don't think lack of connectivity is something that jumps to the top of a lot of people's lists, but I think it does play a factor in the way that a lot of people would choose to make decisions. Obviously there are there are any number of things that jump to the top of people's lists. And I'm not suggesting that this is the only place that we would invest resources.
[00:04:25] Councilor Claire Syrett: One thing that's not mentioned even I think in the full plan, which I know would be very expensive, but maybe there's a less expensive way to get around it, is that sloping sidewalk on 7th that faces the Hult Center. It's not a very long distance, but it is very difficult to navigate. You know, I have some minor issues with walking and I can't walk on that part of the sidewalk at all.
And then the Memorial Garden I'm so glad that the that there was a letter of support from that. This is a hidden gem of a memorial in the heart of our downtown, and one of our few memorials in town really marking a historic wrong that occurred in terms of the interment of japanese citizens from this part of the country and now more than ever making sure that it gets some attention and is more accessible and more noticed by folks I think is more important as we continue to fulfill our commitment to equity.
[00:05:31] Councilor Alan Zelenka: I also wanted to reiterate what Claire said, which is the Japanese Memorial is such an important part of the city. It's not only extremely well done, it's beautiful, but it's also an important recognition of imprisonment of our own people that we should always remember and never have that occur again. I had a couple of quick questions. "Visually accessible wall for projection" is—I'm not sure what that is. Is that a, a billboard kind of thing?
[00:05:59] Will Dowdy: The intention there is less billboard and more of an art space. Our Cultural Services team is continuing to explore opportunities with projection art, and because of the unique role that it has combining our visual art wealth and our technology strengths.
[00:06:12] Councilor Alan Zelenka: Oh, okay. The other question I had, I don't know what a "public art plinth" is.
[00:06:19] Will Dowdy: It's a pedestal, a place where art can go and the intent here is to create a spot where temporary art can be located. The plinth both raises it off the ground and may have electrical either power and or lighting accessible to it, but generally its intent is to create a place where art can go so that we can more readily do temporary art in a space like this.
[00:06:42] Councilor Matt Keating: Thank you Will for the presentation and thank you, Councilors Zelenka and Syrett especially for highlighting the Garden, the acknowledgement of the Japanese-American internment during World War II. I just reading up on the garden that's, that it's located between the Hult Center and The Graduate. I did not know that that site is the site of the former office building where Japanese-Americans registered for internment here in Oregon. I recognize the importance of highlighting that existing memorial even better, as it currently stands.
I do have some concerns. There are a number of trees that are on the docket to be uprooted. Do you have any idea, Will, what number, ballpark, would be uprooted and what number are on the docket to be replaced?
[00:07:30] Will Dowdy: I don't have that information. Certainly whatever the case is going forward, we would work really closely with Urban Forestry to make sure that we were doing this in the way that had both the most immediate benefit and especially a long-term vision for urban forest.
[00:07:47] Councilor Jennifer Yeh: You've acknowledged that a very important part of this process is the memorial that sits on the property. And yet it appears to me reading this, that there was no representative on the advisory committee that was involved in planning and creation of that memorial. I think that's a little bit of a misstep. And in projects, in the future where there's an important cultural or memorial element to it, I feel like it would be great for us to do some effort, to make sure someone is on that group. Asking someone afterwards is great and the letter is very helpful. But it's not quite the same as being part of the process.
[00:08:26] Councilor Mike Clark: I want to take a cue from Jennifer here. I get to sound like the official old guy when I say I attended the ceremony that dedicated that memorial, and my recollection is that Federal Judge Ann Aiken and her family played a leadership role in that process. I think it would be a very important piece of this as the work finishes to reintroduce the memorial there in some way, for those who have been involved with that project all along. I'd like to see them involved, even moreso if we're going to end up doing this work.
[00:08:56] John Q: The next step for the project will be a public hearing.