Love for Lane County helps Gen Z enter the workforce
5 min read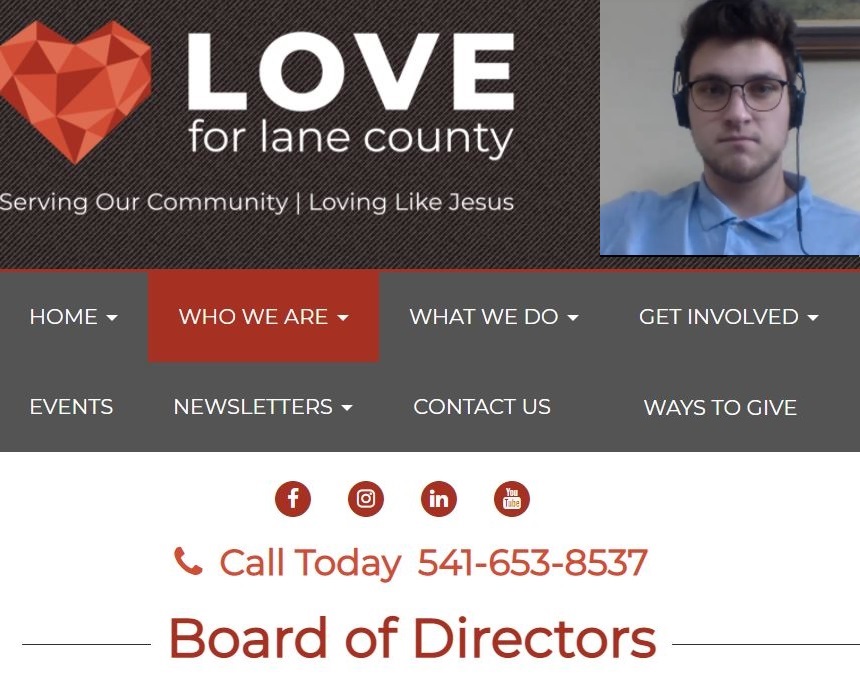 Love for Lane County is providing a new service in our community: Helping students enter the workforce. Executive Director Sarah Koski.
[00:00:08] Sarah Koski: When I came into Love for Lane County I came in after working as a consultant for a variety of different organizations, the National Volunteers in Medicine, Doctors Without Borders, the Red Cross. And I got to see East Coast, West Coast, I was working some projects in Accra, in London, and Berlin. And one thing that we were missing here in Eugene was an active stewardship of a younger donor pipeline, meaning the Gen Z-ers, the young tech entrepreneurs, the young indie game designers, all of these people we see actively on Twitch donating hundreds of dollars to different charities and organizations.
[00:00:49] There's just such a vivaciousness and a passion of Gen Z's, and that young Gen Z tribe is now entering into the workforce. And I really want to encourage nonprofits and community boards and even mutual needs groups to consider bringing in more youth perspectives to the organization.
[00:01:12] And so we really trying to not only structure the outreach that we do, of wildfire, working with the homeless, providing medical transports to veterans, providing furniture to those transitioning out of homelessness and domestic abuse, but also local small business economic recovery and tutoring mentorship.
[00:01:35] And so our biggest announcement this week is we just invited this phenomenal young soon-to-be graduate at Bushnell University, Daniel Gerlach, to our board and we're so excited and appreciative for Daniel to join.
[00:01:51] John Q : Daniel said he got help and support every step of the way.
[00:01:56] Daniel Gerlach: It's been such an awesome journey of just, as an intern, actively being mentored and encouraged and trained by Love for Lane County as its Digital Outreach Coordinator.
[00:02:06] What I found at Love for Lane County was this just discipleship and mentorship and just coming alongside me and helping me learn things that I don't think I would have learned anywhere else. How to manage nonprofit as like, a 20-year-old, like, who, who teaches those things? How to treat donors and to build relationships with people outside the community, how to manage an office, and then creating content and social media posts and strategic networking and social media campaigns. Like, where do you learn this stuff? It's from people that care. And at Love for Lane County, I felt spoiled, with the amount of love and investment in invaluable, priceless, training and mentoring.
[00:02:49] And so I'm building my portfolio, I'm doing all this stuff, I have been asked to join the board and it's exciting beyond anything I've thought that they would a twenty- one year old young voice come in and help with making decisions and policy. And it's really awesome.
[00:03:07] John Q: Sarah said that Daniel is a talented writer.
[00:03:10] Sarah Koski: He's sending out a newsletter a week and we're talking the amount of writing that he's doing in newsletters is phenomenal. I just had the roughest day, one of the roughest days of my life. And I had spilled my coffee on the floor. Some things weren't working the way that I wanted to. And then I literally locked us out of the office with nobody around to get us back in. And I was just like, thinking to myself, what's the one thing that I really wish I heard at that very moment. And it was just the simple words of 'you are loved.' Like Sarah, you're going to be okay. There's a lot of stuff going on, but you're going to be loved. And we finally got someone to let us into the office, Daniel set up his laptop and he wrote this piece really writing to every single person as if they were his closest friends or his dearest uncle, and telling them they're okay, you are loved. You're encouraged. There's still people out there praying for you and loving for you. And the amount of response that we got from business leaders, from from our Love for Lane County volunteers, and the amount of response that we got from just that message of encouragement was overwhelming.
[00:04:26] Not only as a digital outreach coordinator, we're so blessed to have Daniel because he is so gifted at writing but he has a heart for the community. And I think that's why his passion and his love is going to really open up doors, ignite other young people to want to be involved, to volunteer too, to get on to other boards.
[00:04:47] John Q: Love for Lane County Board Member Daniel Gerlach.
[00:04:51] Daniel Gerlach: The heart of young people is to get their foot in the door into more experience, to grow their career, to get more skills on their tool belt, because they want to launch into the workforce with knowing that they're capable, knowing that they're able to do things that will help them to soar.
[00:05:10] My encouragement is that they would find places that they can invest in that are investing in the community, but it's also looking for people that are going to invest in your career, invest in your skills.
[00:05:25] Being now a board member, I'm investing now time and energy into an organization that I now have a lot more stake in. I have some claim to where this organization is headed. I'm bringing a young voice, I'm bringing different experience.
[00:05:45] John Q: Executive Director Sarah Koski.
[00:05:47] Sarah Koski: We even tailored the board position to be really unique to Daniel, because we understand that this young man is a hot commodity. Once he enters into the workforce, he's going to get scooped up right away by either a nonprofit or some sort of consulting agency. So instead of a typical or traditional four-year board duration, we're creating a student position, that's one year. And then after a year, he can decide whether he wants to re-up for a year.
[00:06:15] And we're being very flexible, but it allows him to have that opportunity of saying, man, I'm part of a board of directors. When he walks into an interview, here is my creative portfolio. Here's the testimonials and responses. Here's what I learned in social listening. Here's data analytics. Here's what I learned running with these crazy gals at Love for Lane County of how to manage and operate a team, how to tell the story, how to network, how to do all of this. And honestly, I think every board of directors in non-profit settings here in Eugene should have a student liaison like Daniel.
[00:06:55] And like Daniel said, discipleship of young Gen Z-ers to build the next generation of workforce talent here in our community.
[00:07:03] John Q: Sarah Koski says local non-profits can help the Oregon workforce by providing opportunity.