EWEB reminds neighbors: Warning horns start five minutes before blasts
2 min read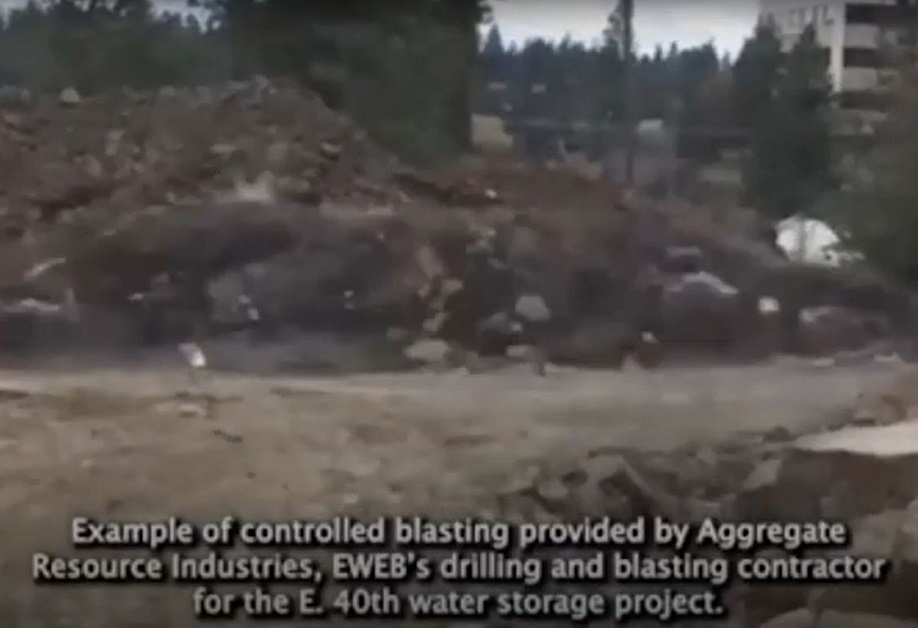 Controlled blasting at the East 40th Water Storage Project site is expected to resume Tuesday, Nov. 9, from 1 p.m. to 1:30 p.m.
Horn safety signals will sound five minutes and one minute before the blast and at the conclusion of the blast.
If you are near the construction site and hear a horn signal, please be aware blasting activity will occur shortly and follow instructions of site personnel or any additional signage that may be posted.
The blasting contractor has submitted a plan to EWEB for preventing incidents like what happened on Nov. 2 from occurring again. In that Nov. 2 incident, a planned blast ejected rocks and debris, damaging a Southeast Eugene home.  Investigators used drone footage and seismograph data to determine the root cause.
The drilling crew had been unable to drill to the required depth and abandoned the hole. The blast crews did not know there was a partial, open blast hole just beyond the edge of the mats.  Blast energy followed the path of least resistance, ejecting rocks and debris into the siding of a South Hilyard home. A resident within five feet of the ejected rocks was miraculously untouched.
The modified blast plan includes expanding the footprint of blast mats to extend 20 feet past the last loaded hole, and retraining workers to ensure they mark any drill hole anomalies with visible flags.
EWEB's Safety Office reviewed the contractor's plan and was satisfied that the corrective actions are appropriate to prevent future incidents.
EWEB expects the twice-a-week blasting schedule to resume Tuesday, Nov. 9. However, there will be no blast on Thursday, Nov. 11 as this is a Federal holiday (Veterans Day).
It's possible that a second blast might be rescheduled for another day during the week of Nov. 8 to make up for the missed Nov. 11 blast.
Scheduled blasts will occur between 1-1:30 p.m. The actual blast will last only a couple of seconds.
Paving contractors completed work on the Patterson St. entrance last week. The paved entrance in intended to reduce the amount of sediment leaving the site and entering the gutter. With this new erosion control measure in place, excavation and dump truck traffic resumed Monday Nov. 8.
If you have questions or input, please don't hesitate to reach out to the project team at 541-685-7899 or water.storage@eweb.org. Emails sent to this address will reach:
Laura Farthing, Project Manager/Senior Civil Engineer
Jen Connors, Communications Supervisor
Jeannine Parisi, Customer Relationship Manager
Wally McCullough, Water Engineering Supervisor