Over 600 local youth connect with science, tech, engineering and math at SparkLab
3 min read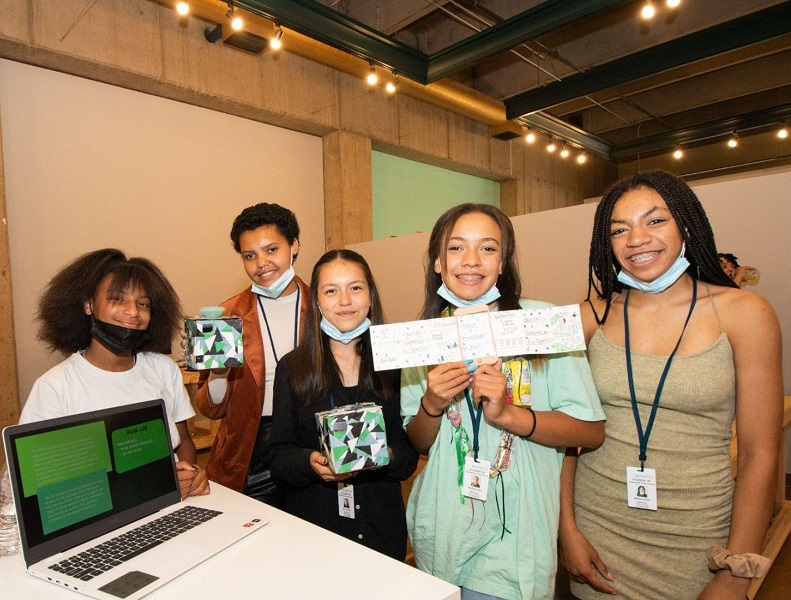 SparkLab, a youth innovation space in downtown Eugene, offers a variety of extended out-of-school education and training opportunities designed to help youth grow their skills, become confident problem-solvers, and gain hands-on experience.
Watch our SparkLab overview video and learn more at https://connectedlane.org/sparklab.
Such programs include Invention Lab, Invention Club, and The Agency. Since Connected Lane County opened SparkLab, in June 2021, over 600 local youth have participated in a Connected Lane County event or program at SparkLab.
As a nonprofit organization, Connected Lane County strives to provide services to underserved youth and those who are underrepresented in STEM fields. To bring this effort to life during the inaugural year of SparkLab, 40 students were invited to participate in paid experiences designed for underserved youth: Invention Lab and the Agency. Of the participating students, 90% identify as BIPOC, 13% are from rural school districts, and 8% identify as non-binary or transgender.
Invention Lab is a five-week, paid experience for high school students to learn skills in the invention process, build technical skills, and gain experience in human-centered design. The goal of Invention Lab is to empower generations of creators, inventors, and leaders in addressing complex issues. For the first summer program, 30 students were tasked with creating devices to monitor air quality and CO2 levels in indoor spaces.
After five weeks of hard work, the young people present the inventions they created to combat poor indoor air quality hazards to their families and the community. Not only did they work together to create a working invention with a purpose and prepare professional presentations, but they also created many friendships and learned to stretch their skills.
Upon completion of Invention Lab, one youth said "I've learned a lot about the importance of STEM fields and the history of black peoples in them. It's really opened my eyes to my own potential as well as helped to create hopefully long-lasting friendships."
The Agency offers youth professional experience in a mentor-supported, client-centric environment. Ten students who excelled in Invention Lab or in an Elevate Summer Internship were selected to participate in the Agency. This is a part-time, paid experience with weekly meetings and dedicated work time throughout the school year. All 10 youth in the inaugural cohort represent schools from across the county and identify as BIPOC. Agency youth work on various projects submitted by local organizations. So far, the Agency has completed two projects: Orchid Pots & Winter Coats.
Orchid Pot Project: Agency youth worked with a client in need of custom-designed orchid pots. The youth went through the engineering design process and interviewed the client to establish project needs, then used 3D modeling to design and iterate more functional pots.
Winter Coat Project: Celeste Peterson from Palo Alto Software volunteered six evenings teaching youth to fix and replace broken zippers. The youth turned 21 rejected coats donated by the Columbia Factory Store into good-as-new clothing. These winter coats will be donated to unhoused youth in Connected Lane County's WIOA program.
SparkLab has afforded Connected Lane County the space to provide focused experiences and pathways for students who have traditionally been left behind by similar STEM opportunities. To help Connected Lane County reach more young people in our community, please visit connectedlane.org/donate today.
Connected Lane County equips Lane County youth with the tools to help them gain confidence in their abilities and see value in their decisions by breaking down barriers, building bridges, and creating strategic partnerships to connect youth with education and employment pathways to transform their future potential. For more, see https://connectedlane.org.
SparkLab opened at 22 W 7th Ave. in Eugene in June 2021 as a central hub for Lane County youth to learn, innovate, collaborate, and create. It is a place where community, education, and industry come together to support Lane County youth in invention, education, and career-connected learning. SparkLab provides extended out-of-school education and training opportunities for STEM and much more. It is a place where youth can grow their skills, become confident problem solvers, and gain hands-on experience. For more, see https://connectedlane.org/sparklab.