Can we summarize Kelly McIver's remarks at the February NLC meeting? Yes.
7 min read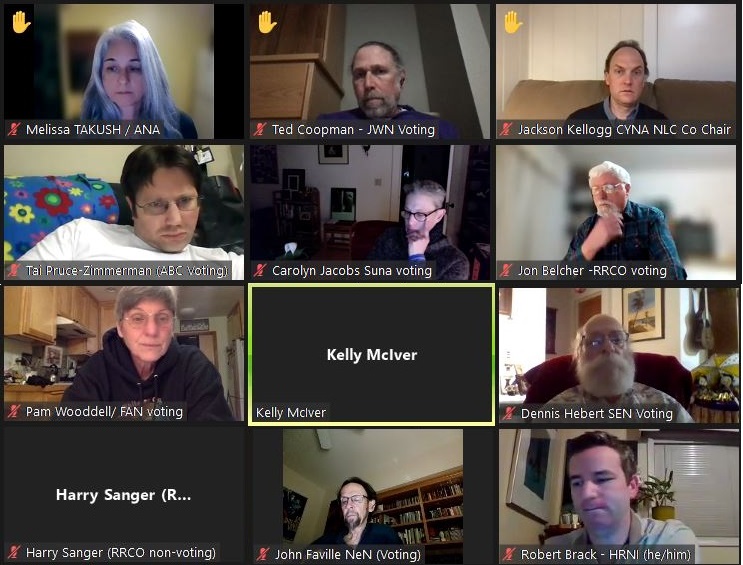 Rita Fiedler of Southwest Hills asks: Can you summarize Kelly McIver's February NLC remarks for our next SHiNA general meeting on April 10?
Yes, and here it is: From Feb. 22, 2022, Public Information Officer Kelly McIver.
[00:00:16] Kelly McIver: We have spent the last year plus in the COVID pandemic and also dealing with the increasing numbers of individuals experiencing homelessness in our community. Lane County is that primary avenue for services. The City has felt the obligation to take on a bigger role than structurally or historically was maybe the case… Last April the City Council put a directive to city staff to try to go forward and develop many, many more emergency shelter spaces for unhoused community members, both tent type spaces and also vehicle spaces for our community members, and to try to alleviate some of the impacts of unsanctioned camping that were happening in the community.
[00:01:04] John Q: The next question came from Melissa Takush.
[00:01:06] Melissa Takush (Amazon): How many people are homeless in our community?
[00:01:12] Kelly McIver: Our numbers are really generated now by a Homeless By Name count as opposed to the old Point In Time count that they would do essentially once a year. They would go around and just do a census. Now there is a name list that is created by people connecting with service agencies. And so our current numbers, it's about 3,000 folks in Eugene who are considered to be unhoused.
[00:01:38] Melissa Takush: And from the City's perspective, what does ending homelessness mean? And what part do individual community members have a responsibility to show up, to help solve the problem?
[00:01:51] Kelly McIver: I can't even begin to imagine what—I mean, it makes me very uncomfortable, honestly, to talk about terms like ending homelessness, because frankly, from where we're at now, that's just too big of a task.
[00:02:03] The unhoused community is as various and different as the population at large, in terms of people's backgrounds and experiences and states of mind and being. It is not a one-size-fits-all kind of situation. And there's no easy way to define people and groups of people who are experiencing homelessness.
[00:02:23] Melissa Takush: What I heard was, 'Well, we have these places for people to put their tents and places for people to park their cars.' I would just appreciate a real clear statement that these are temporary solutions. But I think we all need to dig down a little deeper. Personally, we're only going to solve that if we all will roll up our sleeves and dig in, and it's not about money. It's about the way we are with each other and it's about networks and it's about people being able to support each other and maintain family connections. And I think also, there are many, many people in our community who would like to be a part of the problem. And I think we all realize that we are not going to become paid social workers overnight, but we still have time and energy to contribute. And it would be wonderful if the city could help do some trainings for the community to be able to dig in.
[00:03:22] Ted Coopman (Jefferson Westside): Kelly, this is not on you. You're pretty new, but the problem is, and I think it has been pretty evident by the way you're rolling it out, is that the city's policy approach on this is incoherent.
[00:03:34] It's been incoherent since the beginning. It has gotten more incoherent over the period of time with COVID. And this is what's most disturbing for us who are the people that are on the front lines with this. And I think that the earlier comments about, 'We don't know what the rules are.' And then basically your answer to that is that, 'We don't know what the rules are either.'
[00:03:53] What is disturbing to me is that we're having a boutique approach to a massive problem, and we don't seem to be scaling past that kind of boutique approach to that.
[00:04:04] We have 3,000 people that are on the list, right? And then we have, but maybe 150 slots, which we were really, really begging for, for a long time. So what's the plan to—? Because you're going to need to scale this a lot. I mean, we're going to need 10 times what we do now.
[00:04:25] Kelly McIver: Ted, I think you're absolutely right looking at the situation, it would seem to demand something more immediate that is along the lines of a natural disaster response. But that's not the level of resources that the City of Eugene has.
[00:04:40] I understand that it seems haphazard and in some ways it is, because it is largely response-driven by whatever the most intense situation is that's happening at the time. We simply do not have an adequate number of staff to be able to quickly and thoroughly respond to each of the concerns that are out there. And then also there's the fact that that basically laws and structures don't exist to essentially force people to, to go away, vanish from your community and never return. So the problems essentially recur, ongoing, and then we are simply responding to those in a new location at a later time.
[00:05:18] John Q: Kelly was asked if most refugees are coming from somewhere else.
[00:05:22] Kelly McIver: I've talked with service providers, and the overwhelming majority of the unhoused folks in our community are from our community and have been here for a number of years.
[00:05:32] We have a lot of anecdotal evidence that people have from conversations, from looking at license plates. But the bottom line is that we as community members here, and also as the governments in addressing the issue, we still have the people and the effects of those people to deal with, regardless of what their original state, city, or country of origin might be.
[00:05:57] Pam Wooddell (Friendly Area Neighbors): When I hear Steve Baker say that they want to give MUPTEs to luxury housing, and then I see the city HB 2001 plan giving away all the extra incentives to market rate housing and not reserve every resource we possibly can and put it towards affordable housing, I'm not sure that the city has the commitment it really takes to deal with this.
[00:06:21] Dennis Hebert (Southeast Neighbors): Probably 15 years ago there was a bunch of homeless people at that point in time and it seemed like all the City Council did was kick the can down the road. And now all of a sudden it seemed like they're saying, 'Oh my God, we've got a crisis.' Does the city have any real perspective on when this homeless situation really started burgeoning within the city of Eugene?
[00:06:46] Kelly McIver: We've seen a drastic rise in the numbers over the last five plus years or so… You used to see the anecdotal, sad story about an individual who fell on hard times because of an unusual circumstance but it has grown far beyond that. Senior citizens are losing their homes because they can't keep up with the costs of being able to be in housing because their pensions and their subsidies don't keep up with the market rates. And families aren't together the way that they used to be. There's a number of reasons and that's put a greater and greater stress on the available resources that are out there. And to Ted's point, no, this is something the entire society has not looked at, gradually scaled up to match. And now it's far out of scale.
[00:07:34] We need people and we need to pay the people who would be trained and skilled in doing this to be going out and doing outreach to people who are out there and trying to figure out their needs and to figure out the solutions that are going to be effective for them.
[00:07:52] We still, as a society, leave it on our emergency service workers, the folks who are already out there working 24 hours a day and they're driving around in vehicles anyway, and we're asking them to de facto, go be social service workers and outreach workers. And that's just a bad fit. It's not what they were trained for. And again, with a tremendous variety of people and states of mind that are out there, it really does take an army of people with different skills and connections to be able to effectively work with that. And that is an army that we have not really developed at this point as a society.
[00:08:28] Jackson Kellogg (Cal Young): Kelly, one thing I'm hearing from people is we want a larger strategy and larger long-term goals to really solve this problem. And having people living in tents is not really a long-term solution, and in cars, you know, this is not, like, a third world country.
[00:08:46] Kelly McIver: There is a whole other element to this that the city and other partners are indeed working on, which is increasing affordable housing and creating a, basically a Housing Implementation Pipeline.
[00:08:58] John Q: Public Information Officer Kelly McIver at the February 2022 NLC meeting.
[00:09:04] Kelly McIver: Thank you for your investment in your neighborhoods. It's just super-critically important, and I'm glad that you're all doing it.