The Whit thanks Ian and welcomes Dilenia
7 min read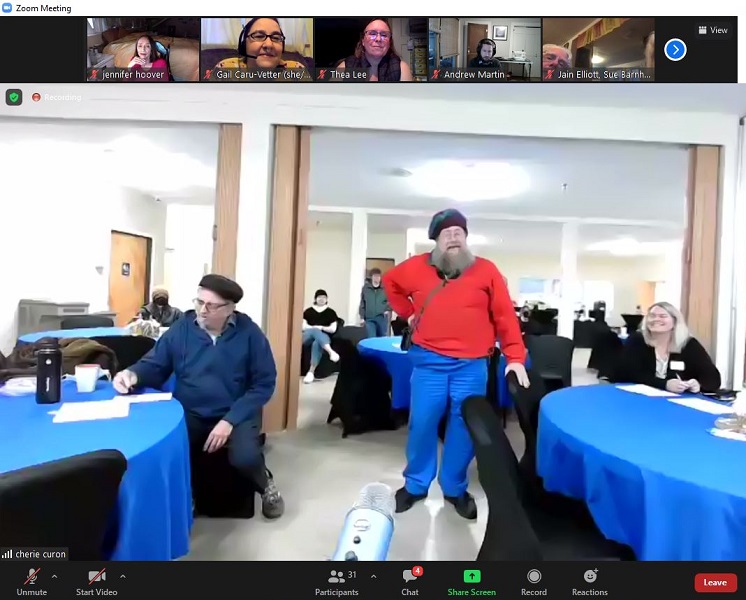 At the Whiteaker Community Council elections meeting in April, outgoing chair Ian Winbrock.
[00:00:05] Ian Winbrock: My name is Ian Winbrock and I'm your outgoing chair. And one of the features of the Whiteaker Community Council is we are led by an all-volunteer board which is going to experience a transition tonight, one that we've experienced many times before, and hopefully one we'll experience many times in the future, in which community members who live, work, or own property in the Whiteaker can step up and serve on our all-volunteer board for officer positions as well as at-large positions.
[00:00:31] And then I'll pass it onto the next person so that they can introduce themselves. I'm Ian Winbrock, I'm currently the chair.
[00:00:38] Gail Caru-Vetter: I'm Gail. I'm currently the vice-chair. I am a resident of the Whiteaker I am not running for reelection as vice-chair this year, but I am absolutely running for an at-large position, because I'm so excited about the work that this council has done.
[00:00:54] Dilenia Cardova: I'm Dilenia Cardova. I work at Going Green Eugene, a big advocate for marijuana and cannabis using it for medicine. I was pulled into this neighborhood meeting by someone who said, 'Hey, that's a good idea,' Mr. Chris Gatsby, and after that got pulled in a little bit further as an at-large member and, saw the need to bring us into the 21st century.
[00:01:23] We've done a lot of work. We set up a foundation, we were looking at our IT options and got all our data in — this year we did the dump into QuickBooks, same thing with the charter, the charter revision was done. And basically this year, I feel like we need to get organized and just get our workflow processes going so we can help the future board make it real simple for everybody. Had a lot of great people that I feel like it was kismet this year. Claire played a big role in this too.
[00:02:01] Claire Roth: Hello, Claire Roth, acting secretary and at-large board member, happy to be here.
[00:02:06] Jennifer Hoover: Hello. I'm Jennifer Hoover. And I lived here in Whiteaker for 21 years. I think it might be 22 now. I keep saying 21 years. And I've been a board member for quite a number of years. It surprised me up there with Thea and it's been quite fascinating. I love the board that we have right now and I'm going to love it even more with the board that's coming up in the next few—like an hour, maybe.
[00:02:33] Thea Lee: Hi everybody. I've been in the Whiteaker for about 27 years now. I've been on and off boards for years and been a parks and safety liaison, working with the city and Parks and Open Space. And I'm trying to get our parks activated by everyone and working with EPD and recently working with the businesses, trying to help them with some of the issues they're experiencing. And I plan on running again for an at-large seat.
[00:02:57] Dan Schmid: I am Dan Schmid. I've been in the Whiteaker since 1992. I'm currently an at-large board member and I've been nominated for the vice-chair, which seems pretty exciting to me for the, getting on to the ground, maybe, a little bit more. We've been doing so much with clinics and with outreach and I'm literally looking forward to hitting the streets and getting to know more of the neighbors and encouraging people to run for the board.
[00:03:23] I've learned so much just about the workings of how things can get done and change in our neighborhood and how we can foster and encourage the things that are already awesome about it.
[00:03:33] Andrew Martin: Andrew Martin, I'm an at-large board member, [I've] been on the board for one year. Most recently I was collecting all of the online email addresses, but I've also worked on helping to start our Transportation Committee and whole bunch of other stuff with the vaccine clinics and just really enjoy living in the Whit, want to do my part to help make our neighborhood great or better than it is if that's possible.
[00:03:54] Anand Holtham-Keathley: Hello, neighbors, friends, lend me, your yeah, so, uh, I'm Anand. My day job is, I work with Lane County Public Health. I started the Public Health and Safety Committee.
[00:04:06] We've been helping out a lot with the vaccine clinics and one of the other things I do is volunteer with Occupy Medical. And one of the things that we say over there is that, 'Housing is health care.'
[00:04:17] And so one of my big pushes for this next year is going to be seeing what we can do because not only do we have a lot of unhoused neighbors, but we also have a lot of people who, because of the economic situation, are about to lose the housing that they have. So my concern is making sure that as many people can stay in their houses as possible, that we develop more housing, and we get more of our neighbors not having to be living outdoors.
[00:04:44] Margaret Steinbrunn: I'm Margaret. I've been on the board for a couple of terms. I'm an at-large member. I myself have spent a lot of time within the community with a former board member. I helped head up all the hand sanitizer stations that you saw throughout the neighborhood. So we connected really well with some businesses, as well as individuals that use them.
[00:05:06] I've been out hitting the streets and talking to people and I love our community. It's a great place. And I will be running for an at-large board position again. And for me, I think that housing is important. I will say that that is definitely something that should be in the forefront of what we're doing.
[00:05:25] I myself as well will continue to nurture some of those, business and just local people that live here, the relationships that I've built, and try to help them meet their needs a little bit more.
[00:05:40] John Q: Outgoing chair Ian Winbrock was recognized by Jeffrey.
[00:05:43] Jeffrey: I just wanted to add on there, regarding Ian's leadership, he was also recognized tonight at a very prestigious ceremony, I think 14 or 15 years running, by the Eugene Chamber of Commerce for the 20 Business Leaders Under 40 having a significant impact on our community—a really huge, fantastic event.
[00:06:04] He had to bolt out of there to run this meeting after receiving his award. So it was really, really impressive, and I'm constantly impressed with Ian's ability to run a meeting and to be super-effective and to treat everybody fairly and ensure everybody has a voice.
[00:06:23] John Q: Ian thanked the neighborhood election team and praised Dilenia.
[00:06:26] Ian Winbrock: And I just want to say Dilenia is being extraordinarily humble. The work that she did as treasurer really set not only this board, but future boards and generations of residents of Whiteaker, to be able to have an organization that really serves the community in the best way possible.
[00:06:41] I wanted to first think Gail for facilitating the virtual component, thank Andrew— he's going to be the Zoom election facilitator-in-chief, so anyone who's on Zoom and is voting virtually there will be able to do that. And a big shout out to Claire Roth, for all the work that you've done to make sure that our eligible voter list is right on point. Thanks, Claire.
[00:07:03] And I wanted to thank some of our team here. If you would just, wave your hands for Margaret, for facilitating the in-person voting portion, as well as some of the good folks who set up this amazing room, but I've remiss to not mention the room itself. We're super lucky to have partners at the Eugene Mission and just please give them a virtual round of applause, or a physical round of applause.
[00:07:25] John Q: All eleven board candidates were officially elected.
[00:07:28] Whiteaker Community Council Chair Dilenia Cardova: Yeah, I just want to say I'm excited. Last year we did a very solution-based kind of board, community members have brought us issues. And we sit around and not really talk about, the issue itself, but more about the solutions that we can bring to the City and to helping give them ideas to help ourselves.
[00:07:53] So yeah, I'm really excited this year. Like I said, we last year built a foundation, and this year is going to be about organizing. Think about as board members, what you guys want to do. What is your passion? And let's see if we could make a right fit of where we need to go from here. And thank you everybody.
[00:08:13] John Q: Learn how you can get involved with your local neighborhood association.