Council candidates address housing costs, land use, homelessness
7 min read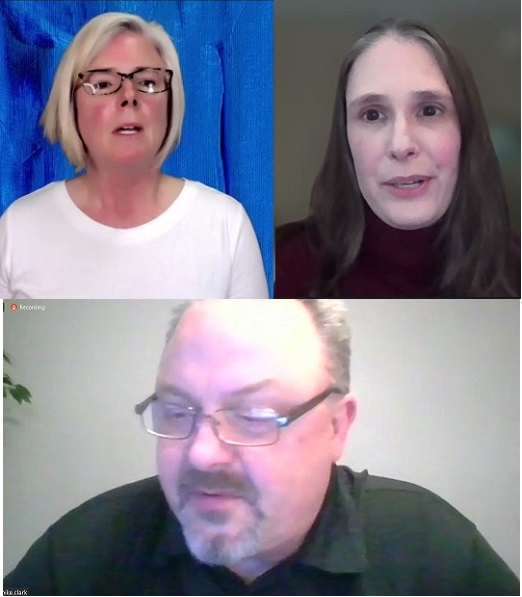 Eugene neighborhoods hear from candidates for City Council. From Northeast Neighbors, chair Kevin Reed.
[00:00:06] Kevin Reed: My name is Kevin Reed. I'm the chair of the Northeast Neighbors. And I'd like to welcome our friends from the Cal Young neighborhood and welcome our friends from the Harlow Neighbors. This is a candidates' forum for City Council positions in Ward Four and Ward Five. And I'd like to start out by introducing Jennifer Yeh, who is the incumbent for Ward Four.
[00:00:25] Jennifer Yeh: I'm Jennifer Yeh. I just want to thank the neighborhood association boards for putting this together and everyone for showing up tonight. I began volunteering with my neighborhood association almost two decades ago and I stayed involved because of all the amazing people that I met and the potential that I saw in our City. And I ended up being vice-chair and chair and two terms at the Neighborhood Leaders Council, and I learned so much in all of those experiences. And I also learned that part of our collective story here in Eugene wasn't being told, because not all of our voices were being heard. And I wanted to change that, for our future.
[00:01:03] I work every day to make a city that all of you will love just as much as I do, a city that defines its success by how it treats all of its citizens, how it lives up to all of its values, how it tackles all of its challenges. And our community requires someone who knows how to balance all of these whilst not forgetting our progressive values and responsibilities. Serving as your City Councilor has been the honor of my life, and I know that together we can do even more in the future, and thank you so much.
[00:01:41] Jennifer Solomon: Thank you for this opportunity. I'm Jennifer Solomon. I've lived in this area all my life. I honestly don't feel our ward's values are represented at City Council and this sentiment is echoed every time I talk with my neighbors. People are very frustrated and they don't believe their concerns are being addressed or that they're being considered at the Council table. It's time for a change. And I want to be that change.
[00:02:04] I think most of you know, I served on City Council before. I retired from Council after two terms so that I could be more present with our two boys. So the question of why I'm running for City Council, I just don't see much progress being made on several important issues in our community. There doesn't seem to be a sense of urgency. There's a lot of talk, but little meaningful action.
[00:02:26] What's more troubling is that the majority of this council is willing to make big decisions that affect a lot of people with virtually no data or economic impact analysis. That's just irresponsible. I also don't hear a lot about metrics or outcomes. What exactly are we going to get with an investment in a program or a project? These questions must be part of every decision. And I just, it just doesn't feel like that's happening right now.
[00:02:54] Kevin Reed: Thank you, Jennifer. Now we have Mike Clark.
[00:02:57] Mike Clark: I want to say thank you to everybody who showed up. Being involved in the process of who's going to represent us at the City's decision-making table, it's an important one, and I appreciate everybody's efforts. As the representative from Ward Five, it's the privilege of my life to be able to represent the folks who live in north-central Eugene and speak on their behalf at the decisions made at the table. Please feel free to contact me at any time. Thank you.
[00:03:22] Kevin Reed: Thanks Mike. So I'll be asking Jennifer Yeh the first question: Do you agree with the goals of HB2001, and how would you implement it?
[00:03:31] Jennifer Yeh: I do. You know, the goals of HB 2001 is to address Oregon's housing crisis by increasing our supply of housing, especially allowing smaller, denser, and more affordable homes. These home types were traditionally built in the past, but became outlawed or severely restricted in many neighborhoods. And this bill is giving us an opportunity to allow these homes, to allow homes of all shapes and sizes in our neighborhoods. And I think there are some real legitimate concerns in our community that have been raised and we have work sessions to work that out. You know, we often say that budgets are moral documents, but a land use code can be as well, and I think this House Bill gives us an opportunity to prove that.
[00:04:14] Kevin Reed: Jennifer Solomon.
[00:04:16] Jennifer Solomon: I also agree with the goals of HB2001. it was created to provide Oregonians with more housing choices. Our housing stock is largely single-family homes or apartments, but then between those two extremes are cottages and bungalows and townhomes, duplexes, and triplexes, and more, and HB 2001 makes it easier to build these types of units.
[00:04:41] These varying sizes of units are priced differently than homes, which make them accessible to more people. And I think we can all agree that we need to build more housing. In fact, the housing implementation pipeline says we need to create 6,000 new housing units in the next five years. A unit is simply a door. So again, it could be an apartment, a cottage, a bungalow townhome, duplex, or triplex. The biggest problem to addressing this need though is the lack of available land on which to build. There simply isn't enough in Eugene on which to create 6,000 new housing units.
[00:05:19] And any honest conversation about housing affordability must include expanding the urban growth boundary. We have already identified urban reserves, parcels that have been identified and vetted and set aside for such a time as this. Let's get them in play so we can have more homes which will in turn bring down the prices and help to alleviate our housing crisis.
[00:05:45] Kevin Reed: Mr. Clark.
[00:05:46] Mike Clark: I agree with the goals as stated. I just wish House Bill 2001 actually had a snowball's chance of accomplishing those goals. It absolutely does not. I don't believe for a minute that anything will get built that isn't market-rate. And that's the key here. Market-rate housing today gets built at $300 to $315 a square foot. So yeah, if you want to build something the size of a closet, you will pay less money for it, but on a cost-per-square-foot basis.
[00:06:18] The cost of land is exorbitant right now. And it's one of the biggest problems facing us. House Bill 2001 has the chance to give us more choices, but they will be expensive. And I don't think it will fulfill the expectations under which it was sold.
[00:06:35] Kevin Reed: Thank you Mike. Jennifer Solomon, how do you propose dealing with the increasing number of unhoused areas—how do you achieve coordination between the City and the County in this effort?
[00:06:45] Jennifer Solomon: The lack of coordination between the City and the County and the providers really is a huge problem. This is really important to me, and it's really important to the residents of Ward Four. And it's one of the reasons that I decided to run for City Council.
[00:06:59] The Chamber of Commerce is doing a deep dive into this issue and has been working on it for about six months. Now they have energized a large group of business owners who really want to find solutions.
[00:07:10] Their first order of business has been to collect data, so as to really know the breadth of the problem, and then with that data, we can begin to make investments and identify outcomes that we want and can expect with an investment. Too often, we throw money at a problem with no identified outcomes. I've been participating in the Chamber's process and I appreciate the energy and the leadership and the commitment to our community. Let's not lose that.
[00:07:36] We can begin to create a system that holds everyone accountable, including the homeless, a system that actively works to move folks into stable and safe housing. And for those who don't want to participate, one solution for me that will be important is more jail beds for our criminals.
[00:07:55] Kevin Reed: Councilor Yeh.
[00:07:56] Jennifer Yeh: I think one of the first things we need to recognize is that this is not only a Eugene problem and it's not even an Oregon problem. It's a national issue and you can't solve a national problem in just one part of the nation, right? We need to work with our state and national representatives for ongoing funding that is going to be key to solving this.
[00:08:18] Both preventing people from falling into houselessness and also creating pathways to quickly get people back into housing, or into a supported shelter, it's a good plan. And we've made lots of progress, but you're correct, we need to do a better job of coordinating. Our county commissioners have committed to increasing mental health services, which is extremely encouraging.
[00:08:41] We need to have ways to support people and be compassionate, but we also need to have ways to take action when there's criminal activity or people that are being violent. So we have to attack it on both ends.
[00:08:54] Kevin Reed: Thank you. Mr. Clark.
[00:08:56] Councilor Mike Clark: It is my opinion that the majority of Council in the City of Eugene attacks only half the problem, Everybody who wants to get well and comes to us and says,' I need help,' I think the City should help, but that's only half of the issue. What will we do with the people who want to do drugs, will we require anything of them? And the answer was no. We have to be compassionate about folks that need help, but at the same time, to solve this problem, we need to address drug use and criminal behavior with a more accountable way than we have so far.
[00:09:34] John Q: The Ward Four and Ward Five candidates forum, sponsored by three Eugene neighborhoods. For the full recording, see the Northeast Neighbors website.