350 Eugene session April 24 encourages move from fossil fuels
1 min read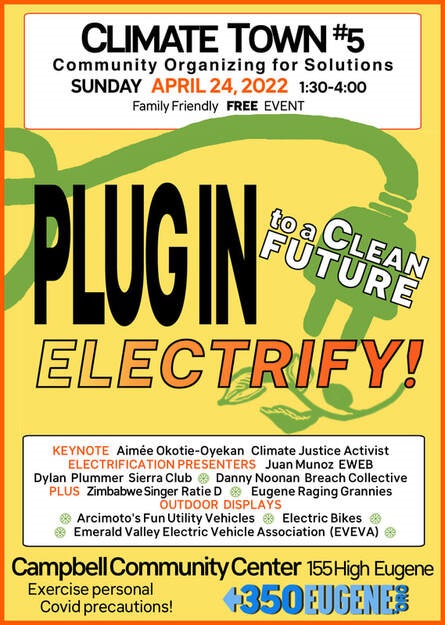 [00:00:00] Jenah: 350 Eugene will give a presentation April 24th on The Negatives of Methane Gas.
[00:00:05] Join us Sunday, April 24th from 1:30 p.m. to 4:00 p.m. at Campbell Community Center, 155 High Street.
[00:00:14] Eugene activists are continuing to push for a strong climate action plan and measurable accomplishments to meet our city's climate recovery ordinance goals.
[00:00:23] One of the most effective ways to do that is through a phase out of methane gas over time, starting with (1) a ban on new pipelines and hookups and (2) a phase-in of replacement of gas heaters and appliances, with electrical alternatives, at the end of their usefulness.
[00:00:43] The Eugene City Council and City Staff is currently exploring changes to the city building codes.
[00:00:49] They can use our strong support as a community that understands the moral responsibility to do our part in the climate crisis.
[00:00:56] For the sake of our planet and all beings, our children and grandchildren, we must commit to being good ancestors. We've got to make a shift off fossil fuels and we have to do it now.
[00:01:08] Join us April 24th from 1:30 PM at 155 High Street. Everyone is invited. COVID precautions are encouraged.
[00:01:17] This is Jenah for KEPW 97.3 Eugene Peace Works Radio.